When you buy a Ferrari, you have certain expectations. Like, for example, the expectation of traveling unreasonably fast, of achieving ridiculous speeds in a ludicrously short period of time, and of looking good in the process. You expect leather, style, the whole lot. And you pay for it up front, oh boy do you pay for it. You buy at the top of the market, but you know what you're getting. You know where this is going of course. You can read the title.
But, for fun, let's pretend you didn't read the title! It's David Price. I'm talking about David Price. Now act surprised. Spit milk out your nose or drop something breakable. Eww gross and/or you should be more careful! Now, Ferraris: when you pay for something that expensive, you have certain expectations. But if you bought a Ferrari, wrote a check, and put the key in it to drive it off the lot and the thing sputtered and jerked and then the windshield wipers exploded, you'd ask for your money back. And you'd probably get it too, but baseball players aren't like that. The Red Sox aren't getting their money back, even though David Price's windshield wipers have most definitely detonated.
But this isn't about money. Or at least it's not about monetary specifics. It's about a team that needs an ace, finally buckling down and buying/convincing one to take their money, and what they got in return.
So let's start by saying immediately right now that what they got in return is an ace. David Price is still an ace. He's been an ace in the very recent past and even though his performance this season hasn't measured up to what he, we, and the Red Sox would like, the chances are incredibly good he's still that guy and not the one we've seen in 2016. What's more, as I attempted to point out on Twitter after Price's 3.2 innings in which he gave up eight runs, two of which came on homers, he's not the only big name pitcher who has struggled through this season's first month.
ERAs
David Price: 6.65
Zack Greinke: 5.25
Chris Archer: 7.32
Adam Wainwright: 8.27
Justin Verlander: 7.16
Corey Kluber: 6.16

— Matthew Kory (@mattymatty2000) April 21, 2016
The Red Sox are hoping to get 3- plus starts out of Price this season so if he figures things out and starts getting better results, this will be but a cold weather blip on the chart. However, since this is all we have to go by now, those four starts loom large, like exploding windshield wipers when you first start your new car. Whoah! What the heck was that!
Price's start yesterday was particularly disconcerting as it came against a Rays team that, in 14 prior games, had managed to score more than three runs just three times. That's 11 times they scored three or fewer runs, twice they scored five, and once they managed seven. Yesterday the Red Sox $200 million ace gave up eight in less than half a game to that team, a team that most average starters should hold down. So yes, as I said, disconcerting.
Let's look a bit closer and see if we can figure out what's making the Ferrari's wipers blow up. The first thing that jumps out at me is Price's velocity. Compared to other Aprils it's down across the board. Now, his cutter averaged between 88 mph and 90 mph overall last season and it's averaging 89 mph so far this season. So, okay, fine. Same with the curveball, more or less. It's at 79 mph so far and it was right there at the end of last season as well.
Price's fastball is the slowest it's been since a single game last April where it averaged 92.66 mph against the Yankees.
The fastball though, that's down, period. Price's fastball is the slowest it's been since a single game last April where it averaged 92.66 mph against the Yankees. But the games bookending that one each featured significantly faster speeds of 94.88 and 95.49. Also, we're talking about one game versus an average of four. Price hasn't averaged above 93.5 mph in a start yet this season and yesterday his high, not his average, his high, was 95.3.
This isn't entirely unexpected. He is 30 years old and pitchers lose velocity as they age. It is also April, a month when pitchers are still getting warmed up internally and when the weather is cooler than normal and that inhibits velocity as well. So the elements are working against Price, but even taking all that into account, Price's velocity is down further than you would hope. Now Price can absolutely be successful with lower velocity. It's not like 93.5 mph is slow. It's just not 95.5 mph. There is just slightly less margin for error.
When you're throwing 110 the batter has no time to react and so it almost doesn't matter where the ball goes. It can go right down the middle and the batter won't stand a chance. Slow down to 80 mph and the location becomes  vital. If you don't paint the black with a 80 mph fastball it's getting smoked. Price has taken a step away from 'who cares where it's going' and towards 'location is vital.'
Even so, as Brian MacPherson of the Providence Journal pointed out on Twitter, Price has still been getting a ton of swings and misses. In fact, he's one of the leaders in that category throughout baseball:
Price has 12 swings and misses on his first 42 pitches — 28.5 percent. He came into today at 25.2 percent, sixth-best in baseball.

— Brian MacPherson (@brianmacp) April 21, 2016
That would seem to point towards some high level of effectiveness, even given the decreased velocity. So what is the problem then? Let's look at yesterday's strike zone plot (from brooksbaseball.com).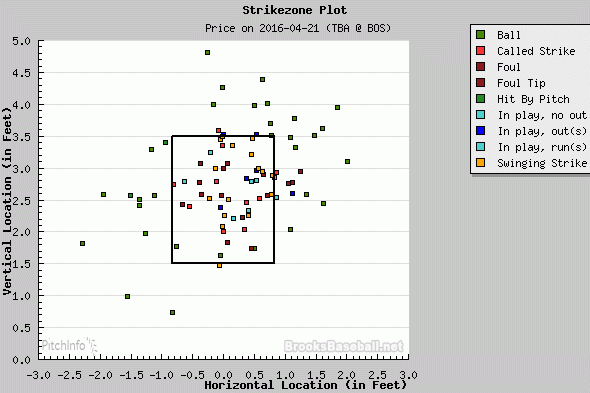 Look at the pitches in the middle of the plate. That will work some of the time, and it did work some of the time, but look at the general plot of the pitches. There are comparatively few on the corners and the majority of the pitches are up. Further, there are almost none in the bottom left corner of the plot and only a couple on the bottom right. Lastly, look below the zone. Just one pitch is just underneath it. Then look above the zone. There are eight or nine pitches (about an eighth of the total pitches he threw) floating nebulously above the zone. Plainly, Price was getting his pitches up, and he wasn't able to hit his spots.
The combination of lower velocity, more pitches in the middle of the zone, and fewer on the edges was doom for Price, even against a light hitting team like the Rays.
The good news is Price should be able to improve his command. This type of command isn't typical of the kind David Price has displayed throughout his career. Perhaps there's a mechanical adjustment that needs to be made or perhaps the ridiculously long replay reviews at the end of the second inning were indeed a factor. There are any number of excuses at the ready. Maybe most importantly Price has shown an ability to make adjustments throughout his career, an aspect of his pitching and personality that helped make the Red Sox more comfortable giving him the huge contract they did.
It's tough when you only have four games to go on. In July maybe this will be a silly blip, a speed bump coming out of the dealer's lot. The Red Sox hope so. But right now Boston is 2-2 in games Price has started and they've scored seven and eight runs in the two loses. That shouldn't happen. When you score that much with your $200 million ace on the mound, those need to be wins. So far, four starts into the season, David Price has failed at his job. It's a tough job with huge, maybe unreasonable expectations to be sure, but when you're a Ferrari, when you're as top of the line as they come, that's not just what's expected of you, it's what's required.
Photo by Kim Klement/USA Today Sports Images