After a few nights of good pitching and good hitting, the Red Sox failed to produce either of those in a fairly frustrating loss to the worst team in baseball. But hey, we did get a good dose of AJ Being AJ.
Top Play (WPA)
The Braves finally break through in this category, as Mallex Smith's RBI double in the second inning earned a .149 WPA. Smith wreaked havoc on Sox pitchers today, as he went 3-for-4 with two RBI. The Braves ended up with three of the top five plays by WPA, and the other two were RBI singles by  Clay Buchholz's new nemesis, Nick Markakis. If you're letting guys like Markakis and Smith beat you with five hits and five RBI, you're not gonna win a game. The Red Sox – well, mostly Clay Buchholz – did just that.
Bottom Play (WPA)
The mayoral office of Ding Dong City took some flak today, as Travis Shaw grounded into a double play in the sixth inning to rack up a -.094 WPA. The Red Sox were down 5-2, and Hanley Ramirez had scorched another baseball into the outfield. The Braves then went to their bullpen, and Shaw drew the short straw as Braves left Eric O'Flaherty got a grounder out of him that bounced right to second baseman Jace Peterson. The game was chock-full of disappointing moments like that – the Red Sox would look like they'd have something going, but then ruin it in the very next moment.
Key Moment
Remember those disappointing moments I talked about? There was one in the seventh that pretty much determined the game. The Red Sox had gotten runners on the corners with one out against Alexi Ogando, and Xander Bogaerts came up to bat. He took a ball, then struck out on the next three pitches. This allowed Fredi Gonzalez to go get another lefty reliever in Hunter Cervenka so he could get the platoon advantage on David Ortiz. In the battle between rookie and veteran, the rookie won out, as Cervenka got Ortiz to ground out meekly into the shift. The Red Sox would threaten again in the ninth, but nothing came of it once Bogaerts grounded out on the first pitch.
Trend to Watch
Dustin Pedroia's opposite-field power. We saw some of it yesterday, as he hit a grand slam off Pesky's Pole, but he just keeps knocking the ball into right field and getting extra bases out of it. On balls Pedroia has a 1.250 OPS on hits going the opposite way, which stands in contrast to what we think we know about Pedroia – he was known primarily as a pull guy when he ended up hitting for power. Just take a look at his spray chart so far in 2016: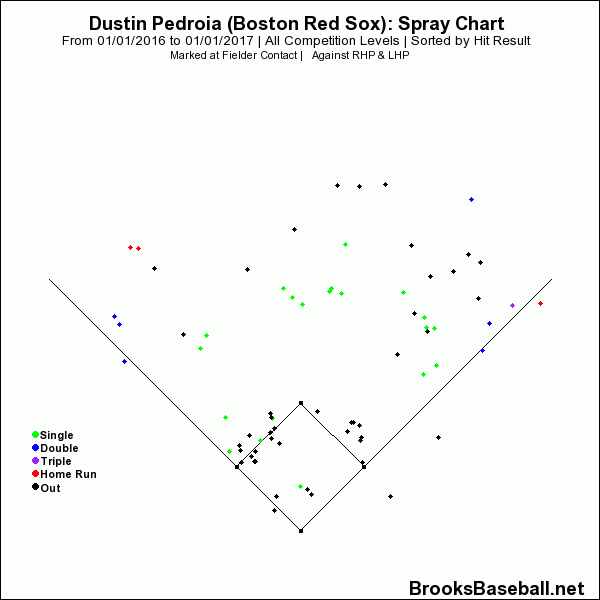 There are a lot more of those hits going the opposite way than to his pull side. Looks like the hands really are healthy.
Coming Next
The AL East gauntlet returns as the Yankees come to town. New York will send out Masahiro Tanaka, who has recorded two consecutive 7 IP, 2 ER starts, and the Red Sox will start Henry Owens, who…hasn't had a start like either of those. After Buchholz, there's no way we can be more frustrated with a starter, right?
…Right?
Photo by Clay Buchholz/USA Today Sports Images