As of this writing, the Red Sox are two games above .500, and while there are certainly some sour spots, things have been fine overall. Looking at one player specifically, Hanley Ramirez is a feel-good story so far. After last year's horrendous display in left field, his defense at first base was obviously a massive question mark heading into 2016.
Yet through the first few weeks of the season, everything looks good on that front. He's making all of the easy plays, some of the tough ones and, by all accounts, is putting in the work necessary to keep this up. In fact, things have gotten to the point where Hanley taking over at DH next year is no longer a foregone conclusion.
Unfortunately, while everyone is paying attention to his pleasantly strong defense, his struggling offense has gone nearly unnoticed. Even dating back to last year, his production with the bat was more concerning than his rough work in the outfield, at least in this writer's opinion. At the end of the day, the Red Sox signed Ramirez to hit, and he failed miserably in 2015 to the tune of a .252 TAv. Much of that was blamed on a shoulder injury, and it was expected to change in 2016.
So far, though, that hasn't been the case as he's hitting just .270/.291/.378 with a .236 TAv through his first 79 plate appearances of the year. That's even worse than his overall line from 2015 and is reminiscent of his post-shoulder injury self.
Let's break this down into plate discipline and contact skills and see what exactly is going on here.
Plate Discipline
While Ramirez's batting average is significantly higher than it was in 2015, that's based entirely on BABIP rather than improved plate discipline. That's not to say that he can't maintain a high BABIP, because that's something he's done in just about every year of his career besides last season.
Ramirez's strikeout rate may be the most worrisome part of his early season performance, as it's an entirely new phenomena.
Even if that's the case, however, the strikeout rate is alarming. This may be the most worrisome part of his early season performance, as it's an entirely new phenomena. Even during his down 2015, he continued his career-long trend of striking out at a slightly below-average rate. To make matters even worse, it doesn't appear to be very fluky to this point, as Hanley's swinging-strike rate is way up from any other point in his career. While he's usually a little below the middle of the pack in this area, he currently has the 61st-highest swinging-strike rate out of the 207 batters who have seen at least 200 pitches.
Looking at his breakdown on Brooks Baseball, a couple of things stand out for Ramirez. The first should make you breath a bit easier: Ramirez has struggled mightily against knuckleballs, and has already seen as many as he did all last year. That's going to have a disproportionate effect on his overall rate.
However, he's also having a jarringly hard time making contact on hard pitches. Ramirez is someone that we think of as a destroyer of fastballs, but so far this year his whiff-per-swing rate has risen significantly against sinkers and cutters and slightly against four-seam fastballs. This could simply be chalked up to small sample-size noise, but it is still a trend continuing from late last year.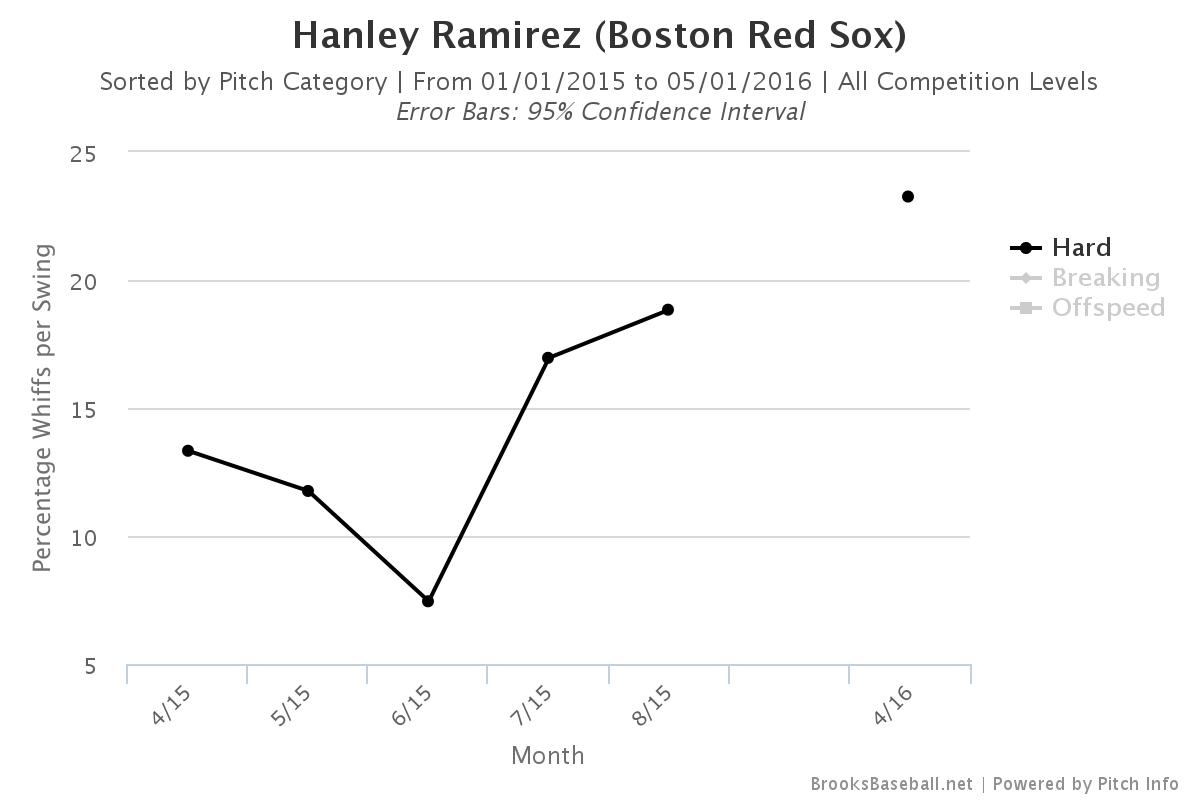 In addition to the strikeout issues, I also wanted to take a quick look at his trouble drawing walks. This is clearly one of the trends that is carrying over from 2015. Now, to be clear, Ramirez has never been a big-time OBP player, but he's typically held something close to a league-average walk rate. That rate cratered to around five percent in 2015, and has fallen even further to under four percent in 2016.
Looking a little deeper into things, his zone recognition is way off right now. As of this writing, he's swinging at far fewer pitches in the zone this season while swinging at far more pitches out of the zone. This is obviously not a great combination and is the kind of poor swing selection that leads to a lot of pitcher's counts.

Contact Skills
Unfortunately, things haven't been all that much better when Ramirez has been able to put the ball in play this year. Although it hasn't yet affected his aforementioned high BABIP — currently sitting at .345 — his contact profile looks awfully similar to what it looked like last year. When looking at his disappointing 2015, the biggest issue was how often he hit the ball on the ground. This had never been an issue for Hanley in his career, until he suddenly starting hitting grounders 50 percent of the time.
That rate has continued into 2016. Obviously, the flip side of this is hitting fewer balls in the air, which leads to less overall power. This is how someone with Ramirez's strength hits for a .108 ISO to start the season.
In addition to that, he is struggling because of where he's hitting the ball. Looking at FanGraphs' location splits, it's clear that he has thrived over his career by pulling the ball as much as possible. He's done so roughly 40 percent of the time in his career, and closer to 45 percent in his best years. It's where he's had the most success, as illustrated by his career 203 wRC+ on balls he pulls. Last year, he had the lowest pull rate than any year of his career besides 2011. So far this season, it's fallen even lower to a career-low rate. The spray chart below does a good job of illustrating how this hampers his power.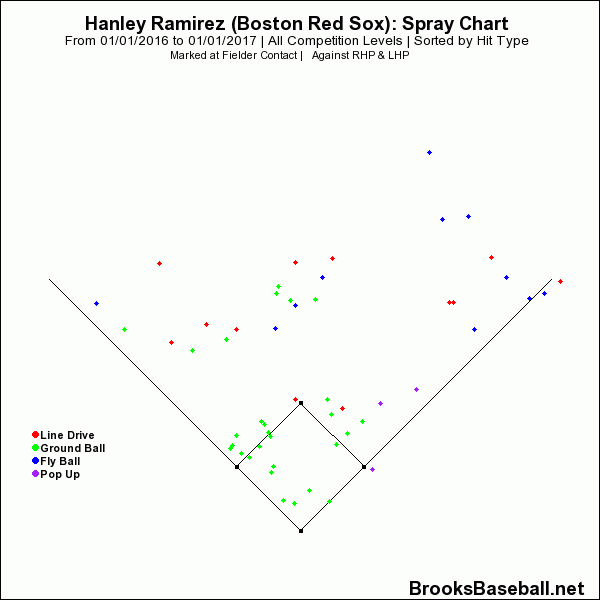 The final thing I wanted to look at was Ramirez's exit velocity. Obviously, these are still relatively new numbers, and without proper context, they don't tell the whole story. With that being said, it's still a simple way to measure how hard Ramirez is hitting the ball, and it's yet another worrisome trend that is continuing from 2015.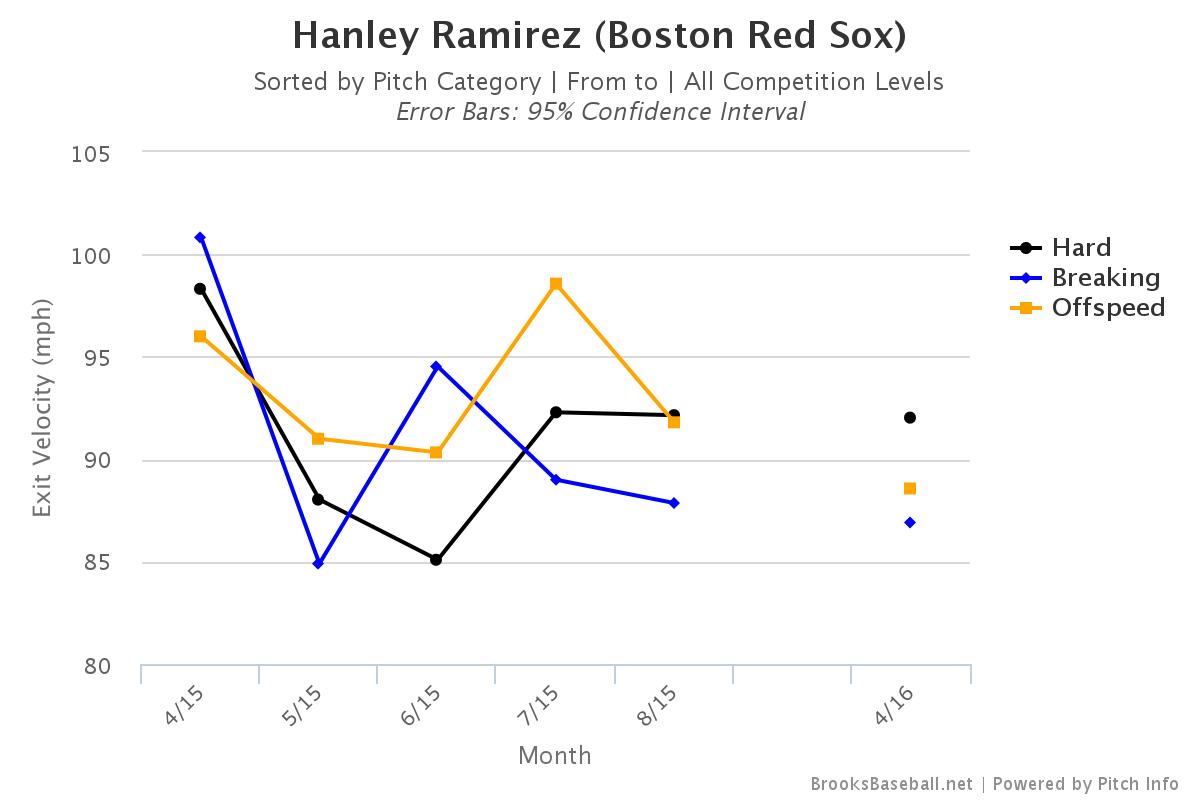 Obviously, we're still talking about just a few weeks of data, and a hot week from Ramirez can change everything. As Nick Canelas pointed out just last week, Hanley has made tangible adjustments to avoid a repeat of his disappointing 2015.  Nonetheless, it has yet to change his results at the plate in a significant way.
To this point, the rest of the Red Sox offense has picked up the slack, as Boston still boasts one of the better lineups in the game. He's also earned himself some extra goodwill with his defensive strides at first base. However, at some point Ramirez is going to have to hit, considering that's why he was signed in the first place. That means bucking some trends that have been plaguing him since midway through last season and giving the Red Sox the type of middle-of-the-order production he has shown himself capable of in the past.
Photo by Troy Taormina/USA Today Sports Images