The Red Sox finished off the sweep of the Yankees in an exciting series finale.
TOP PLAY (WPA)
Dellin Betances vs. Christian Vazquez is supposed to end in one of a few ways: a weak ground ball to second, a strikeout, or maybe—if it's Vazquez's lucky night—a seeing-eye single into center field. Last night Vazquez turned around a 97 mph Betances fastball and deposited it somewhere in the general vicinity of the Massachusetts Turnpike (+.323 WPA), giving the Red Sox an 8-6 lead they wouldn't relinquish.
That's not supposed to happen, but sometimes it does, and that's one of baseball's wonderful quirks. Vazquez is on this team for his defense, and he'll probably have prolonged offensive slumps at different points in 2016—PECOTA projects him for a .245 True Average and his bat has never been highlighted in a scouting report. But last night, for a flickering moment, he was Manny Ramirez.
BOTTOM PLAY (WPA)
With the score tied and runners on first and third with two outs in the sixth inning, David Ortiz popped up to Mark Teixeira in foul ground (-.076), ending the Sox rally. If only Ortiz could come through in a big spot every once in a while…
For what it's worth, the Yankees monopolized the rest of the low WPA plays, led by Didi Gregorius's ninth-inning strikeout (-.075) and A-Rod's fielder's choice grounder in the first (-.069), where Travis Shaw made a nice play behind third base to nab Jacoby Ellsbury at the plate.
KEY MOMENT
See above: seriously, watch it again.
Another interesting moment came earlier in the seventh inning. Up to that point, David Price had labored through six—he hadn't thrown too many pitches and only had one walk, but he'd given up eight hits, including a home run and a double to Alex Rodriguez. It seemed like a logical time to call it a night, although you could maybe argue that it made sense to leave Price in to start the seventh, facing back-to-back lefties to start the inning. Maybe.
John Farrell did one better, leaving Price in to not only face Ellsbury and Brett Gardner, who he successfully retired, but also—after a conference on the mound which might have made you curse at your TV—to face A-rod for a fourth time. Given what we know about the times-through-the-order penalty and platoon splits, that decision was almost certainly, by the numbers, a bad one.
Give Price credit—and Farrell, too, I suppose—for getting Rodriguez to ground out to Pedroia after a six-pitch battle, setting up the bottom of the inning for Vazquez's heroics. Price had another rough outing overall and you'll likely find a thinkpiece or three about him on the internet tomorrow, but it's nice that he can still go seven innings even when he doesn't have it, allowing Boston to bypass the middle of the 'pen for Koji Uehara and Craig Kimbrel.
TREND TO WATCH
I realize Brett Cowett just wrote about it in Friday's game recap, but Dustin Pedroia went to the opposite field in all five plate appearances last night, the first three of which all found grass. Per Brooks Baseball, Pedroia has been using the off-field far more frequently in 2016, particularly on soft stuff: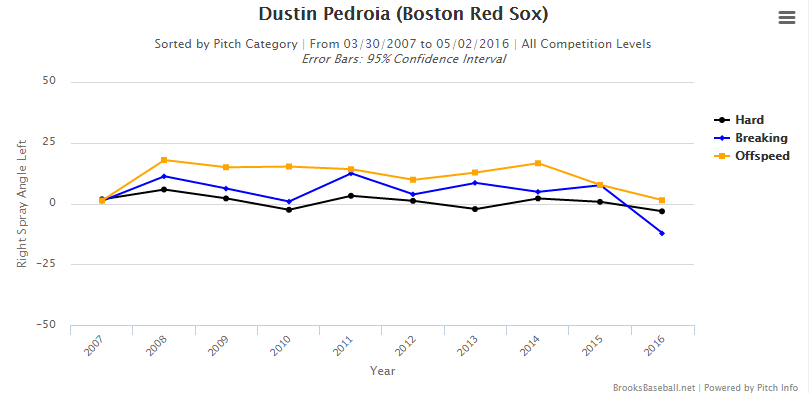 I can't tell you what, exactly, this means, but Pedroia's now hitting .324/.371/.491 so far this season, so I'm just going to shut up and enjoy it.
COMING NEXT
The Red Sox head to Chicago for a three-game set with the surprising 18-8 White Sox, where Steven Wright will square off with Jose Quintana in the series opener on Tuesday. Quintana is quietly building a case for the best non-ace pitcher in the majors, as he's posted a 3.37 career FIP while delivering a quality start in nine of the last 10 outings going back to 2015. Over the weekend, the Red Sox will travel to the Bronx for another three-gamer with the Yankees that will conclude on Sunday night.
Photo by Bob DeChiara/USA Today Sports Images