It was far from a secret that the Red Sox had issues with their rotation heading into the season. The narrative was easy to spot from the beginning, as the back-end crop of starters appeared to be extremely weak. Beyond their number one guy, there were no certainties for what Boston would get from their starter on a day-to-day basis. The big difference from last year, of course, was that there would be the "ace." They got their guy to stop slumps and put out strong performances once every five days. What a relief! Obviously, the plan all along was for that guy to be Steven Wright.
Through his first five starts of the season, the knuckleballer has thrown 32.1 innings with a 1.67 ERA to go with a 3.04 FIP. To make matters even better, he's been the model of consistency to start the 2016 season, as he's gone at least six innings in each of his outings while not allowing more than two runs in any outing. He still has three losses on the season, but that's entirely on the offense for putting out poor offensive performances on those days. Wright has been the every-five-day slump-buster David Price was expected to be. What I am really curious about is why and how he's been so productive.
I don't think it'd be a hot take to say the numbers are going to get worse at some point soon. Everyone would agree with that unless they believe Wright is suddenly the best pitcher in baseball, in which case kudos to you for your rad optimism. However, even with the expected regression, he's shown enough to believe there's enough here to earn him a full-time rotation slot moving forward.
Wright has increased his swinging strike rate enough to put him in the top-20 among all pitchers with at least 400 pitches.
For one thing, the peripherals are better than they were last year, his only other extended test in the majors. Now, peripherals don't matter nearly as much for knuckleballers, as their strange repertoire leads to plenty of weak contact that in turn leads to peripheral-beating stats. At the same time, no one can complain about improved strikeout, walk and home run numbers. Speaking of which, Wright's strikeouts are way up from last year, as he's inching close to striking out a batter per inning after striking out just 6.4 per nine innings in 2015. To make matters even better, he's increased his swinging strike rate enough to put him in the top-20 among all pitchers with at least 400 pitches. For a little more context, that puts him in the same cluster as Chris Archer, Madison Bumgarner, Kenta Maeda and Stephen Strasburg. You know, they guys we usually associate with Wright.
Unfortunately,  Wright has also seen an increase in walks, but he's hitting the zone just as much as he did last year and is inducing essentially the same swing rate on pitches out of the zone. Because of that, I wouldn't expect his walk rate to spiral out of control.
Looking a bit deeper into his numbers, we see that he is passing the biggest test for knuckleballers. As we know from all of our years of watching Tim Wakefield, knuckleballs can be quite easy to hit if there isn't enough movement. With a pitch coming in this slowly, it is quite easy to hit a ball that isn't dropping enough. Luckily for Wright, he has added quite a bit of dip to his knuckleball this year in comparison to last year.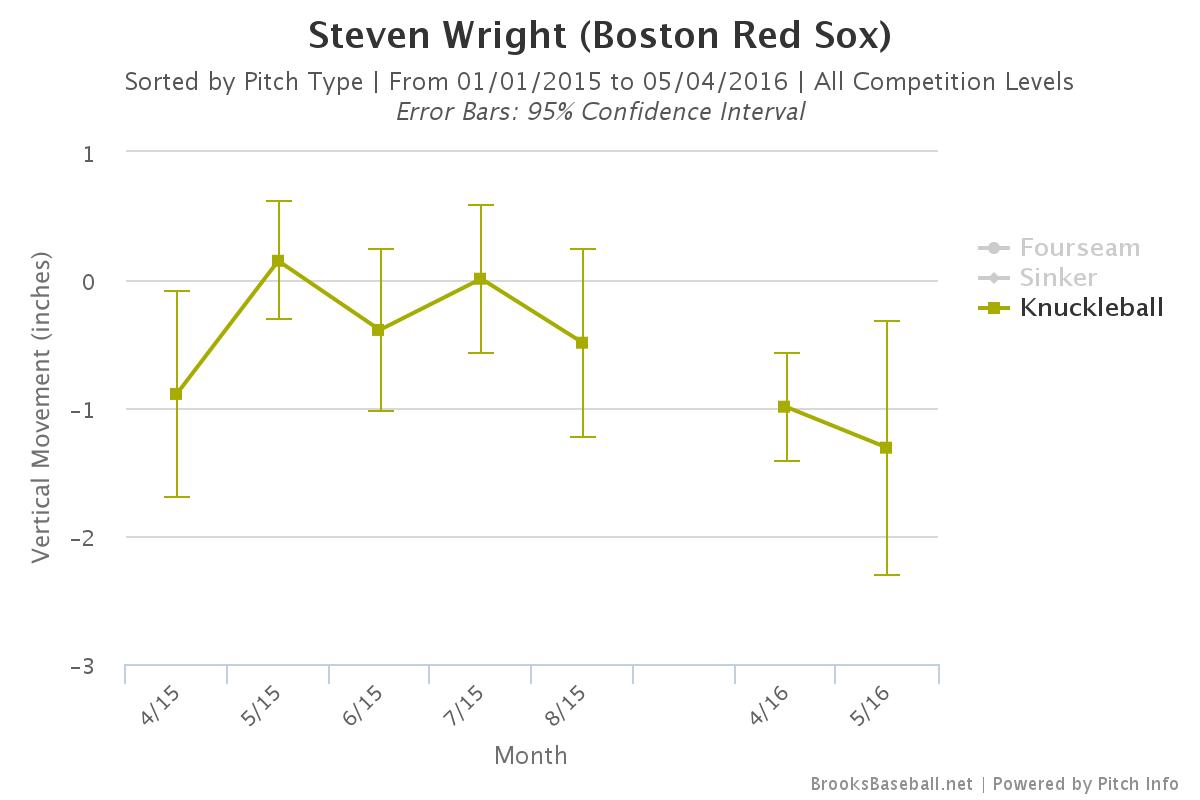 The other key part of a knuckleballer's success, that goes along with the downward movement of the pitch, is keeping the ball down in the zone. When hitter's talk about batting against this specialty offering, a common phrase used is "If it's high, let it fly." Basically, that just means if the pitch is coming in up in the zone, take a swing because the ball will probably go a long way. When guys like Wright or Wakefield have off nights, it's often because they let the ball stay up in the zone far too often. Thus far this year, that hasn't been an issue, as can be seen in the zone rate comparison gif below.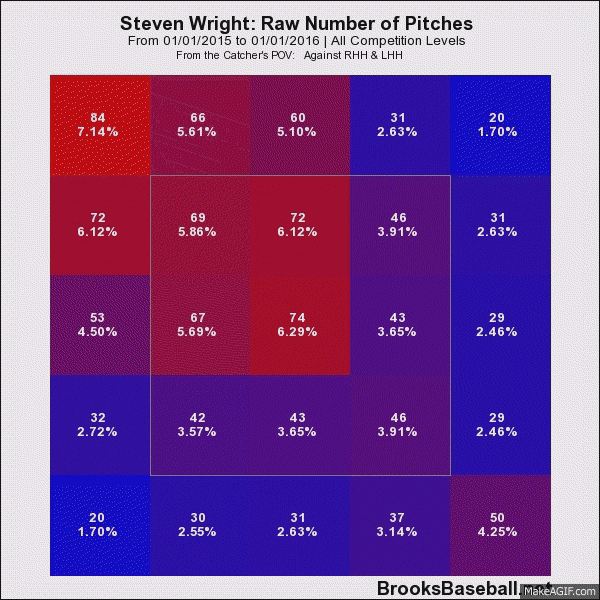 All of this has combined to curb his home run tendency, which was the number one killer for him last year. Although he's not inducing as many ground balls as he has in the past, Wright is  limiting the hard contact on fly balls and line drives. That, along with superb outfield defense behind him, has resulted in opponents mustering an ISO of just .058 against his knuckleball, per Brooks Baseball.

Looking just at his last performance in Chicago provided even more confidence for Wright moving forward. Through the first two innings of his outing, it appeared as if it may be a night that could spiral out of control. He was missing the zone a lot, and letting his knuckleball sit up where batters could crush it. However, with a little help from Price, he made an adjustment and settled down to end up with a solid outing despite some uneasy walk totals.
As I said before, there is surely some regression coming with Wright's performance. Even beyond the fact that no one outside of perhaps Clayton Kershaw can be expected to sustain a sub-2.00 ERA, there is an added wrinkle in which knuckleballers are due for blow-up performances. With that being said, Wright is in a legitimate groove right now. He's getting more whiffs than ever with his knuckleball and in general, that is putting him near an elite class of pitcher thus far. He's also getting more movement on his knuckler than he did last year, and that is helping him keep the ball in the zone. All of that is combining to limit the hard contact he allows, which is always the biggest worry for him. Eventually, Price will take his place as the slump-stopper in the rotation, but Wright has earned enough of a leash to give him the opportunity to prove that most of our expectations for him were on the low end.
Photo by Bob DeChiara/USA Today Sports Images