Let us mourn, for the streak is over. The Red Sox's home run streak, that is. Their run of hitting at least one home run a game has ended at 22 games.
Jackie Bradley Jr.? Oh, he's still going strong.
Top Play (WPA)
There was quit a glut of plays at the top, but the one that takes the cake is Christian Vazquez's(!) RBI triple(!!!) in the second inning. Vazquez squared up a ball so well it rivaled his home run off Dellin Betances, and it was hit so hard that it caught Charlie Blackmon off-guard. How off-guard? Well…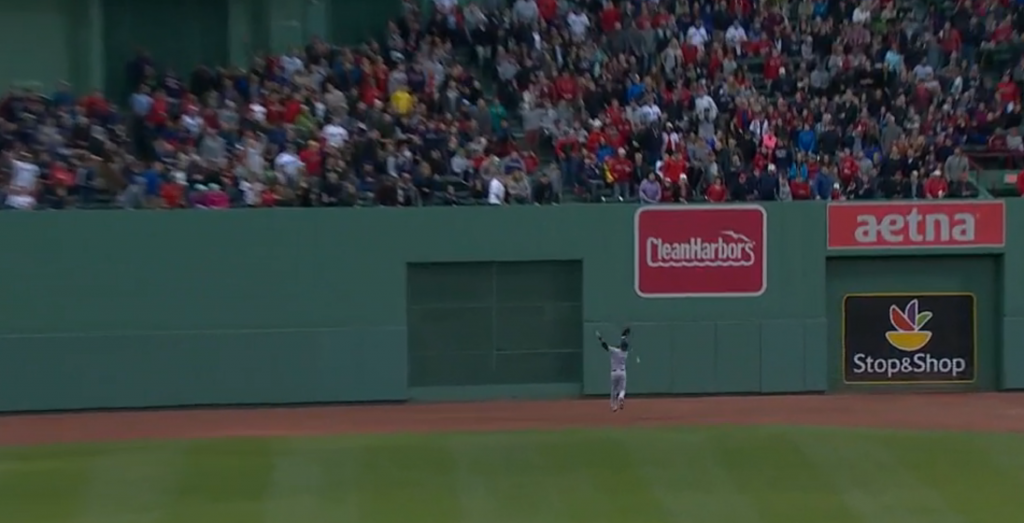 That white dot to his right is the ball after it glanced off his glove.
The "triple" was worth a .109 WPA, and wasn't the only strange play to be scored a triple in this game, weirdly enough. Just ask Gerardo Parra.
Bottom Play (WPA)
A couple innings after that improbable triple, David Price would be pitching to Ryan Raburn with a man on first in the top of the 4th. The Red Sox had just missed on a double play earlier in the inning, but Raburn gave them another chance, and this time, they wouldn't squander it. That double player grounder to Pedroia racked up a -.060 WPA, and if that wasn't bad enough, the play before it was the second-worst play in the game – a fielder's choice that came with a -.040 WPA. Carlos Gonzalez would've been out at first on that play had Price gotten the ball to second base faster, but Price took his time so he wouldn't throw it into center field. Silver linings and all that.
Key Moment
David Ortiz has a real penchant for these things, y'know? After the Rockies played very bad baseball in the top of the 4th, Ortiz made them pay in the bottom of the frame.
With his second two-run hit of the contest, Ortiz made the game a blowout. The retirement is a lie.
Trend To Watch
Sure, you've got Jackie Bradley's 28-game hitting streak, but Xander Bogaerts has been quietly – well, about as quiet as one can be when one gets three hits a game – building up a streak as well. He's at 17 games right now, and hitting .349/.402/.500 on the season. Bogaerts might as well be carrying Lightbringer up to bat with him, seeing as his enemies are still failing to defeat him. There aren't a lot of things that can make something like this seem low-key, but a streak like JBJ's will do it.
Coming Next
The 2007 World Series Redux continues! This time it'll be Chad Bettis against Steven Wright, and one can only hope Bobby Kielty makes a surprise appearance.
Photo by Greg M. Cooper/USA Today Sports Images