The Red Sox took a pretty big blow earlier this week when they lost Carson Smith to Tommy John. It's something that's been in the back of everyone's mind since the moment he left the mound in spring training clutching his forearm, but the hope was that it'd never come to this. Instead, Boston is now without one of their most talented arms for the duration of the season. Luckily, they have Junichi Tazawa to make that transition far less noticeable.
Opinions on Tazawa were oddly split heading into the season, largely due to his poor performance toward the end of 2015. Back in March, the bullpen was split into two factions. The first was the elite tier, with Craig Kimbrel, Koji Uehara and Smith. Then, there was the massive group of middle relievers like Matt Barnes and Robbie Ross and all of the other guys we've seen prior to the seventh inning this year. Then there was Tazawa, who for some reason found himself stuck in the middle of those two factions rather than squarely in the first one. Through the first quarter of 2016, he's showing that those who doubted he was part of the first group made a mistake.
Although he's always been among the best at controlling the strike zone, Tazawa has taken it to another level this year with 10.7 strikeouts per nine innings.
There's no other way to interpret what the righty has done this year; he's been phenomenal. With Smith already missing essentially the entire season and now continuing that absence through the end of the year, there's a strong argument that Tazawa has been the most valuable arm in the bullpen. We're talking about a guy who, through Tuesday's action, has a 1.53 ERA, 2.39 FIP, 3.16 DRA and an 83 cFIP through his first 17.2 innings. We've seen Tazawa excel before, but never to this level.
Looking a little deeper into his numbers, it's clear that he has improved in just about every important area for a pitcher. Most noticeably, he's striking out significantly more batters this year. Although he's always been among the best at controlling the strike zone, he's taken it to another level this year with 10.7 strikeouts per nine innings. It also looks almost entirely sustainable. To this point in the year, 307 pitches have thrown at least 250 pitches. Twelve of those pitchers have a higher swinging strike rate. The biggest key to this has been inducing plenty of swings on pitches out of the zone, as Tazawa has the sixth highest O_Swing rate of that same group of 307 arms.
At the same time he is showing off this vastly improved swing-and-miss stuff, he's also allowing weak contact on a consistent basis. This is especially encouraging considering hard contact has always been Tazawa's Achilles' Heel. However, to this point in the year he's allowed a .211 BABIP, a half of a home run per nine innings and a 49 percent groundball rate, all of which are career bests.
Overall, the key that has lead to both of these positive developments in Tazawa's game all come down to the simple act of keeping the ball down in the zone. As I mentioned just a second ago, he's had trouble limiting hard contact in the past, and that's because he's shown a tendency to leave a handful of pitches belt-high down the middle of the plate in every outing. That hasn't been an issue this year, as you can see here.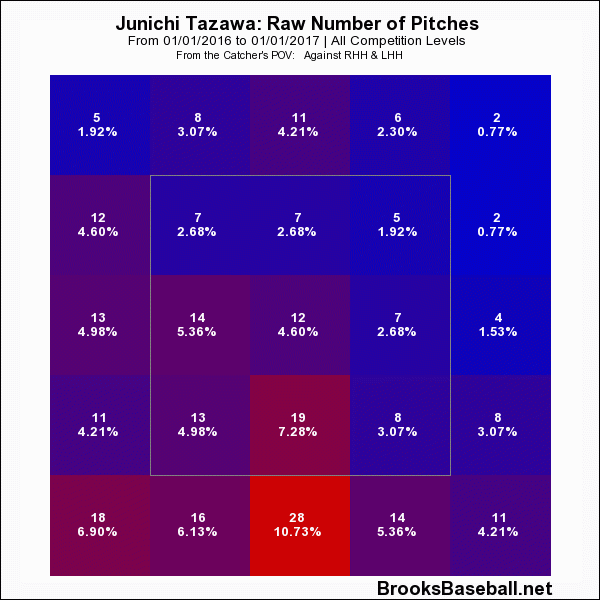 As far as I can tell, the catalyst for this is a newfound release point. Tazawa has always been somewhat over-the-top with his release, but he's adjusted that even more this season.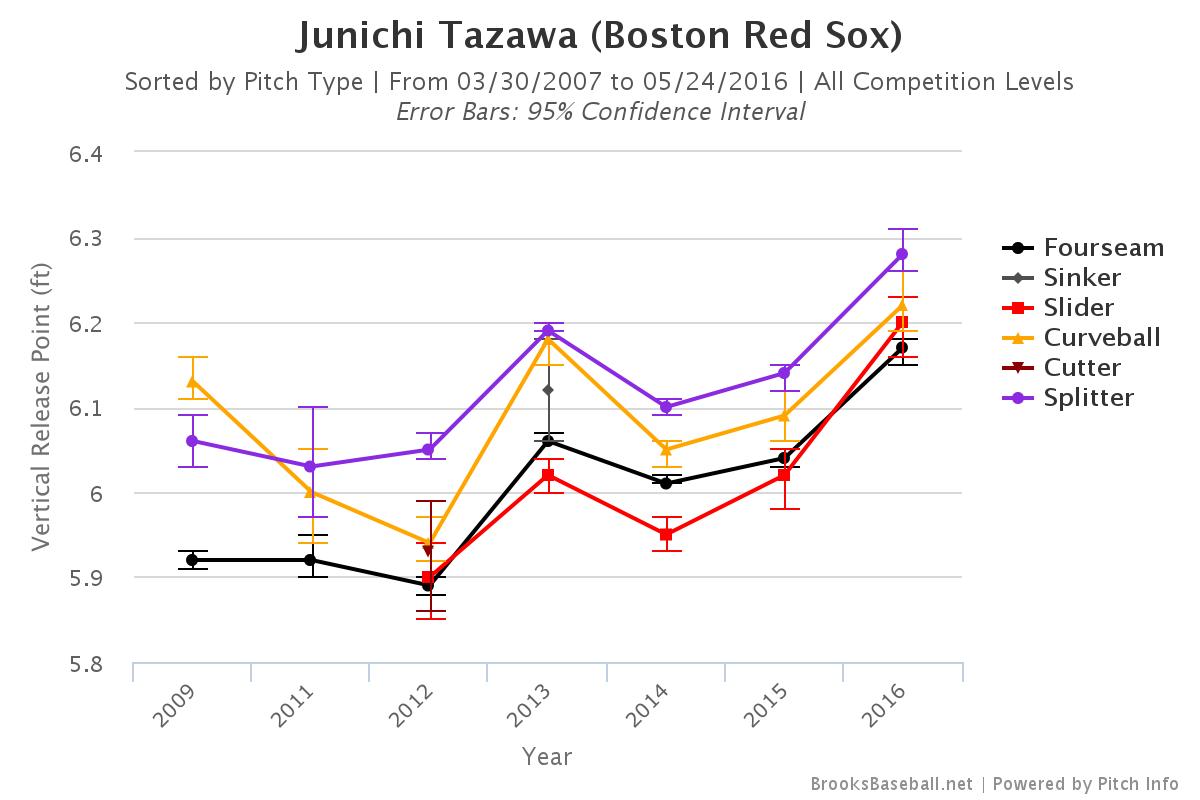 By utlizing this higher release point, he's been able to get on top of the ball more consistently and drive it through the bottom of the zone. Additionally, as a guy who throws a huge number of splitters, it allows him to get sharper downward movement that drops the pitch out of the zone at the last second. That last part has been the most important development in his drive toward becoming a near-elite strikeout arm in 2016.
Now, the Red Sox find themselves with a difficult decision on their hands. Tazawa is set to hit free agency at the conclusion of this season, and he's setting himself up to get a pretty payday when winter comes around, especially as the league is flocking toward a willingness to drop plenty of cash on career setup men. Last year, I made the argument that they should've extended Tazawa at that point, and obviously nothing in 2016 has changed my mind on that front. With that being said, the longer they take to come to a deal, the more likely he'll find himself out of their comfort range. Whether he's around for years to come or just months is inconsequential at this point. The Red Sox find themselves in contention for the first time since 2013, and having a strong base in the back of the bullpen is key to staying in contention. Losing Smith was a huge blow on that front, but luckily Tazawa has taken his game to a new level to offset that loss.
Photo by Bob DeChiara/USA Today Sports Images.