I'm writing this on Thursday afternoon, before the Red Sox play the Orioles for the fourth and final time in the series. I mention that at the top in case Mookie Betts hits another two or three homers on Thursday night, which, considering the way the last two games have gone, he very well could do (editor's note: sadly, he didn't). You likely know Mookie homered five times in two games, specifically Tuesday and Wednesday. Five homers in 10 plate appearances is ridiculous enough, but we can condense it further to five in a stretch of seven PAs. Adding a qualifier at this point seems as silly as the act itself.
Mookie began Tuesday morning with some eggs, orange juice, and a slugging percentage of .480. He ended the following day, Wednesday, with mint toothpaste, some dental floss, and a slugging percentage of .549. His OPS went up 84 points. The number of required exclamation points following his given name went from one to three. Three!!! The point is Mookie!!! is amazing and his two volcanically hot games took his slash line from good to excellent. But we've seen him get silly hot before. In fact, those games weren't his first multi-homer games this season. He also hit two on May 21 against Cleveland. Last season he did it twice as well, including hitting three in a two-day span.
So we've seen a slightly lesser version of this before, but it didn't herald much in the way of different performance. What, if anything, can Betts' five homers in two games tell us about him? I went back to look at the five homers to try to find out.
First Home Run
The first thing you might note upon watching Mookie's first homer is that it came on a fastball down and over the middle. That's not the traditional power zone we've seen from Mookie during his time in the major leagues.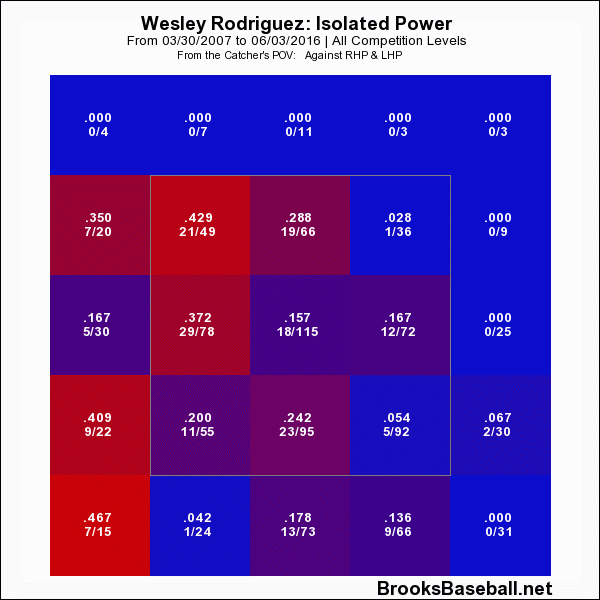 A glance at the chart above shows you most of Mookie's power comes when he turns on pitches inside. He's particularly good at inside strikes, and balls low and in that he can drop the bat head on and golf over the wall. This makes sense, as Mookie isn't a particularly huge guy and so most of his power comes when he's able to generate extra bat speed by pulling the ball. This homer wasn't that though. This homer was over the center of the plate but down, and it traveled well over the center field wall, 410 feet away. This homer took some serious strength and batting precision to generate. This was the kind of homer David Ortiz hits. This was a power hitter's homer.
We often hear Mookie compared to Andrew McCutchen of the Pirates, and it's true Betts' stats are similar to McCutchen's at a comparable age, but at least right now, Betts' power is more similar to Dustin Pedroia's. You almost never see Pedroia drive a ball over the center field fence or go the other way for a home run. Even with Pedroia's bat speed he isn't big and strong enough to generate consistent power to straight away center or the opposite field. The fact that Betts did could be the first sign of some real straight away power. Or it could be just something that happened.
Second Home Run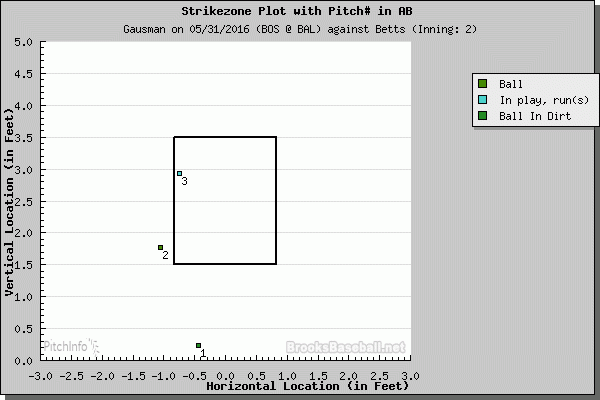 This one is a more traditional Betts homer. It's up and in and the fact that it's 95 mph doesn't hurt either. Betts uses his extremely quick hands to get through a very tough pitch to hit and jolt it over the left field fence. This one barely made it over the wall and though it had the distance it probably wouldn't have made it over the monster. This was less a prodigious display of power than a recitation of the quick hands and hitting skill we've seen from Mookie many times before. Still though. Wow.
Third Home Run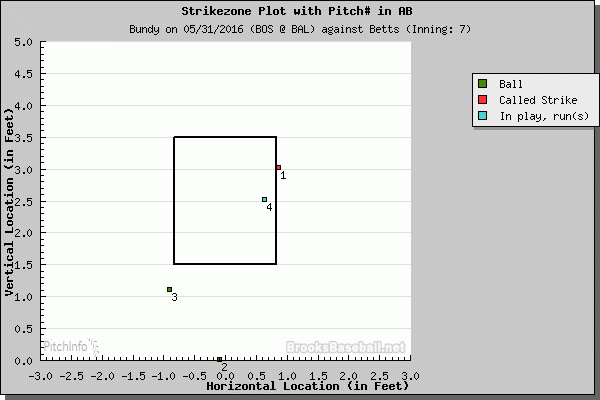 To me, this is probably the most impressive homer of the bunch. Like the other two it was a fastball, this one at 94 mph, but unlike the other two, this one was on the outside corner. Glance up at the ISO chart above. You'll see an ISO of .028 in the zone where this ball crossed the plate. There's a reason the Orioles catcher sat up on the outside corner. This pitch was almost exactly where pitchers have been trying to bust Mookie since he came up. Betts doesn't traditionally have much power on pitches over there, but he barreled this one up good. If he can hit pitches up and away 375 feet, AL pitchers are in some trouble. In fact, that's the second of three homers that have come on pitches that have been safe to throw Mookie in his career to-date. Maybe not anymore.
Fourth Home Run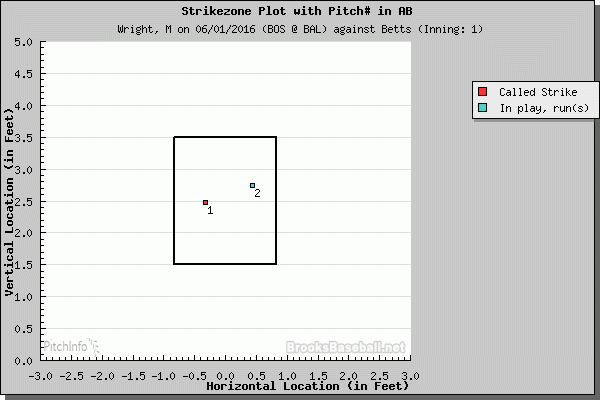 This homer was very similar to the one immediately before it. A Mike Wright 94 mph fastball up and away from Mookie. Perhaps the Orioles didn't have time to adjust their scouting report after just one day. In that case, let me do it for them:
Hey Orioles! Don't throw Mookie fastballs up and away because he'll crush them.
Fifth Home Run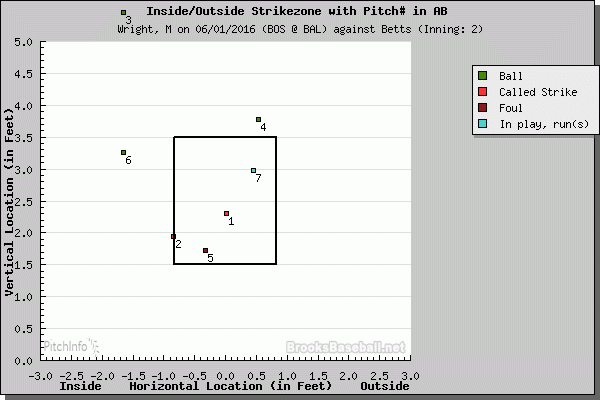 So in this next at-bat, Mike Wright throws a fastball over Mookie's head. The obvious goal here was to intimidate him. The next obvious move is to throw hard stuff up and away and let the jittery youngster calm his nerves in the safety of the dugout. So following the head-hunting, Wright let fly with a… well, actually a pretty horrible pitch. At least the one at Mookie's head had a purpose. This is the first clear mistake in the five we've seen Mookie hit, and this is a doozy. It's a changeup that was supposed to be down and in but sailed up and away. Hitting 94 up and away over the wall is a challenge for any hitter, let alone one of Mookie's size, but 81 mph is a different story. You can see Orioles catcher Matt Wieters drop his glove in defeat as he sees where the pitch is headed because he knows what is coming. Then it comes.
The story here is probably a few things. Firstly, we're seeing Mookie advance as a power hitter. He's seeing pitches in zones that have to-date limited his power and he's hitting them over the wall. We're seeing a special hitter expand, on some level, his hitting abilities.
What we're not seeing much of is the league adjusting to Mookie. Betts is seeing a similar pitch mix and zone profile (away, away, away) as he did last season. Even the number of strikes he's seeing is similar. Attacking Mookie in the strike zone might not be the answer, a fact his five homer in two day performance will undoubtedly highlight, and so opposing pitchers are going to have to try a different tact. Don't be surprised if Mookie starts seeing fewer strikes and fewer fastballs as teams try to get him to get himself out with more frequency.
Whether they are successful in that or a different strategy remains to be seen, but given the skills involved, it would be surprising if there is one thing pitchers can do to stop Mookie. That is underscored by five homers in a stretch of seven at-bats, which you may have even heard about! If Mookie's power continues to manifest almost exclusively on inside pitchers, he'll still be a special player, even if he's dependent on pulling the ball for extra bases. But, if this week is any indication of the future, the days of getting Mookie out and keeping his power at bay with outside pitches may be over. Time to try something new, AL. Good luck. You're going to need it.
Top photo by Tommy Gilligan/USA Today Sports Images