The Red Sox, despite their current rut, still have one of the best offenses in the league. David Ortiz still has the doubles record in his sight, Xander Bogaerts is in the midst of an all-around breakout, Mookie Betts is doing Mookie Betts things, Dustin Pedroia is enjoying a nice renaissance and Jackie Bradley Jr. still dents walls from time to time. There are five really good hitters on this squad. There's no debating that.
Things get a little trickier once you get past that quintet. Chris Young's been fantastic in the short-term, yes, but he was forced into a broader role due to injuries, and that holds true for Christian Vazquez as well. The real issues come from the two corner infielders – Hanley Ramirez and Travis Shaw. Ramirez still hits the ball hard, at least. Shaw, well, he doesn't do much of that anymore.
It's been tough watching their plate appearances as of late, because it sure seems like pitchers are just pounding away at that outside corner, leaving both Ramirez and Shaw looking foolish at the end of almost every plate appearance.
Let's take a look at Hanley first. He's changed his stance, which allows him to get around on inside pitches better, but leaves him vulnerable to stuff that breaks to the outside corner. However, if the pitch is elevated, Ramirez will have no problem going the other way with it. Problem is, pitchers aren't missing up. They'd rather bury pitches into the dirt rather than miss up, because Ramirez still swings. It sounds ridiculous, but Hanley is just that.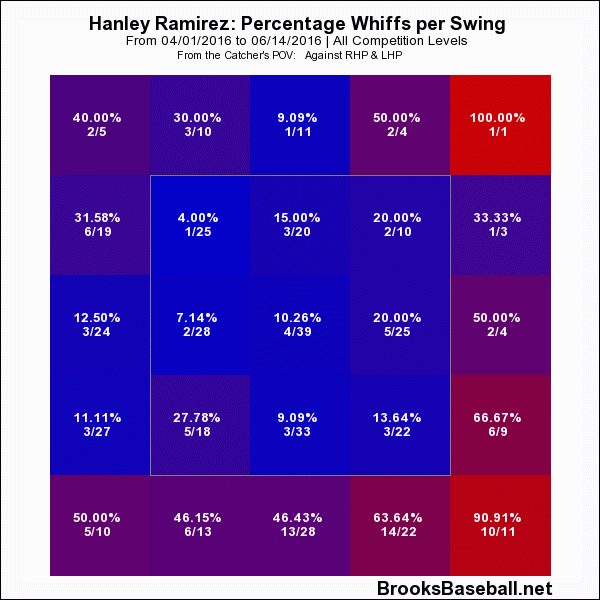 Hanley won't miss much in the zone, and that deserves at least some credit. But once you drop below it, it's a disaster area, especially the further away from him you get. He's just straight-up hacking at that point, and pitchers have started to exploit that in June.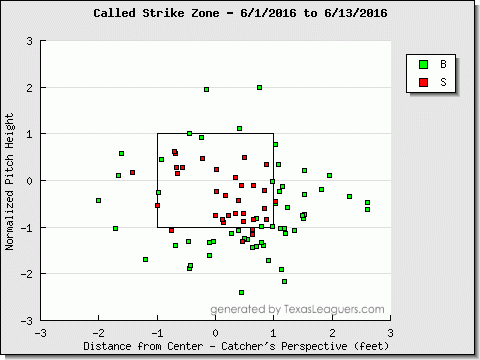 The good majority of those pitches are clustered around that low-and-outside corner. Sliders, curves, two-seamers, you name it – all of them are headed straight to that part of the zone. Granted, Ramirez can still make them pay when they leave it up, but, as Marcus Stroman shows, any pitch remotely close to that area is going to get a bat swung its way.
That's, well, ugly. You can see on the pitch tracker that Stroman had already thrown three in the dirt, and Ramirez had already offered at one just below the zone. At that point, he had to have expected something thrown out there. Stroman did just that, and even though it wasn't particularly close for a 3-2 pitch, he still swung anyway. It was just a hopeful swing at a two-seamer he wasn't going to connect with.
Hanley needs to do one of two things: either lay off pitches in that area and force pitchers to throw strikes on the black, or consistently make contact on those. The first one seems more likely, since just making contact on anything there would most likely result in a lot of weakly-hit balls in play. Either way, pitchers are exploiting Hanley's weakness there well, and it's a major factor in his June gloom that has him at a .150/.271/.200 line for the month so far. He's still hitting the baseball hard, so there's hope here.
Travis Shaw, on the other hand, doesn't have a specific corner that he can't touch. It's just the entire outside part of the zone.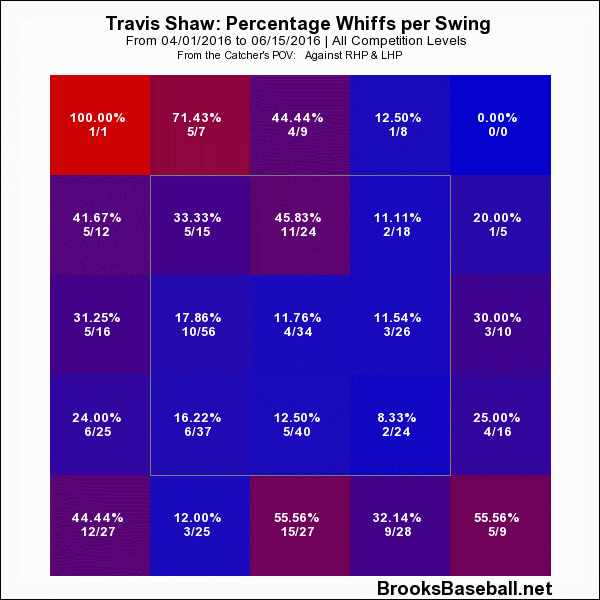 He can barrel up stuff middle-out just fine, but once it gets around the black of the outside corner, things go downhill quickly. He can't catch up to high fastballs, even ones in the zone, and he's beginning to roll over a lot more pitches he sees on the outside corner. You can probably already guess where pitchers are going after him at.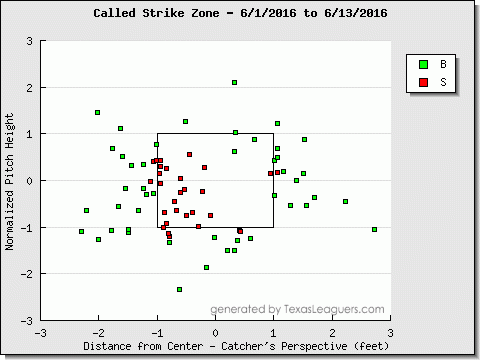 There's no specific distinction there, that's just all over the outside corner. Pitchers aren't convinced Shaw can hit anything there with any authority, and so far this month, they've been right. It really doesn't help that even if a pitcher misses his location by a country mile, he'll still swing at it.
Kevin Jepsen missed his location low and away by going very high and away, and Shaw still went after it. That might be worse than the Ramirez strikeout from earlier. Shaw's been prolific at hitting anything low in the zone, but anything high or outside – god forbid it's both – he'll either whiff or roll over meekly to the right side. He's hit a grounder 53% of the time in June, and it's absolutely killed his production.
For Shaw, it's all about reestablishing his opposite-field swing. In the first two months, he went to the opposite field roughly 30% of the time. In June? Nine percent. High fastballs will continue to be a weakness, as his swing is such that it doesn't exactly make it easy to hit them. That being said, his adjustment has to center around the outer third of the strike zone. If he's able to connect with pitches out there and swat more batted balls toward the left side of the field, things might open up for him.
Are these foolproof solutions? Absolutely not. But they are steps in the right direction to give key Red Sox players a way out of the slumps they're in. With the injuries and ineffectiveness plaguing the bench and bottom half of the starting lineup, the Red Sox can't afford a prolonged lull from either of these players. Thankfully, the keys to breaking out are there. They just need to look – and stop whiffing so damn much.
Photo by David Banks/USA Today Sports Images