Through Wednesday's action, the Red Sox are 42-36 and would host the Wild Card game if the season ended today. Of course, the season doesn't end today, and things look bleak if you're following this team on a day-to-day basis.
Despite a recent downturn, the offense has hardly been to blame. It's been frustrating at times, but it's still the best in the game in terms of runs scored,and leads the American League runner up (Baltimore) by nearly 40 runs. Of course, much of this is due to Boston's insane start to the year when the offense was looking like one of the best lineups in league history. Since the calendar has flipped to June, things have changed a bit. The Red Sox's bats have still been good, or at least above-average, ranking 11th in baseball and sixth in the American League over that time.
I think it's safe to say Travis Shaw has not been the problem this year. He's been frustrating at times, but he's still been comfortably above average with a .273/.338/.455 slash line and a .271 TAv. Of course, much of this is due to his insane start to the year when he was looking like one of the better bats in the AL. Since the calendar has flipped to June, things have changed a bit. He's hitting an atrocious .225/.289/.325 this month, which is a far, far cry from where he was entering the month.
The trajectories of the lineup as a whole and Shaw have almost mirrored each other as the season has gone on.
Do you see what I did there? The trajectories of the lineup as a whole and Shaw have almost mirrored each other as the season has gone on. Now, it's fair to say that both of their early-season runs were unsustainable, but the steep fall was certainly unexpected. Because of this correlation, it's my opinion that Shaw is the most important bat in Boston's offense.
Now, let's address a few things before I explain why this is the case. For one thing, "most important" is obviously different than "best." I'm an idiot, but I'm not going to sit here and tell you Shaw is better than Ortiz, Bogaerts, Betts, Pedroia, Ramirez or Bradley. Duh. Speaking of Bradley, he's the only other guy with an argument to be in this discussion, as he's obviously taken a step back this month. Even with the step back, though, he's still the owner of an .825 OPS in June. He may be more important to the Red Sox being great, but Shaw is more important to the Red Sox being good, rather than average.
The reasoning is actually fairly straight-forward. Right now, thanks to injuries and regression, the Red Sox have a devastatingly clear drop off at the bottom of the lineup. Assuming we're not taking Sandy Leon and his .467 average seriously (which, come one), catcher is an obvious black hole between him, Christian Vazquez and eventually Ryan Hanigan.
Likewise, left field is currently being manned by the likes of Bryce Brentz and Ryan LaMarre. Even Brock Holt's return doesn't promise much added punch to the lineup. When players need a day off, the depth that fills in the lineup includes guys like Marco Hernandez (who I like but who isn't there yet as a MLB hitter) and Deven Marrero (who I don't like as a player and probably won't ever get there as a MLB hitter).
Simply put, the Red Sox can't thrive if the bottom of their lineup only extends that deep. Shaw is the man who hits between the Ortiz/Ramirez/Bradley trio and the abyss that is catcher plus left field. When Shaw fails to get hits in that spot, it all but guarantees anything the top of the lineup did was all for naught. Right now, he's failing to hit, and everything is happening for naught. This can be seen by the team's free-falling run total.
Because of his importance to the team, it's worth looking into what has plagued Shaw this month. Looking at the base numbers, there are two clear issues that jump out: BABIP and power. Both of these areas have regressed heavily since the beginning of the season, and it's an interesting pairing.
To start with, there is surely some luck involved. Baseball has a way of evening itself out, and this appears to be that process in action. However, it also indicates that Shaw is making less quality contact right now than he was earlier in the year. There are a few underlying reasons why this is the case.
The first is that he appears to be getting pull-happy. It's unclear whether this is a new phenomenon brought on by stress due to his struggles or if this him simply trying to tap into his power too much after that hot start to the season. Either way, FanGraphs has his opposite-field rate this month down at 15.6 percent. It's easily the lowest single-month rate of his career and is significantly different from his career 26.4 percent rate. This is particularly bad for a lefty at Fenway, who should be using the Monster to his full advantage. For those who do better with visuals than numbers, this is for you.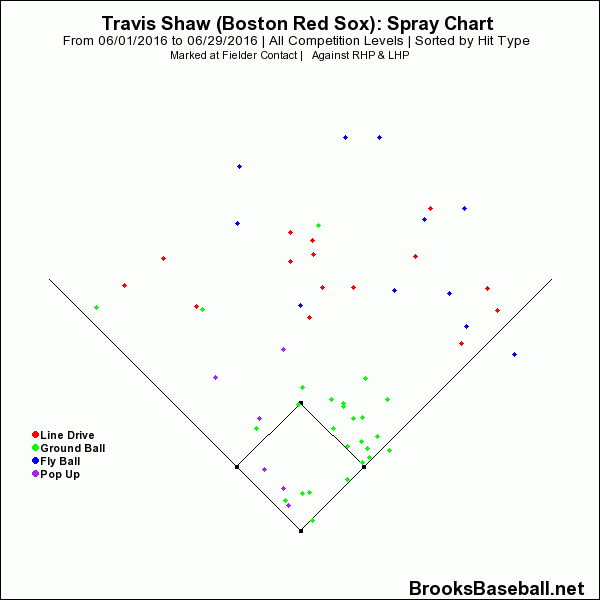 The other issue is that Shaw is simply not hitting enough fly balls. Now, this should help his BABIP, particularly since his 25.4 percent line-drive rate in June is stellar. However, the lack of fly balls has a clear effect on his lack of power, particularly in terms of home runs. Brooks Baseball backs this point up, as his average spray angles have gone down as the year has gone on. This is particularly true against fastballs, a pitch he has struggled with the most this month. Unfortunately, it appears pitchers have noticed this, as he's seen more and more fastballs with each passing month.
The bad news is that Shaw's struggles showed no sign of stopping Wednesday, as he went 0-for-4 with two strikeouts. The good news is that Shaw has shown an ability to adjust in the majors before. He said last year that he's been helped tremendously by advanced scouting in the bigs, and Sox fans have to hope he can turn to that again.
When he's hitting, this lineup is deep and powerful. When he's not, Boston loses punch at a critical point in the batting order, and the Red Sox offense looks far more average like it has throughout June.
Photo by Tim Heltman/USA Today Sports Images