Top Play (WPA)
.481 WPA. Whatever.
Bottom Play (WPA)
The one out the Red Sox got in that 9th inning? It was a strikeout of Carlos Perez. That was worth a -.182 WPA. Mutual awfulness.
Key Moment
Avoiding the elephant in the room here, I'm gonna say it was David Price getting out of a jam in the fifth inning. Price was really looking to correct himself in this one, and I'd say he did, getting a ton of grounders and shutting down the Angels' offense. The bottom of the fifth was wonderful bit of magic after a bunch of singles loaded the bases, as he got a weak grounder to shortstop to end it. If you take anything away from this game, let it be that David Price was very good.
Trend to Watch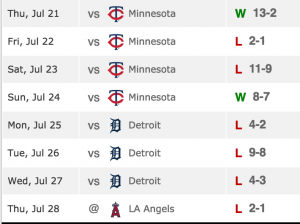 Three straight one-run losses.
STOP IT.
Coming Next
The Red Sox will somehow show their faces in public again for the second game of this series, in which Rick Porcello will face off against Tim Lincecum, a matchup that would've seem extremely lopsided in 2010. It might still be lopsided now, but not in the same way.