The Red Sox offense has been firing on all cylinders for the entire season. This is not breaking news, of course, but I think it's always worth taking a step back and appreciating this lineup. There is not a weak spot in the group, at least while Sandy Leon is hitting like the second coming of Ted Williams.
It's not just deep, either, thanks to a lot of the top-end talent. Did you know that this offense boasts four of the 10 highest OBPs in the American League? It's true! That's pretty wild, in my humble opinion. The top three on the team are David Ortiz, Xander Bogaerts and Jackie Bradley, none of whom will come as that big of a surprise. Then, there's Dustin Pedroia.
I'm unsure if that's a surprise or not. It was a surprise to me, but luckily for the reader, I do not represent you. You are your own person. I know there have been a million posts written on all corners of the Red Sox interwebs that say Pedroia has been underappreciated and underrated this season. It might be true! At the same time, if you say that enough times it stops being true by definition. Still, even after reading one of those stories a week, I was surprised that Pedroia has been such an on-base machine this year.
Let's go over his numbers really quickly, because they are outstanding. Through his first 103 games and 470 plate appearances, the second baseman is hitting .298/.369/.445, good for an impressive .275 TAv. That puts him in the same tier as guys like Addison Russell, Chris Davis and Adam Eaton. It also makes him look similar to the guy he was last year, when he finished the year with a .271 TAv. That stops being true when you stop looking at league-adjusted numbers, though.
In case you haven't heard, offense is starting to tick back up around the league, so high offensive production isn't what it was even just a year or two ago. Pedroia's OPS is about 20 points higher than it was in 2015, but his OPS+ is just a point higher, his TAv is just four points higher and his wRC+ is just two points higher.
Pedroia has been much better at attacking breaking balls this year than in the past, particularly in the 2013-2015 stretch that looked like the twilight of his career.
So, on the one hand, he's been the same guy, just playing in a more favorable environment. This is not a trivial idea, either. There is a reason offense is up around the league, and Pedroia almost certainly benefits from whatever that reason may be as much as any other hitter in the league. We adjust numbers for league and era for a reason. With that being said, Pedroia's raw numbers being so much better is worth looking into as well. Even if he's been the same guy with added context, our stupid, naive eyeballs are seeing a better hitter, and there have been some real changes to make that happen.
The first difference I've seen in Pedroia's game is that he's been much better at attacking breaking balls this year than in the past, particularly in the 2013-2015 stretch that looked like the twilight of his career. For one thing, pitchers are attacking him slightly more with these offerings than they have at any other time in his major-league career, so some sort of adjustment had to be made.
Are you ready for some pictures? I'm ready for some pictures. First, here is one showing how little Pedroia is whiffing against breaking balls. The astute among you will notice he has reverted back to his pre-2013 days.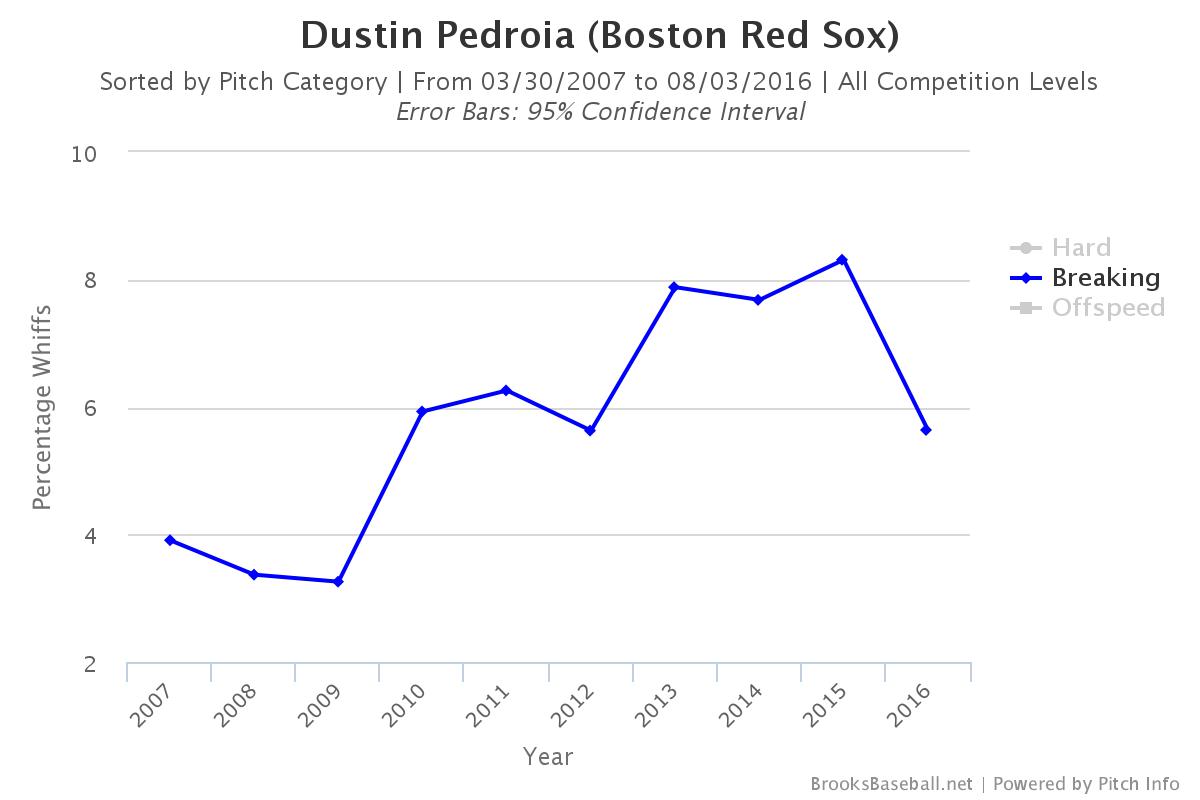 So, that's a thing. Not only is he making more contact against breaking pitches, but the contact is more conducive to hits. Put another way, the man is hitting more line drives on breaking balls. This has actually been trending up in recent years, but he's taken it to another level in 2016: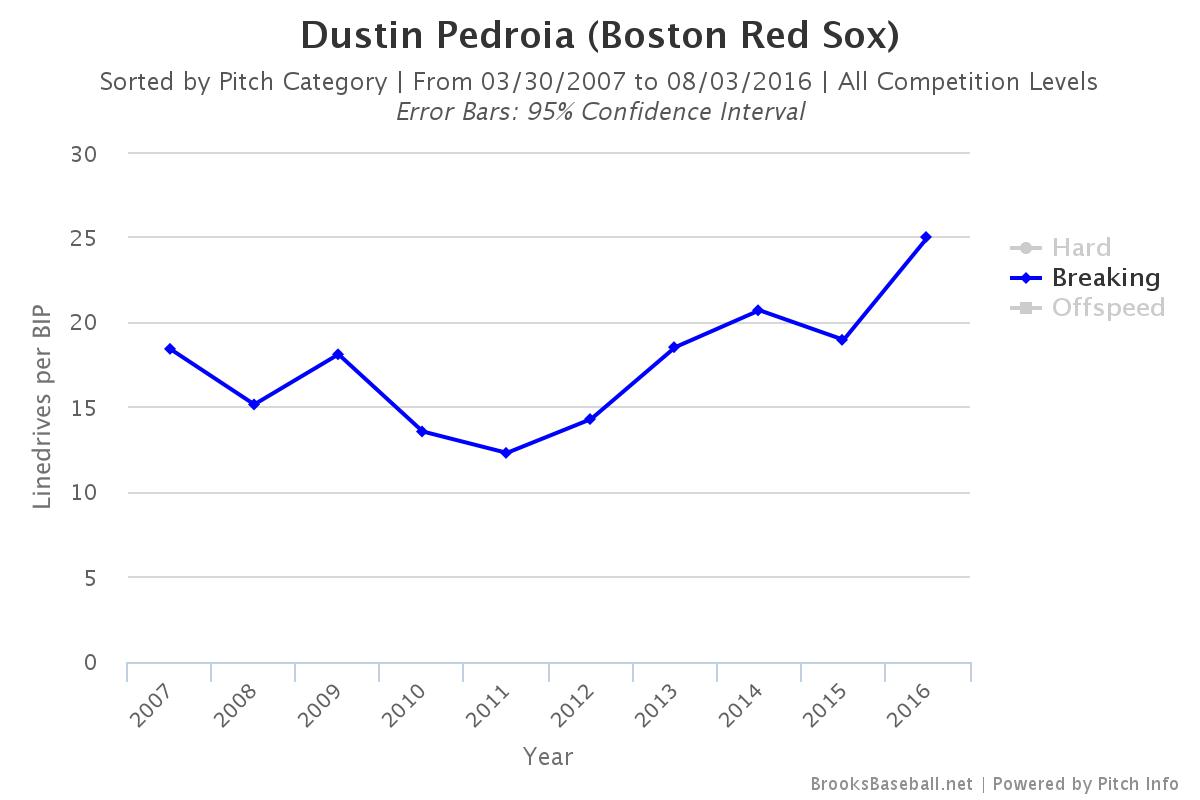 Beyond the improvement against breaking balls, Pedroia has also been much better about using the whole field. For a small guy who has lacked power recently (last year notwithstanding), the former MVP has always been something of a left-center field-type hitter. On the one hand, that is a perfectly reasonable strategy for someone who calls Fenway Park home. On the other hand, it's limiting your BABIP ceiling by making it easier on the defense.
According to FanGraphs' batted-ball measures, Pedroia is going the other way more in 2016 than he has in any other year of his career, with a 33 percent opposite-field rate. This has coincided with a .323 BABIP that is his highest mark since 2013, 10 points above his career average and reminiscent of peak Pedroia. Not only that, but it could also coincide with the improvement against breaking balls since the easiest way to have consistent success against those pitches is to wait on them and drive them the other way. (I haven't been able to verify this concretely, but I am satisfied with the hypothesis.)
Finally, Pedroia has been outstanding against right-handed hurlers this year. In fact, he's shown off some reverse splits. Now, Pedroia being solid against same-handed arms isn't all that new, as he's the owner of a .797 career OPS against right-handed pitchers. However, he's been much better than that this year, with a .311/.371/.469 line without the platoon advantage this year.
According to Fangraphs and their wRC+ metric, he's been the 29th best right-handed hitter against right-handed pitching among the 172 batters with at least 100 plate appearances. Obviously, there are more righties on the mound than lefties, so him being able to put up this kind of season is huge for his production. Additionally, this could also circle back to his performance against breaking balls. He's been particularly adept against right-handed sliders, with a 25 percent line-drive rate and a 19 percent home run-to-fly ball ratio.
In terms of league-adjusted numbers, Pedroia has been essentially the same hitter he was last year. When you look at the raw numbers, though, he's been much better, which also reflects what we've seen on an everyday basis. Even better is the fact he's made real adjustments, the most important of which is his work against breaking pitches. Pedroia is never again going to be the MVP candidate he was in his early years, but he's remained a key cog in this lineup and is showing the ability to adjust enough to keep this production up for years to come.
Photo by Brad Penner/USA Today Sports Images