After roughly 30 days of disappointing play coming out of the All-Star break, the Red Sox are starting to pick it up again. They've won six in a row and they are starting to click on all levels. Along with the lineup starting to produce from top to bottom like they were all season, the starting pitching is turning it around as well. They certainly haven't been perfect — more on that later — but they are at least keeping the team in games more often than not. One guy in particular has been spectacular in the rotation, and it's getting to the point where we've come to expect a win every five days when he takes the mound.
Obviously, I'm talking about Rick Porcello, which you knew if you've been watching the Red Sox and/or looked at the big ol' photo at the top of this page. The righty has been solid all year, and this isn't the first time I've talked about him this year. Just a couple months ago, I wrote about the first half of his season. You can read the whole thing if you'd like, but the conclusion I came to at the time was that Porcello really hadn't been all that much different in 2016 than he was in 2015. Essentially, he was just pitching to the other end of the possible extreme with the same kind of peripherals. Well, since then, he's made me eat crow. And it's gross.
If you look at his last nine starts, which is certainly an arbitrary endpoint but also the starts he's made since my piece linked above, Porcello has been incredible. He's thrown 64 innings in that time and he's pitched to a 2.39 ERA with 48 strikeouts and just eight walks. Even better, Porcello is only allowing opponents to hit .218/.250/.345, which would be the worst qualified batter by OPS. That seems good, to be honest.
In fact, by DRA Porcello has been a top-20 pitcher in baseball this season, which seemed unfathomable after his 2015 performance.
The effect this run has had on his season-long numbers has been tremendous, and they reflect a much different pitcher than the one I spoke of in mid-June. As of this writing, Porcello has a 3.30 ERA on the season, which would be a career-best mark. To go along with that, he has a 3.65 FIP (would be the second-best mark of his career), 3.25 DRA (career-best) and a 92 cFIP (tied for second-best in career). In fact, by DRA Porcello has been a top-20 pitcher in baseball this season, which seemed unfathomable after his 2015 performance.
The keys to his turnaround have been pretty simple: Throw strikes and induce weak contact. It seems pretty self-explanatory, but it's obviously a lot easier said than done. Essentially, it's that scene in Happy Gilmore when he gets a hole-in-one and just decides he should do that every time. We'll start with the walks, because that's a whole lot easier to explain. He's throwing strikes over 51 percent of the time, well above his career-average and only the second time he's done so since 2010. All of this has led to a 1.5 BB/9, the fourth-best rate in baseball among those with at least 100 innings.
The lack of hard contact is the more interesting aspect of his season, in this writer's egotistical opinion. On the surface, it makes some sense. Porcello is inducing contact on pitches out of the zone at his highest rate since 2011. In particular, he's inducing contact on inside pitches to righties and outside pitches to lefties.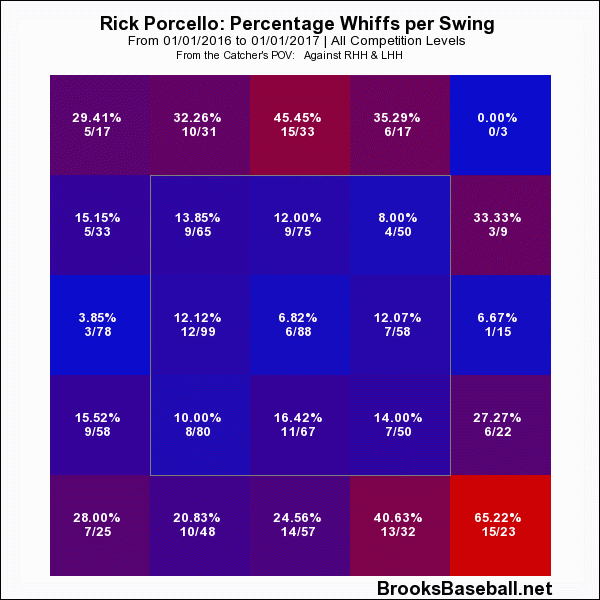 What's particularly interesting is that Porcello is doing all this while moving away from his famed ground-ball approach. We saw this trend starting last year when he posted his first sub-50 percent ground ball rate. The number has gotten even lower this year, currently sitting at 46 percent. On the one hand, this makes it hard to believe he's having so much success. Ground balls are supposed to be good! On the other hand, he's been locating his pitches well enough to keep them in the air, and the outfield defense behind him is good enough to keep his BABIP naturally low.
The importance of this run from Porcello can't be overstated. As I said at the top of this piece, the pitching staff has been much better lately, but there have been plenty of warts during the majority of Porcello's run. David Price still hasn't looked like the David Price we all expected on a consistent basis. Steven Wright is banged up, and even before that he wasn't looking quite as impressive as he did in the first half. Eduardo Rodriguez has actually been impressive, but then he was lifted from Tuesday's game. Drew Pomeranz has taken some time to get accustomed to American League lineups. Clay Buchholz….well, you know. All of this is to say that having one steady arm in the rotation every five days has been huge.
I'm not as willing to put Porcello into the Cy Young conversation as some appear to be, but that's not what the Red Sox needed. They needed a really solid pitcher to take the ball every five days and win much more often than not. That's what Porcello's done, and lately he's doing it in a way that seems more sustainable than his early-season performance.
Photo by Winslow Towson/USA Today Sports Images