One of the most exciting parts of the 2016 season has been watching the Red Sox's young core blossom before our very eyes. Mookie Betts has mashed his way into American League MVP consideration, Xander Bogaerts might be the AL's best-hitting shortstop and Jackie Bradley Jr. has had a career-changing season that's seen him ride a 29-game hitting streak and go from Triple-A castoff to All-Star. There's not just reason to be excited about this season, but also the next several seasons.
Then there's Travis Shaw. As a 26-year-old less than a year removed from his major-league debut, Shaw was never part of that franchise-future discussion. That started to change when he beat out Pablo Sandoval for the starting job at third base in spring training and got off to a hot start at the plate. Shaw slashed .327/.396/.565 over the first 40 games of the season and added six home runs. It was enough to put him in the early All-Star discussion.
That discussion has since flipped again. Shaw has slashed .207/.273/.368 with eight home runs in the games that have followed, bringing his true average down to .261 for the season. That number is good for 11th on the Red Sox if you include Andrew Benintendi and Chris Young. That makes him the worst-hitting everyday player on the team. He also has the 10th-worst slugging percentage (.442) among AL third basemen. His numbers have been progressively worse with each month, and August has been no exception as he's slashed .156/.255/.311 and has driven in a whopping four runs over 17 games. Fortunately for Shaw and the Red Sox, the rest of the lineup has awoken and helped pick up that slack.
It's not as if Shaw has suddenly become a bad player. He's simply come back to earth after a scorching start to the season. Overall, he's been the player we thought he was – an average hitter with a little bit of power. For all of Shaw's faults, especially of late, he is a power-hitting threat in the bottom of the lineup that not a lot of teams have, even if his 14 home runs are a little underwhelming given the way he started out the year.
That power trip has come back to bite him, however. Shaw may be swinging for the fences, but he's missing a heck of a lot more. His strikeout rate sits at 24.8 percent and he's been whiffing more with each month. He hasn't quite had the power to compensate for it either as his line drive and fly ball rates have dipped in August. The visuals below helped illustrate the latter two points.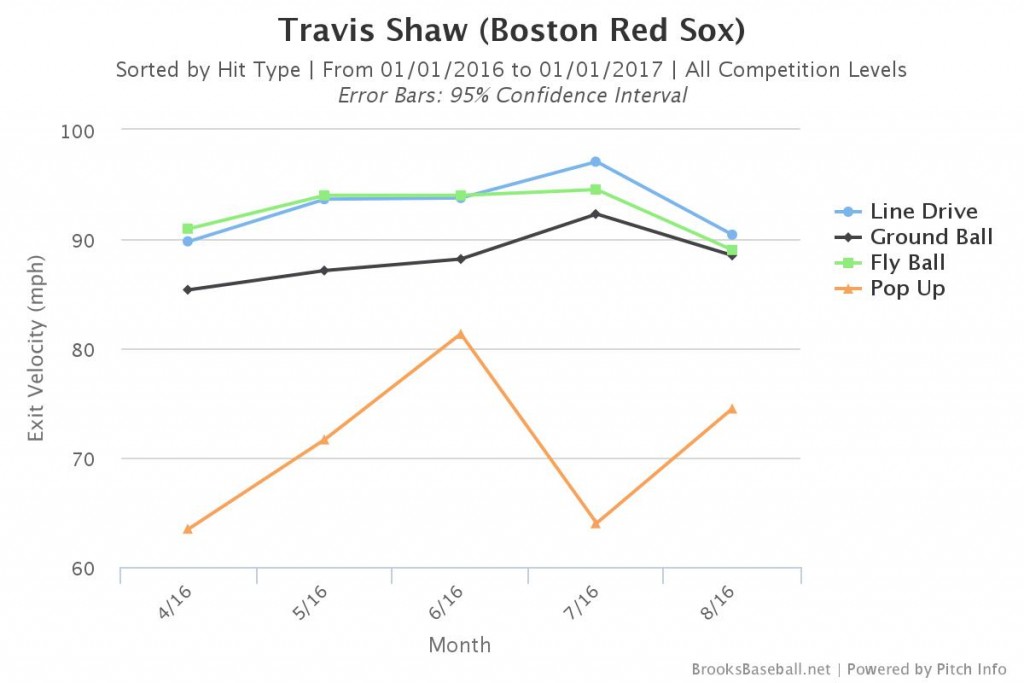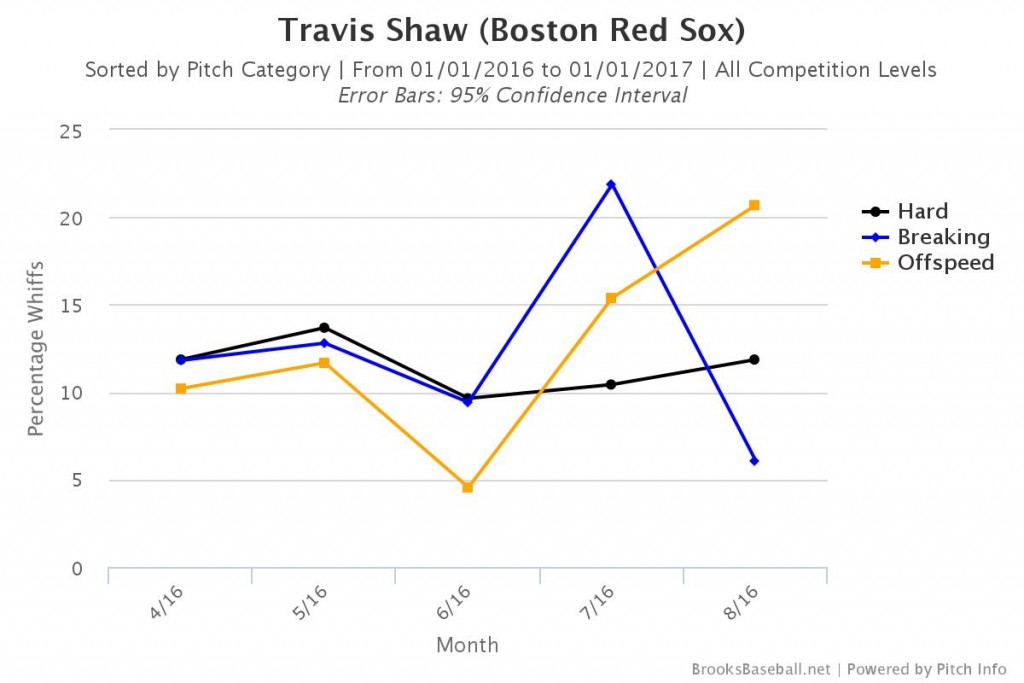 Then there's the nightmare he's been against lefties. He's slashing .196/.242/.391 against southpaws this season, making him enough of a liability that he's often left out of the lineup in favor of Aaron Hill with a left-handed starter on the mound.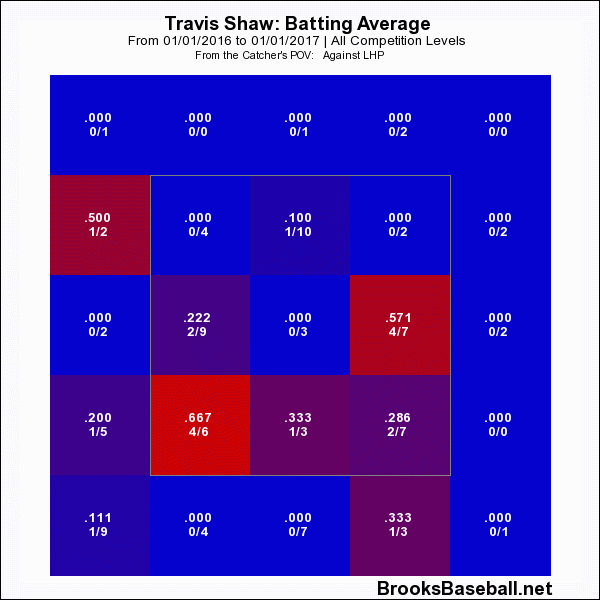 Now that I've spent the last few paragraphs telling you how Shaw has sucked, let me offer you a little perspective. On Aug. 22, 2015, Sandoval was the Red Sox's starting third baseman. He hit second in the lineup that day. The Sox lost to the Royals and were on their way to a last-place finish. Sandoval, as we all know, had an awful debut season with the Red Sox. He was a $95 million man with a .245/.292/.366 slash line and was the worst defensive third baseman in baseball, posting a -11 DRS and -21.9 UZR/150. Then he showed up to spring training in March overweight and careless enough to make us all sympathize with Hanley Ramirez. Shaw has been a far cry from that mess.
| | | | | |
| --- | --- | --- | --- | --- |
| | TAv | ISO | FRAA | WARP |
| Travis Shaw (2016) | .261 | .190 | 7.1 | 2.0 |
| Pablo Sandoval (2015) | .229 | .121 | -7.8 | -1.4 |
The fact that Shaw is the Red Sox's worst everyday player right now tells you just how far this team has come in the last year. If this were last year, Shaw's TAv would put him right in the middle of the pack with the rest of the team. That's not bad for a bottom-of-the-order third baseman. Think about it. Sandoval was the starting third baseman and batting in the middle of the order a year ago. Shaw has been a drastic improvement in all categories.
If you know me, I like to look in hindsight. It's a fun way to judge myself and others, and occasionally (very, very, very occasionally) feel like I knew what I was talking about. In hindsight, the Red Sox knew what they were doing when they chose Shaw as the Opening Day starting third baseman over Sandoval. They replaced a known player who was downright terrible a year ago for someone who is an ok hitter and offers a little bit of versatility. It certainly didn't turn into a make-or-break move, but the results speak for themselves. Shaw may not be anything special, but his performance this season is something to feel pretty good about given where the Red Sox were at third base a year ago. It's thoughts like this that make you realize things aren't so bad for the Red Sox right now.
Photo by Bob DeChiara/USA Today Sports Images