Welcome to BP Boston's second annual Roster Recap series. Over the next few months, we'll be analyzing every player on Boston's 40-man roster and many of their top prospects in order to provide a comprehensive overview of the Red Sox roster's strengths and weaknesses, as well as what we can expect moving forward. From MVP-candidate right fielders to reserve relievers, we want to give you a look at every Red Sox who might matter in 2017. View the complete list of Roster Recaps here. Enjoy!
Robby Scott has had one hell of an adventure to the majors. Signed out of an independent league in 2011, Scott caught some scouts' eyes due to a strange yet intriguing quirk: he switches arm slots depending on the handedness of the batter. After five years of toiling away in the minors, the 27-year-old got his first taste of the big leagues in 2016, and though it was only six innings long, Scott showed that he could fit in with a major league bullpen. However, 2017 probably won't be the year it happens.
What Went Right In 2016
Other than the whole "reached the majors" thing, Scott cut up left-handed batters no matter what level he was at. In 27.2 IP at Pawtucket, Scott posted a 2.28 ERA with a 31 to 4 K/BB ratio. Overall, he amassed a 1.67 DRA with the PawSox before getting called up to Boston. Of those 18 outs he recorded, 11 were against left-handed hitters, and he struck out three, walked zero, and recorded a crispy 1.51 FIP in a very small sample. One of the punchouts ended on a called strike to Brett Gardner, and man, there's not much you can do when the pitcher's release point is behind you: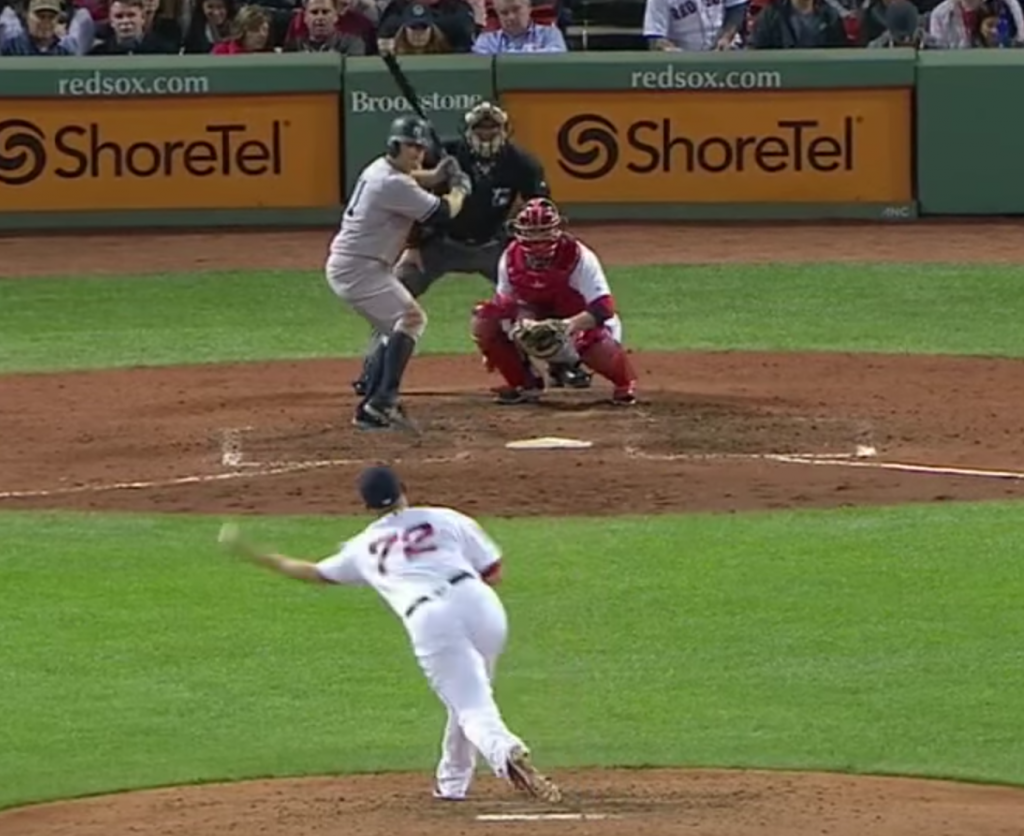 It looks like Scott's hurling the breaking ball at his hip. Good luck with that, Brett.
What Went Wrong In 2016
Scott was painfully forgettable against right-handed hitting, even in the minors. Despite a different arm slot, even his peripherals in the minors were just bland. The strikeout-to-walk ratio fell to roughly 4-to-1 (compared to 8-to-1 against lefties), all his rates went in the wrong direction, and all the stuff you usually see when a left-handed pitcher is ineffective when on the wrong end of a platoon advantage popped up. Scott has an okay changeup to challenge them, but he's best (puts on sunglasses) left in the bullpen when the righties are up.
What To Expect In 2017
With Robbie Ross and Fernando Abad taking the LOOGY spots in the bullpen, Scott will likely start the season in Pawtucket, barring an injury. He'll probably be the first left-hander called up – with Noe Ramirez being the first RHP to be called upon – if either of them are injured. But barring a total implosion by Abad (which doesn't seem all that unlikely), 2018 is the earliest Scott can expect to have a consistent role in the Red Sox bullpen. Abad will be a free agent and Scott will be a cheap in-house option to take up that second LHP spot. If he becomes anything more than a LOOGY, it'll be a small developmental win for the Red Sox.
Photo by Kim Klement/USA Today Sports Images