I know you, fellow Red Sox fan. You saw the name in the title and felt disgust. I get it. I really do. Drew Pomeranz was not who you thought he was, but instead what you feared. Coming over in return for a very young, very talented pitcher in Anderson Espinoza, Pomeranz – in no uncertain terms – was a disappointment. His only scoreless outing in a Red Sox uniform was in relief against the Toronto Blue Jays on October 2nd, compared to seven scoreless starts in San Diego. The risk that he wasn't as good as his first half was always there, and the Red Sox bet on it for a late-season surge. That surge came, but it wasn't keyed by Pomeranz.
As unimpressive as that second half was, Pomeranz still has a really good year overall, and his success wasn't a total fluke. He had a couple amazing starts while in Boston, with one being a 7.2-inning outing against the Cleveland Indians where the only damage done was a two-run homer by a Rajai Davis – a guy who's only really notable for playing center field badly and hitting left-handed pitching. There's some real potential there, and with the Red Sox reeling from several injuries to their rotation, Pomeranz has a chance to take a big step forward in 2017 with his curveball-focused repertoire.
Pomeranz throws six different pitches, but only three of them were seen with any type of consistency: the knuckle-curveball, fastball, and cutter. His slider, changeup and sinker aren't really relevant, and the results from those pitches are either terrible or form too small of a sample size to really take anything from them. The curveball is his bread and butter pitch. He's got a lot of spin on it, which makes it very difficult for batters to barrel up, and he gets a ton of whiffs with it. If there's one pitch that was consistently nasty for Pomeranz last year, it was the hammer. Just look at that yellow bar: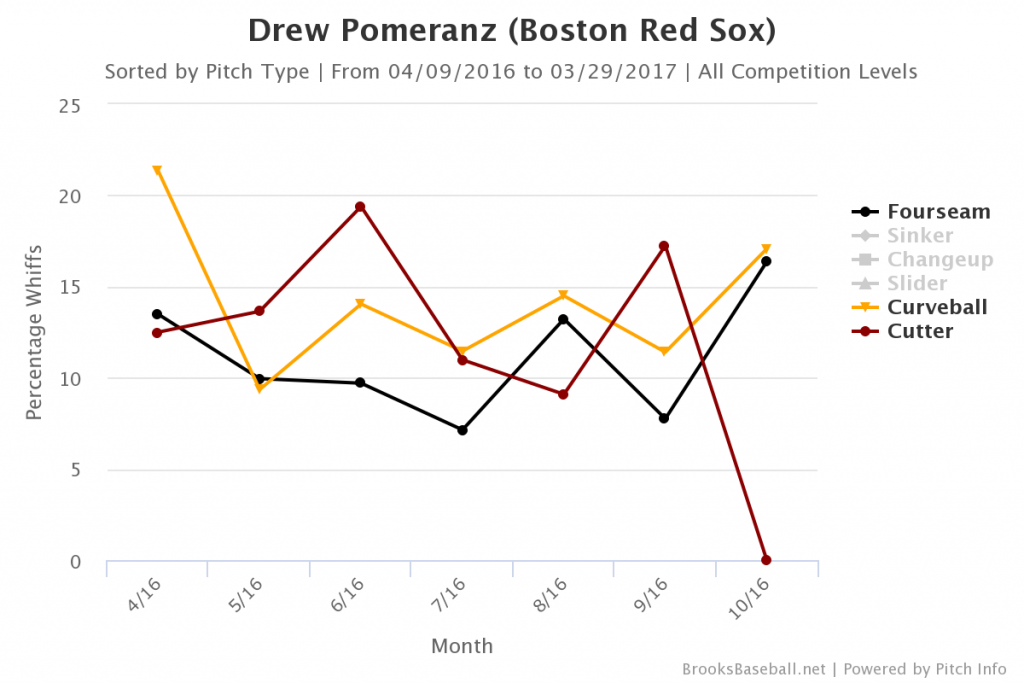 That doesn't even account for the insane 70 percent groundball rate he gets from that pitch. Filthy.
The curveball is great, there's no doubt about that. His second-most used pitch, the four-seam fastball, isn't as prolific in getting swings and misses. Pomeranz still got whiffs on 11 percent of the fastballs he threw, but the problem was when they actually made contact, they were hammered. The fastball registered a .216 average against, but that came with a .441 slugging and a .225 ISO, far and away his worst marks for any pitch. His fastball has a very precarious balance to it – if he can't get swinging strikes with it, the pitch gets destroyed, and there's no in-between. You can stand to reason that July and September were his worst months, judging by how many whiffs he got. You'd also be correct.
The reason for the bludgeoning of the fastball is that the pitch is the complete opposite of his curveball in terms of batted ball outcomes. While his curve generates grounders, his fastball gets a lot of fly balls, as over 47 percent of balls in play were of the aerial variety. At that point, home runs become a major issue, and that really showed last year in the second half with a 1.83 HR/9. This is where Pomeranz needs to improve. If he can keep his fastballs from being turned into souvenirs less often, especially against right-handed hitters, there's no telling what his ceiling could be. All we know is that it goes up substantially.
The cutter is where things get interesting. This pitch is the third in which Pomeranz gets swinging strikes at an 11 percent rate or higher. That's pretty good! The issue with the cutter is that is also skews strongly toward allowing fly balls. That's sounds pretty bad, and a lot like the fastball. The difference here is that Pomeranz gets a pop-up on 20 percent of in-play contact, while the fastball induces a pop-up at a rate less than half of that. It's a jamming pitch to right-handers and something to for lefties to flail at. There's still the home run issue here, but I'd like to see Pomeranz use this pitch more. The curve and four-seamer were thrown over 1100 times each, which the cutter barely broke 330. He's got another great weapon here.
With three pitches that can be very tough on opposing hitters, Pomeranz is not going to fail from lack of opportunity. The Red Sox's pitching depth is getting torn to shreds lately, and Pomeranz will break camp as the team's fifth starter. His competition for keeping the job isn't particularly fierce. Steven Wright is probably his most imposing challenger, but he's a 32-year-old knuckleball pitcher who's coming back from a shoulder injury, and needs near-perfect weather to have his signature pitch be used effectively. I don't dislike Wright, but I'm going to be more pessimistic considering the circumstances. Roenis Elias is recovering from an intercostal strain that'll cost him at least a month, Henry Owens isn't a real threat, and Kyle Kendrick…well, let's be honest here: you're not going to start Kyle Kendrick.
The last thing of note here is Pomeranz's injury history, which is a tad bit overwhelming. Like Rich Hill – the one and only guy he's ever compared to – the curveball maven has only surpassed 150 innings once in his career. The Red Sox will need the depth to shore up whatever innings he can't throw, because you should expect 120 innings, and consider anything past that as gravy. PECOTA sees him as coming up just shy of 150 innings, with a solid 1.9 WARP to go along with it.
There's an ton to like about Pomeranz in 2017, from his ridiculous curveball to the fact that he's got two other pitches to go with it. The Red Sox are saddled with him for two more years, and if they can work a mid-rotation starter out of him, the trade won't look as bad as it has. Twelve months of a southpaw with three plus pitches? The Red Sox might end up seeing a lot more of the pitcher they traded for than they one they got.
Photo by Winslow Townson – USA TODAY Sports