Welcome back to this edition of Read Sox, where we'll jump around and look at some positives and negatives coming out of the first week-plus of the season. 
The Red Sox are nine games into the 2017 campaign, and generally look pretty good. Sitting at 5-4 and having been dealt some somewhat surprising performances, bad luck, and a fair share of germs, the team looks to steady itself in a weekend series at Fenway against the Rays. There obviously is not too much material to dig deep into this early into the season, so let's take a gander around the roster and see what's gone well and what could go better.
Check out these catchers!
Much virtual ink was spilled over the offseason over the catcher spot in the Sox lineup, including on these webpages and by yours truly. Can Christian Vazquez do anything other than throw? Just how fluky was Sandy Leon's 2016? Well, we're just over a week in and the two have collaborated to make the position the team's most valuable thus far. They have combined to go 13-for-31 with a homer, a triple (!) and four doubles. Vazquez made his first out of the season on Thursday, and somehow has a stolen base to his credit. (Can someone please explain how and when this happened?) Alex Speier wrote about their offensive successes in the Globe on Wednesday. And, I haven't even mentioned the fact that they cannot be run upon. Seven runners have attempted to steal, and just one has been successful. And while much has been made of Vazquez's arm in particular, the both can throw. I have the gifs to prove it: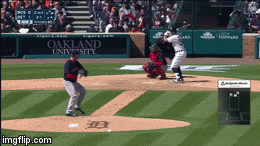 (And how about this tag from Pedroia?)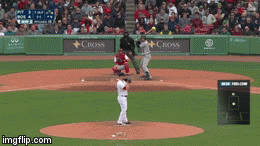 The bullpen has been … kinda good?
Red Sox fans should by no means be comfortable with the stable of arms lurking between starting pitchers and Craig Kimbrel. Heck, maybe we shouldn't even be comfortable with Craig Kimbrel. But thus far, everybody out there has done a solid job. It hasn't always been easy or pretty to watch, but in 26 innings of work the 'pen has allowed seven earned runs and struck out 11. The group has earned a 2.46 ERA and 1.077 WHIP. Special shoutout to Matt Barnes, who has appeared in five games and thrown 5.2 scoreless frames, striking out seven. On this domain a couple days ago, Brett Cowett dove into greater depth on the bullpen and the generally decent job John Farrell has done managing it in the early going.
Mitch Moreland can't stop hitting doubles
Seriously, Mitch Moreland can't stop hitting doubles. He has eight in nine games, and has a two-bagger in each of his last seven contests. He is hitting .324. That's all I have to say about that.
Everyone got sick
You've read about the flu by now. Fortunately, it seems the worst is behind the squad, and those who missed time over the season's first weekend in Detroit have returned to the lineup this week at Fenway, notably Hanley Ramirez and Mookie Betts. Nick Cafardo of the Globe wrote about the illness plaguing the team and some interesting data about the financial cost of missed games. Aside from the two middle-of-the-order bombers, the bug has at various points since spring training hit Brock Holt, Moreland, Robbie Ross Jr. and Joe Kelly.
Also, both Barnes and Xander Bogaerts missed time over the weekend on bereavement leaves after suffering deaths in their respective families. On top of that, Jackie Bradley Jr. went to the DL with an ankle sprain, Tyler Thornburg started the season there and Carson Smith has a return date TBD from last year's Tommy John surgery. The Red Sox played with their preferred lineup literally only on Opening Day before various afflictions forced players to miss time.
Oh, and a $30 million pitcher is on the disabled list with elbow issues.
Speaking of David Price …
The lefty is rightfully being treated with caution as he works his arm strength and comfort back up following a five-alarm Tommy John scare. As Jen McCaffrey of MassLive reports, Price completed his second bullpen session Wednesday and is schedule to make a third on Saturday in Boston. He also could face live batters in a simulated game next week. His whole recovery process is like tip-toeing across creaky thin ice while trying to construct a house of cards and trying not to wake up your parents. It feels precarious and dangerous is what I'm saying here.
The knuckleball hasn't been knuckling
Steven Wright's start on Wednesday, um, could have gone better. He got four outs. He gave up four home runs. He gave up eight runs. So, yeah, after an All-Star first half of 2016 and an injury-derailed second, Wright's season hasn't gotten off to the smoothest of starts. Old friend Matt Collins at Over the Monster writes that it's no time for panicking about Wright and that, if all the Sox need him to be is a mid- to back-of-the-rotation starter, the team should be fine.
David Ortiz isn't on the Red Sox

Chris Sale is on the Red Sox
This is gonna be fun.
Looks like Chris Sale's slider is still as good as ever in Fenway Park. This crossed the entire plate and still landed outside the zone. pic.twitter.com/HcV4OyY3tX

— Pitcher List (@ThePitcherList) April 6, 2017
Photo by Rick Osentoski – USA TODAY Sports