It should go without saying, but managing a major league baseball team is a very tough job. Not only do you have to make educated, tactical decisions during games, you have to get 25 guys to get along with each other. It's difficult, and that's why there's a minuscule amount of people who can actually do it.
The four-game series in Detroit left a bad taste in our mouths, and for some of the players, that's a very literal statement. Apart from the anemic, flu-riddled roster that was fielded, John Farrell's managing late in games wasn't always proactive. A couple of those games were very winnable, yet the Red Sox lost both, and ended up winning just one of the four games against the Tigers. Most of the gripes stemmed from the loss on April 9th, which saw the Sox score five runs in the top of the 8th inning, only to give up the lead in the bottom part of the frame. So let's take a deeper look at that.
To start off the bottom of the 8th, Heath Hembree is brought in to deal with Nick Castellanos and Miguel Cabrera. The only other person warming in the bullpen is Robby Scott, who's supposed to keep Tigers manager Brad Ausmus from pinch-hitting with a lefty. It's not really needed, seeing as there's no way in hell you're using a bench bat over Castellanos, Cabrera, or Justin Upton.
In dominating fashion, Hembree blows through Castellanos and Cabrera, with the strikeout of Castellanos being a shining example of pitch command.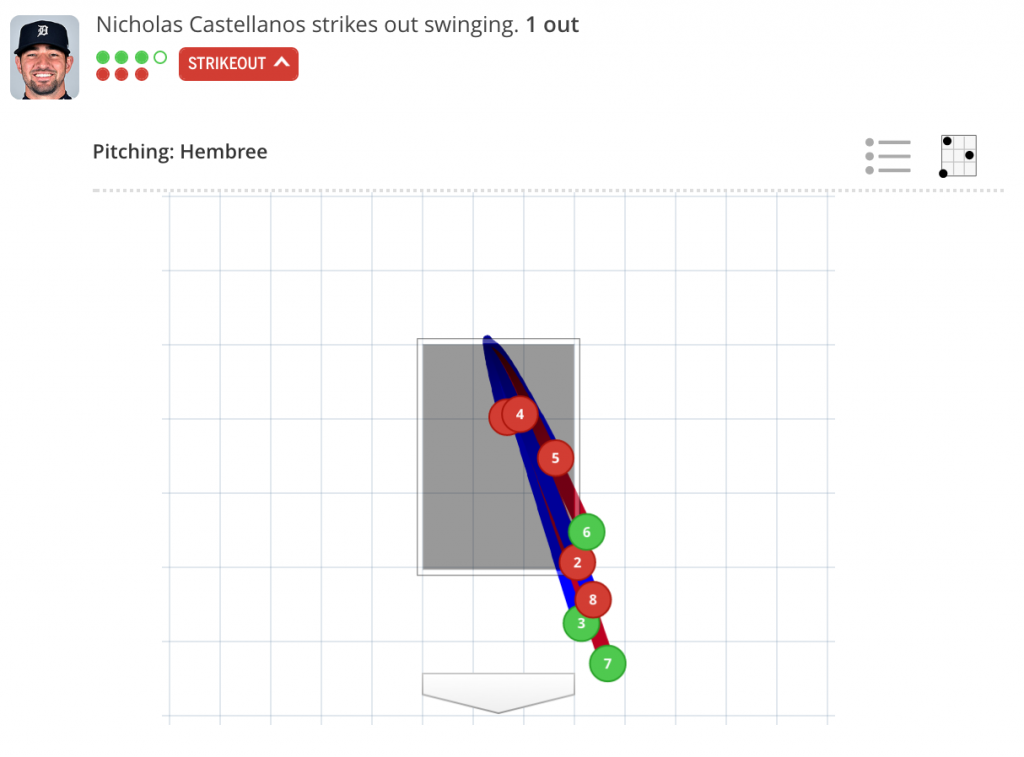 Sliders and fastballs on the black. They had a plan to attack him, and they executed it perfectly.
Now, after those two outs, Hembree struggles with Victor Martinez, and walks him. That's not particularly bad, since V-Mart is a good hitter, and having Hembree face a guy who can bat lefty could've gone much worse. The issue is the next plate appearance with Justin Upton, because Hembree lost all control.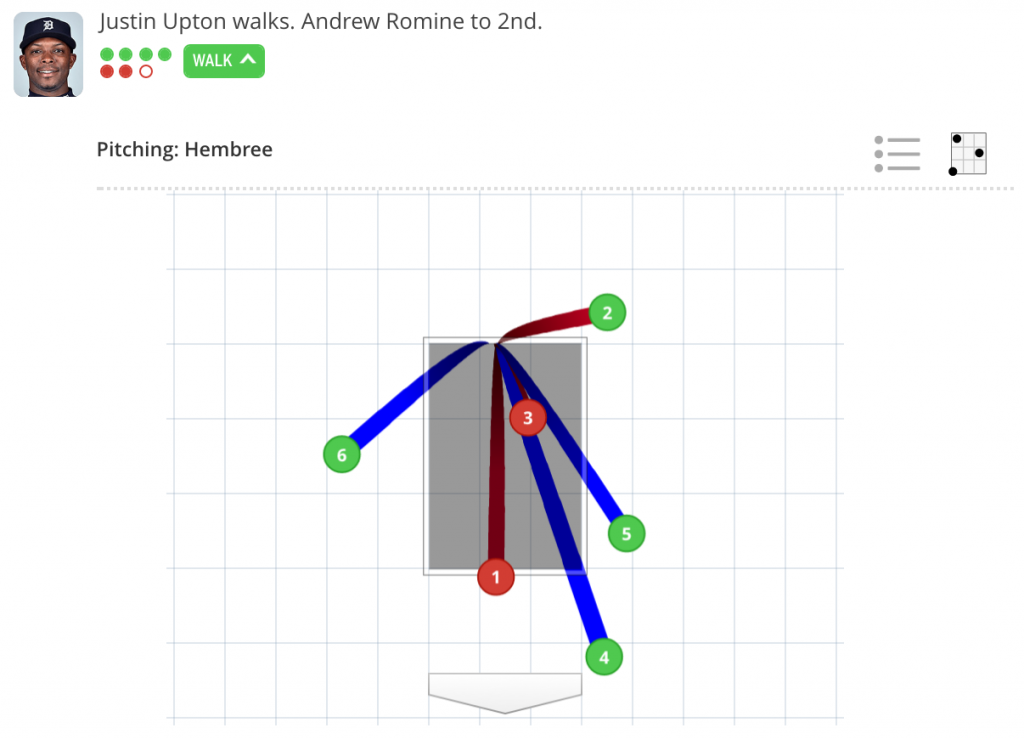 It looks like a pitiful firework. You can't even tell what they were trying to do here, and the contrast with the Castellanos PA is striking. This was a clear sign that Hembree needed to be taken out.
At this point, the situation had escalated into a high leverage outing, and needed a good reliever. Was Craig Kimbrel up in the bullpen? No, it was still only Robby Scott that was warm, with Joe Kelly getting loose. Farrell has no choice but to put in Scott, as Tyler Collins is up next. However, since he was forced to make a move too early, Ausmus counters with Mikie Mahtook, and Mahtook doubles in the tying run. Farrell then brings in Kelly, who proceeds to load the bases, and then walks in the go-ahead run. Kelly might not have been fully warmed up, but he couldn't even get a pitch in the lower half of the zone against any of the three batters he faced.
You can blame the players here for not performing, and that's a legitimate gripe. Hembree's command disappearing and Kelly being less than effective aren't thing's a manager can control. That's solely on the players. But a manager can – and you can go as far to say that he's supposed to – put his players in the best possible positions to win, and that's what Farrell did not do here. Scott really shouldn't be used against right-handed hitters, Kelly ended up being a human panic button, and Kimbrel was nowhere to be found.
After last year's playoffs, managing decisions have had more light shined on them, especially when it comes to reliever use. The wildly successful way Terry Francona used Andrew Miller and Cody Allen almost demands adaptation, because being set in archaic bullpen roles is simply throwing away flexibility. But this response to not using Kimbrel is frustrating to hear:
Farrell: "There'll be a time this season when we go to Kimbrel for four outs, but not in Game 3."

— Brian MacPherson (@brianmacp) April 7, 2017
If each game counts the same, why wouldn't you use him now? Sure, you don't want to blow out your bullpen early, but that was a winnable game. Even if the decision doesn't work out, it would've been better to put your best foot forward and given yourself a chance.
That's another thing when it comes to managing – you can (and will!) make all the right decisions and still lose. That's what happened in the final game of that Detroit series. Chris Sale pitched two outs into the 8th inning, then allowed a two-out double to Andrew Romine and walked Ian Kinsler. Farrell had the option of going to the bullpen for Castellanos, but Sale had consistently beaten him that day, and at that point, was there really an option in the bullpen you'd take over Sale? Probably not. Farrell made the right choice here, despite the go-ahead RBI single that followed. Sometimes, things just don't work out.
Sometimes, things go better than you expected. Last night, Farrell tried to get one more out from Drew Pomeranz by having him face Chris Davis. Pomeranz jammed him on the last pitch, but Chris Davis is a very strong human, and was able to fight it off for a single. Hembree comes in, and gives up a single to Welington Castillo. This looks bad, until Hembree strikes out Trey Mancini. Schoop grounded out to third to score Davis, and Hembree got JJ Hardy to groundout. The most brilliant move here was Farrell keeping Robby Scott warm in the bullpen, preventing Buck Showalter from using Seth Smith or Hyun-Soo Kim, who are both better hitters than Mancini. Just by keeping a lefty ready, Farrell deprived a team of two good hitters during an inning where they sorely needed them. That's good managing.
Look, I don't like to point fingers at Farrell for everything that goes wrong. He does some things badly, yes, but improving as a manager isn't an instantaneous or obvious thing, and seeing stuff like what he did in the Orioles game gives me hope that he's getting there. He's not gonna manage circles around other teams, but with the talent on this team, he usually won't have to do that. I'm probably reading too much into a week and a half of games, but there's some baby steps here. We've just got to see more of them.
Photo by Rick Osentoski – USA TODAY Sports