You may remember that on these webpages last year, I wrote about how a newfound slider was fueling Eduardo Rodriguez's resurgence. He had been scuffling in the earlier part of the year, added a slider, and used that to bring himself back from mediocrity. His strikeout rate spiked in the second half while the HR/9 rate fell dramatically. All objectively very good things.
What I didn't see back then was that his change-up had gotten far better, and yeah, it does help when you're not tipping your pitches every other inning. It also helps when you use two other good pitches to set up your best one. After a forgettable first start in Detroit, Rodriguez has been gunning for the strikeout and hasn't looked back since.
Let's start with the second half of 2016. Rodriguez had been back, but he was inconsistent. As the calendar turned to August, he started ramping up the strikeouts, culminating in a 5.1-inning effort in Tampa where he struck out 13 batters. 13 out of a possible 16 outs. That's insanity, and not something you would've expected out of E-Rod. The key for him was how effective his changeup was with two strikes during the last two months of the season. Whenever Rodriguez threw his changeup in a two-strike count, batters whiffed 31 percent of the time. His changeup was the pitch batters swung the most at, and it was filthy enough to get a swing and a miss nearly half the time they swung. If the ball ended up being put in play, it was a grounder over 70 percent of the time. Rodriguez had found a strikeout pitch in his superb changeup, and with a good fastball/slider combination supplementing it, it looked unhittable.
Come 2017, and Rodriguez has fully embraced the fastball/changeup life. His sinker and slider are still there, but he's not throwing them as much anymore. And why should he, when everyone he faces still can't hit his changeup? Apart from his lackluster Detroit start, Rodriguez has been getting a lot of whiffs with the changeup, even in his weird one-inning stint in Toronto.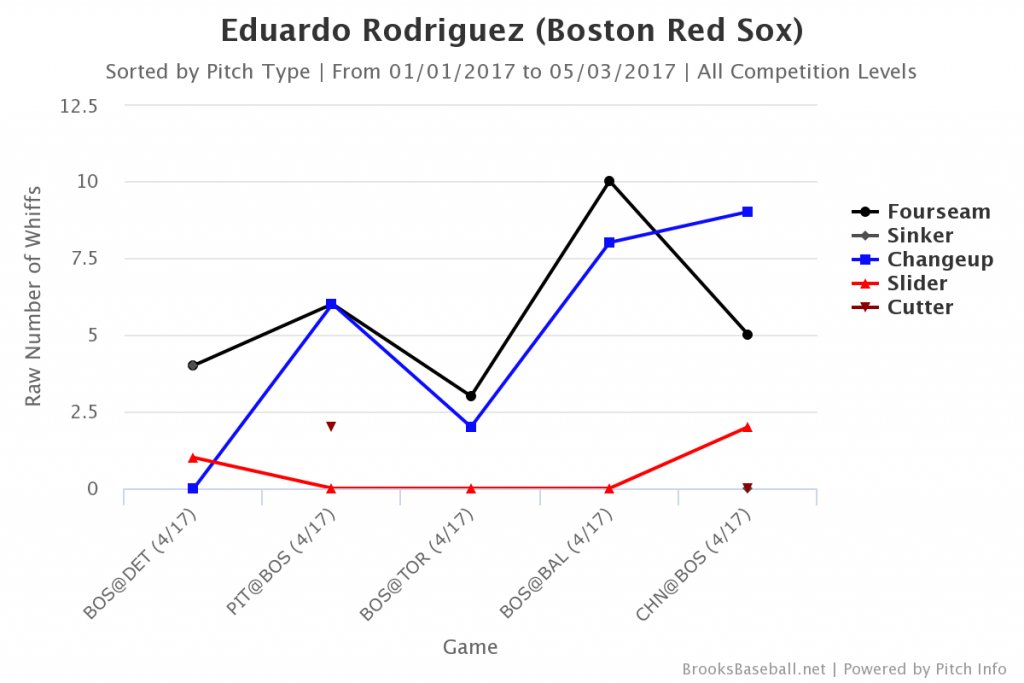 The Pittsburgh game is a strange one, as he got 14 whiffs and eight strikeouts, but also walked four and served up a dinger to Andrew McCutchen. Everything after that? Stellar. Rodriguez got five whiffs in a single inning of relief in Toronto, and then went on to stifle two very good offenses in Baltimore and Chicago. In Baltimore, you can see that most of the strikeouts early were with the fastball, and then he slowed down and used the change-up as the game went on.
As long as you don't look at ERA predictors, Rodriguez was dicing up the Orioles in that one. They had one hit over six innings, but Rodriguez also walked five while striking out seven. Changeups and sliders don't usually end up in the strike zone anyway.
The Cubs game was something else. I don't know about you, but I think Eduardo's figured it out:
Assuming Rodriguez's night is done, yes, he finished with 16 swing-and-miss, nine on the changeup. One run on five hits, two walks, nine Ks https://t.co/ehmqJI4nTz

— Jen McCaffrey (@jcmccaffrey) May 1, 2017
Remember how prolific Rodriguez was with his changeup in two-strike counts last year? Because he got better with it. That's not hyperbole. Batters have swung at the changeup 64 percent of the time in those counts, and they've hit nothing but air two-thirds of the time. That's a wipeout pitch. And it isn't particularly better for batters in general either. Overall, batters have swung at his changeup 47 percent and whiffed over half the time. There's only so many times I can call that pitch filthy or disgusting until it starts sounding like a Gordon Ramsay soundboard. But if you're still not convinced – and if you're not, I respect the stubbornness – here's what he did to a strong Cubs lineup:
I counted five strike-three whiffs on his changeup alone, possibly six if you count the first as a missed location. He's getting what he wants out of that pitch.
Of course, unless you're Mariano Rivera or a knuckleballer, you're not going to survive on just one pitch. Rodriguez's fastball is no slouch either, as it still gets swings and misses over 11 percent of the time. He doesn't use his slider or sinker much, but the slider still gets the occasional whiff, and the sinker generates grounders, which he'll need if he wants his 26 percent groundball rate to improve. Overall, his swinging strike percentage (14.9%) is better than those posted by Noah Syndergaard, Sean Manaea, and James Paxton – three pitchers who are (or in Thor's case, were) racking up the strikeouts. This isn't a fluke.
I don't know if you can say Rodriguez has "arrived", since he was good for a sizable part of the 2016 season. He's been here for a while already. But what you can say is that he's gotten better. From what we saw from him last year and what we've seen so far, that's an exciting statement to make.
Photo by Bob DeChiara – USA TODAY Sports