Andrew Benintendi had his first career walk off hit a week ago, and it was perfect. It was just like all the other positive things he does, which are also perfect. It can't be hyperbole when it's factually correct. Because #TimelyContent rules the internet, I'll use this opportunity to open a bunch more tabs, stare blankly at a lot of tables, and make assumptions. The following are a few noteworthy stats that you can impress people at cocktail parties with, because I assume you are all also talking about Andrew Benintendi at cocktail parties.
For the most part, Benintendi's picked up right where he left off. The walks have stayed consistent, and his strikeouts have dropped significantly (roughly seven percentage points) since last season. His average exit velocity (87.30 mph) is almost exactly the league average, and he's getting above-average distance on the balls he hits. His hard-hit percentage went up four percentage points, and his soft-hit percentage dropped eight. So, the solid contact is there.
He's also hitting the ball more effectively to all parts of the field this season. After pulling the ball 43.9 percent of the time last season, he's only pulling the ball 33.2 percent this year. That extra 10 percent? It's split pretty evenly between hitting the ball back up the middle (36.4 percent – up six percent from last season) and going to the opposite field (30.4 percent – up four percent from last season). He's hitting the ball to all fields at a virtually even clip.
The overall picture gets even more impressive when you realize that he's actually swinging more often – at pitches both in and out of the zone – and yet still striking out significantly less. He's still getting pitched mostly low and away, which is convenient given that he's hitting .308 on pitches in that spot. He's not hitting them particularly hard (77.6 mph average exit velo), but he's consistently shown the ability to go the other way throughout his career, and this year is no different.
He's even been a plus defender so far. All of this, and he's spent a third of the season in a slump.
Speaking of! The month of May wasn't kind to Benintendi. Why? His strength as a hitter has always been his ability to make strong, solid contact. In May, that stopped. He's the table of outcomes, sorted by pitches, for that entire month: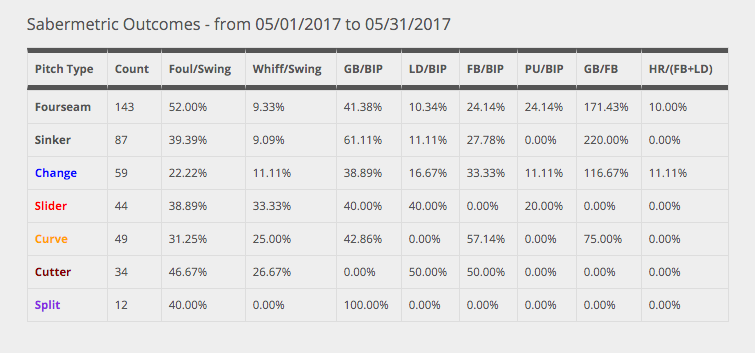 And here's that same table for the what's now been three quarters of June: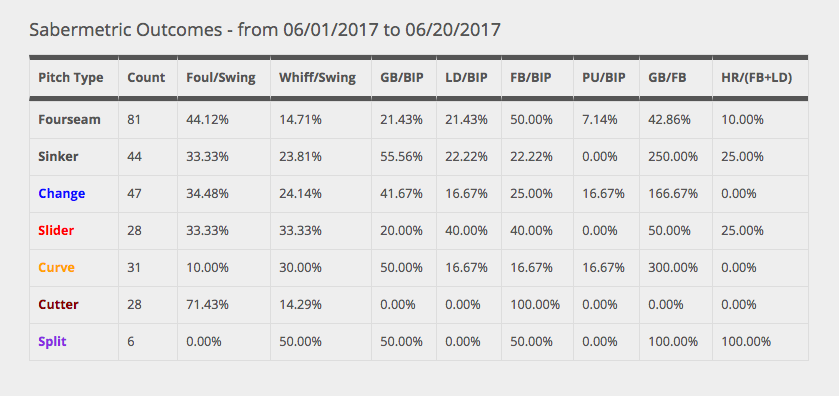 What stands out immediately is how poor Benintendi's contact was in May. He's usually an excellent fastball hitter, holding a .333 average and .519 slugging percentage against four seamers since being called up last August. During May, he hit fastballs on the ground – generally a sign of weak contact – an astounding 41 percent of the time. To compare, he hit fastballs on the ground only six percent of the time in April, and is currently hitting them at a 21 percent clip in June. Additionally, after hitting line drives on 22 percent of the fastballs he saw in April, that number dropped to only 10 percent in May. Through three-fourths of June, he's back to making hard contact, connecting for line drives on 21 percent of the fastballs he sees. It should also be noted that he was also incredibly unlucky during May, as testament by his .217 BABIP for the month.
Benintendi's slash line for the year (.274/.342/.427) is heavily weighed down by what was a vicious (and uncharacteristic) slump. Farrell openly admitted that hitting fourth in the lineup was probably messing with his head, and Mitch Moreland's emergence as a legit cleanup hitter (?!) over the last month or so have freed the team to stop leaning on a 22-year old who's played two years of professional baseball to carry the entire load. Still, as the Red Sox offense continues to decide whether they're showing up on a night-by-night basis, one of the most optimistic signs from this season yet might just be Benintendi's ability to bounce back from his first major slump.
Photo by Peter G. Aiken – USA TODAY Sports