If the Red Sox had played last night, Jackie Bradley Jr. would have batted out of the nine-spot. He was the best position player on the team for the final two months of the first half, so his position at the bottom of the order, no matter how hot Christian Vasquez is, should be at least somewhat concerning. Bradley slumping isn't surprising – he always has and will presumably continue to be one of the team's streakiest hitters. For a month, Bradley's going to look like an All-Star, and the next he might resemble a Quad-A guy. His peaks and valleys are something that the Red Sox have the luxury of being able to afford.
For as good as Bradley's June was, there were always some pretty clear signs that it was unsustainable. From June 1st to July 1st, Bradley hit .346/.421/.570 with a .992 OPS. He went through one of those power surges we occasionally see from him, posting a .224 ISO with 15 of his 37 hits in the month of June going for extra bases.
With that said, compared to his career averages, JBJ's contact in June wasn't noticeably better time. The percentage of balls he hit hard that month (40.0) was only a few percentage points above his career norm (35.1). The same goes for the percentage of soft contact he made over that stretch (11 percent) compared to his career (15.1 percent). Couple those contact numbers with the .407 BABIP he ran during June, and you can clearly see what part luck had to play.
The more interesting aspect of Bradley's sudden slump, though, has been the dramatic measures opposing pitchers have gone to in order to adjust. Take a look at how teams changed their pitching strategy against Bradley between June and August: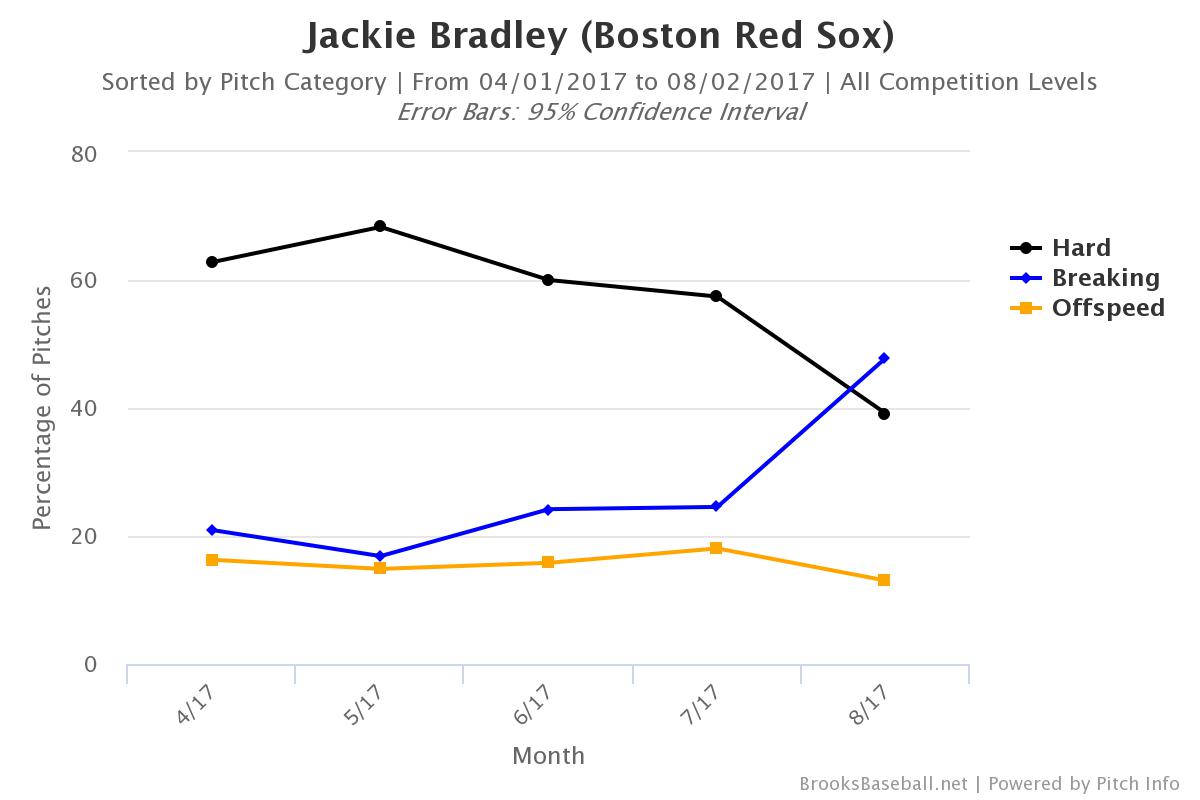 For the first time all season, Bradley is seeing under 40 percent fastballs. As the month passes by (it is the 3rd, after all), there's a good chance that number rises back up over 40 percent again, but the season-long trend is clear. What's even more surprising is what you see when you take a look at the percentage of pitches he's seen for his entire career: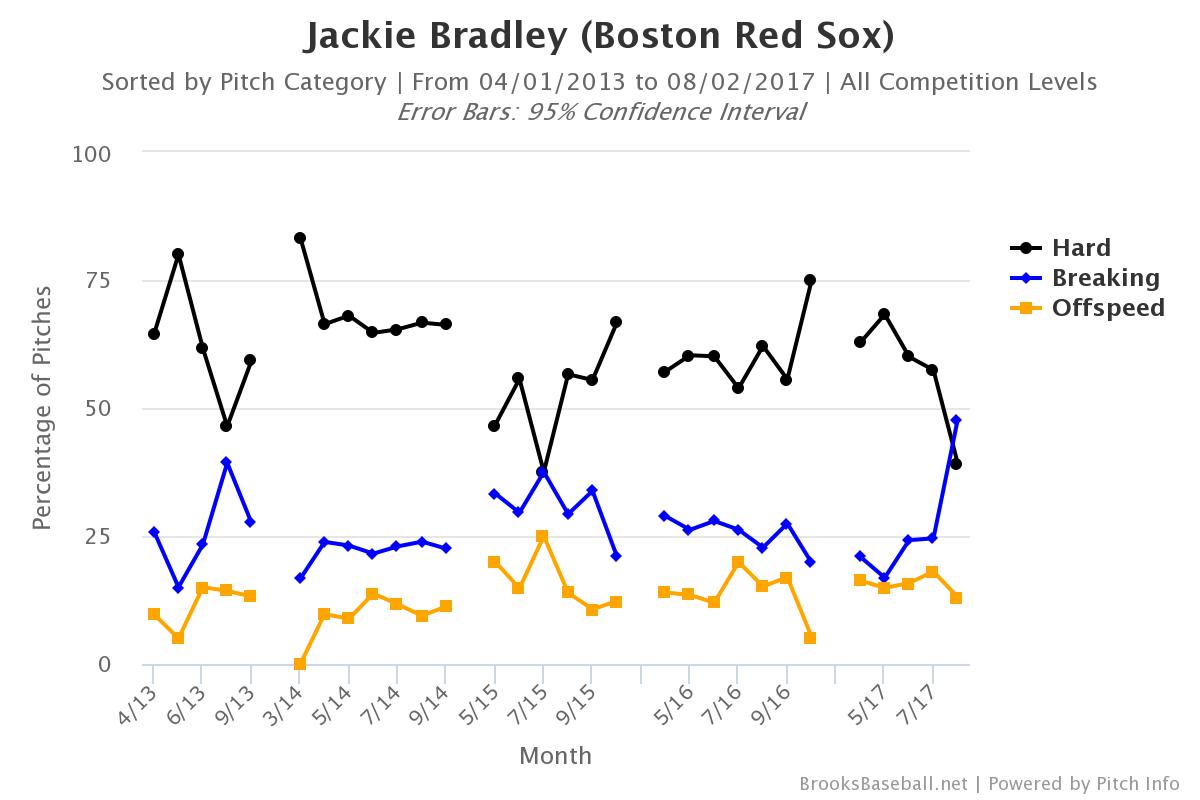 He's getting a disproportionately low amount of fastballs over the last month, less so than he has at any time in his career. He's seeing over 10 percent fewer fastballs over the last month, the second-largest single-month decrease of his career.
You'll also notice that the amount of breaking balls that have been thrown Bradley's way is skyrocketing. It stands to reason that after a month of destroying fastballs, pitchers would start attacking him with stuff that bends, and that's exactly what seems to be happening. The percentage of breaking balls he was seeing almost doubled in the month of July, which is bad news. After being able to handle offspeed stuff through most of the first half, JBJ is starting to swing and miss again: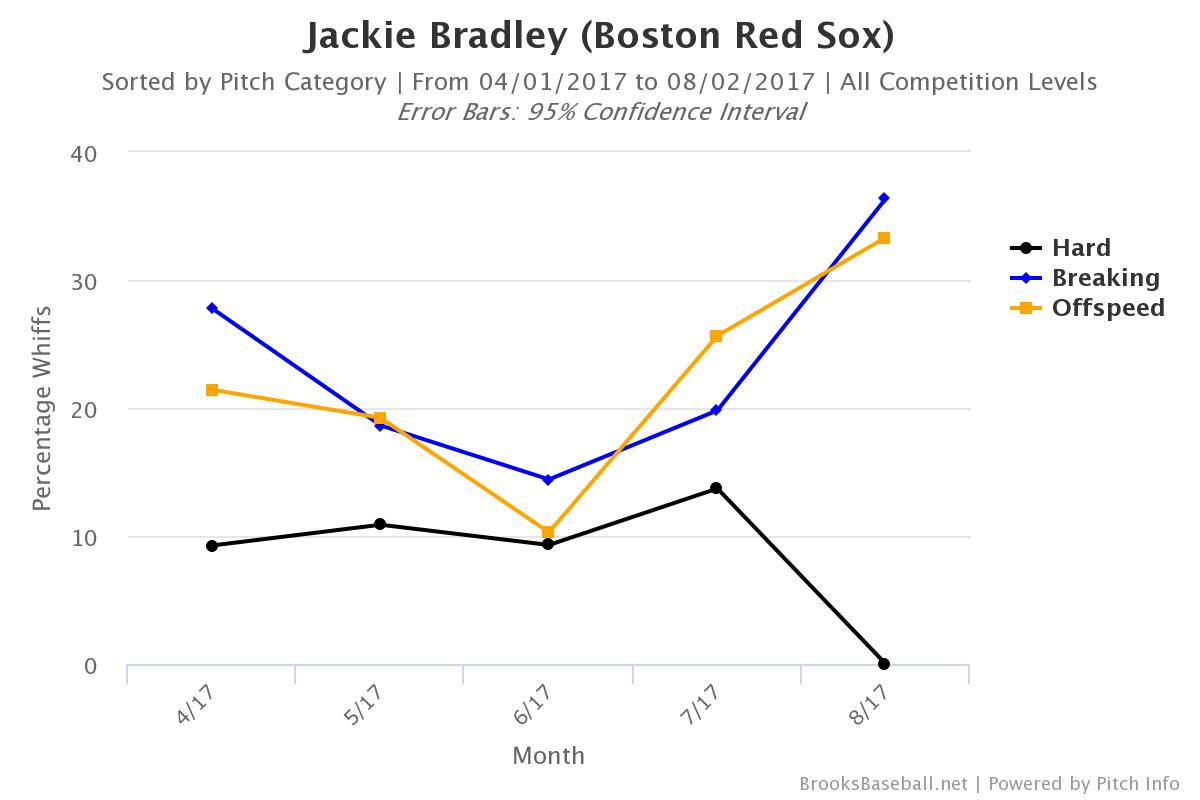 That obviously doesn't bode well for what he can expect from at-bats in the near future. His strikeout rate in July rose to 30 percent, which, even for him, is staggeringly high. That, coupled with a walk rate in July that was only half of his career clip, would go a long way in explaining why his on-base percentage was almost 10 percent lower last month. Putting him lower in the order should expose him to more hittable pitches, but Bradley's going to have to relearn how to hold off on breaking balls if he wants to regain his form as one of the team's hottest hitters and most valuable overall players.
Photo by Bob DeChiara – USA TODAY Sports