It's hard to get a good feel for if the Red Sox bullpen, outside of Craig Kimbrel, is good or not. Matt Barnes has been reliable at home (1.44 FIP, 0.90 WHIP, 33.9 strikeout rate in 29 innings pitched) and anything but on the road (4.69 FIP, 1.37 WHIP, 21.7 strikeout rate in 27 innings pitched). Joe Kelly throws 102 miles an hour and can't strike anyone out. Robbie Scott has a home run problem (19.4 HR/FB rate – worst of any Red Sox reliever) and Addison Reed's tenure in a Red Sox uniform has gone about as poorly as you could have imagined. Fernando Abad and Heath Hembree are middle relief guys. Carson Smith is an intriguing late-season addition, but by no means a guaranteed plus. As a whole, it's a clearly flawed group. They're not necessarily bad – still ranking in the top-1o for FIP, ERA, K/9, among others – but they're not as dependable as we'd like, either.
That's why it's time to get on board with Brandon Workman. Workman has quietly been increasing his workload, throwing 46 pitches in 3.2 innings spread out over the last seven days. In fact, in the month since Workman returned, he's thrown more innings (16.2) than any pitcher in the bullpen. He has the best WHIP (0.78), is walking the fewest amount of hitters (3.3 percent) and has the second-lowest average against (.193) of anyone who's thrown at least 10 relief innings in the last 30 days. Teammates think he might even be better than he was before Tommy John:
Matt Barnes said he thinks Brandon Workman might be better now than he was pre-Tommy John.

— Jason Mastrodonato (@JMastrodonato) August 10, 2017
Basically, Workman has been at least the second-best relief pitcher over the last month. Given Kimbrel's (relative) shakiness over that same period of time, a convincing argument could be made that Workman's been their best option since he returned.
He's been great in high leverage situations, too. There was this performance against Kansas City:
And then this against Cleveland:
Given that he's shown the ability to be relied on in big spots – not just this season, either – and that the Red Sox generally don't have many better options, it makes no sense that of Workman's 17.1 innings this season, 11.2 of them have been innings designated as "low leverage."
At this point, I'd argue there's no clear preferred choice for who gets the eighth inning. If you're terrified of pitching your set-up guy on the road, is he really a reliable set-up guy? Workman's even got his old fastball back, touching 95 on multiple occasions this season: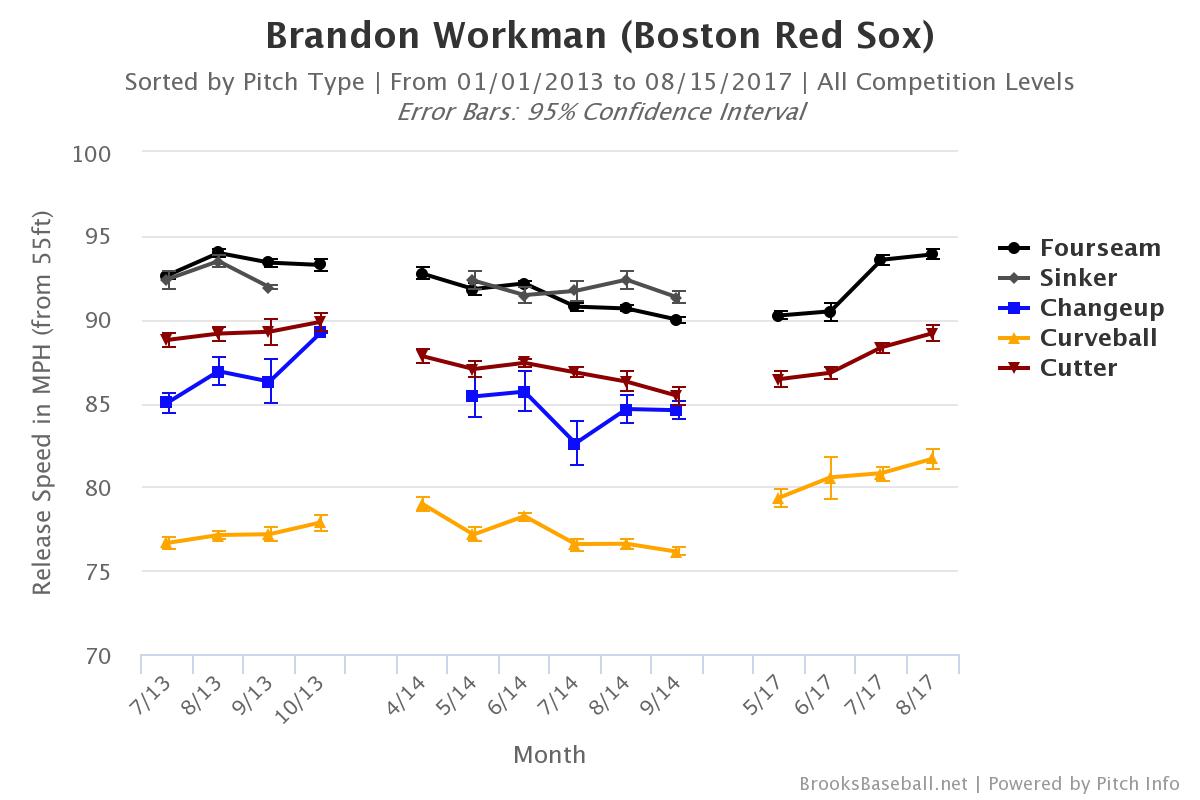 (Interesting note: Workman has completely given up on throwing his change up this year)
A healthy Workman that's pitching this well deserves more chances to prove himself in high-leverage situations. He was a successful set-up guy in the World Series before health derailed his career – now that he's seemingly back on track, it's time to give him the eighth inning and see what he does with it.
Photo by Kim Klement – USA TODAY Sports