Joe Kelly was an extremely average pitcher last season. That's all you need to know about him, because he was also an okay pitcher the year before, and has presumably settled into the player he's going to be for his career, so I'm telling you that it's not an exaggeration – he really is that average.
Kelly throws hard – really, really hard – but still doesn't provide much value considering how fast he is able to throw, even if it is really fast. But for those who simply cannot go on with their day without knowing more, let's dive in:
WHAT WENT RIGHT
Let's ignore the (lack of) strikeouts for now – they've never been Kelly's strong suit. To his credit, he did manage to improve in lots of other aspects of his game. For starters, he lowered his ERA and FIP significantly, and I don't clearly need to tell you that's a good thing, even if that meant only going from a 4.32 FIP in 2016 to a 3.49 FIP. His ERA, which was hanging around 5 last season, dropped to around 2, which looks impressive in spite of luck playing into that a lot. He also did a better job keeping the ball in the park, dropping his HR/FB rate 10 percentage points this year. He was, however slightly, a better pitcher this season than the one before. That improvement came at the cost of his sinker, which got the silent treatment, as he stopped throwing it entirely. It's curious why Kelly totally moved away from a pitch that represented half of his repertoire at one point, but that's for a different time: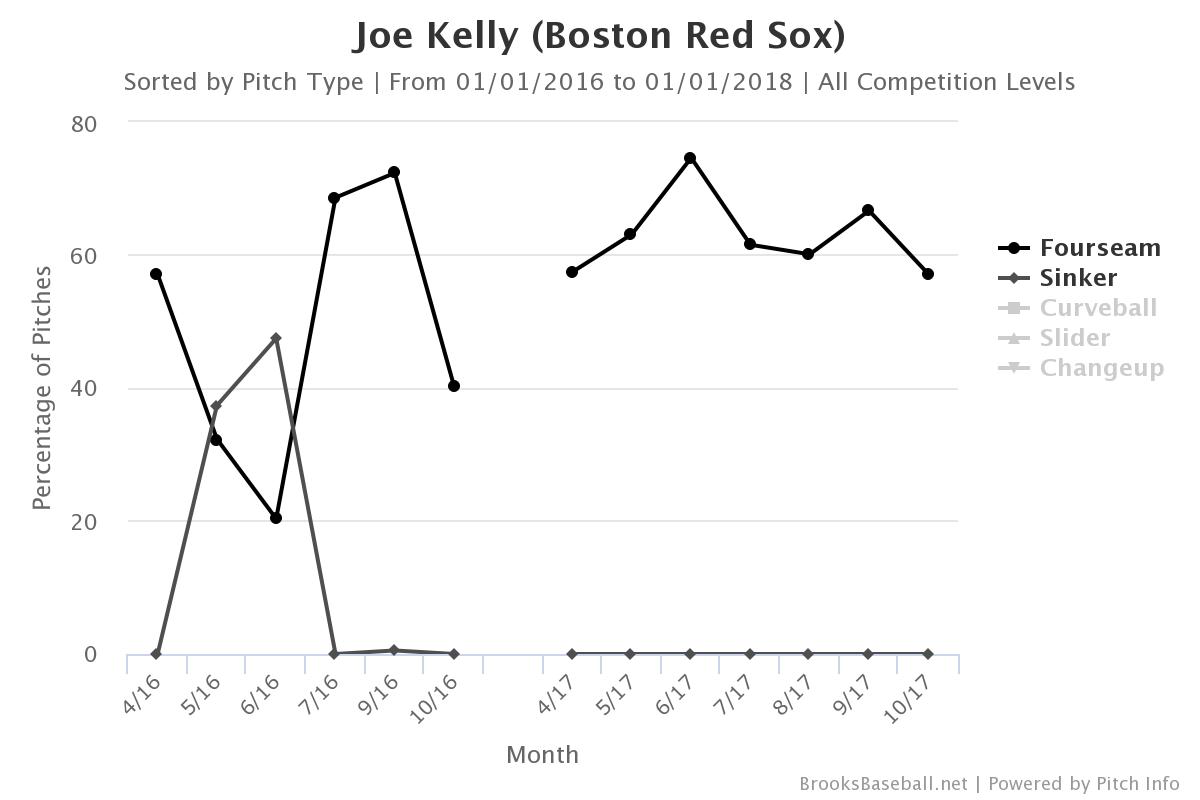 Examine Kelly's fastballs over the last two seasons and you'll clearly see how much he's abandoned his sinker. Even in above-average seasons, his sinker was never that useful a pitch, so abandoning it was probably in the best interests of the team and Kelly. And the fans. And everyone.
Another thing that went right for Kelly this year was the uptick in his speed, something that you undoubtedly heard four thousand times whenever Kelly pitched this year. He's clearly establishing a trend over his career: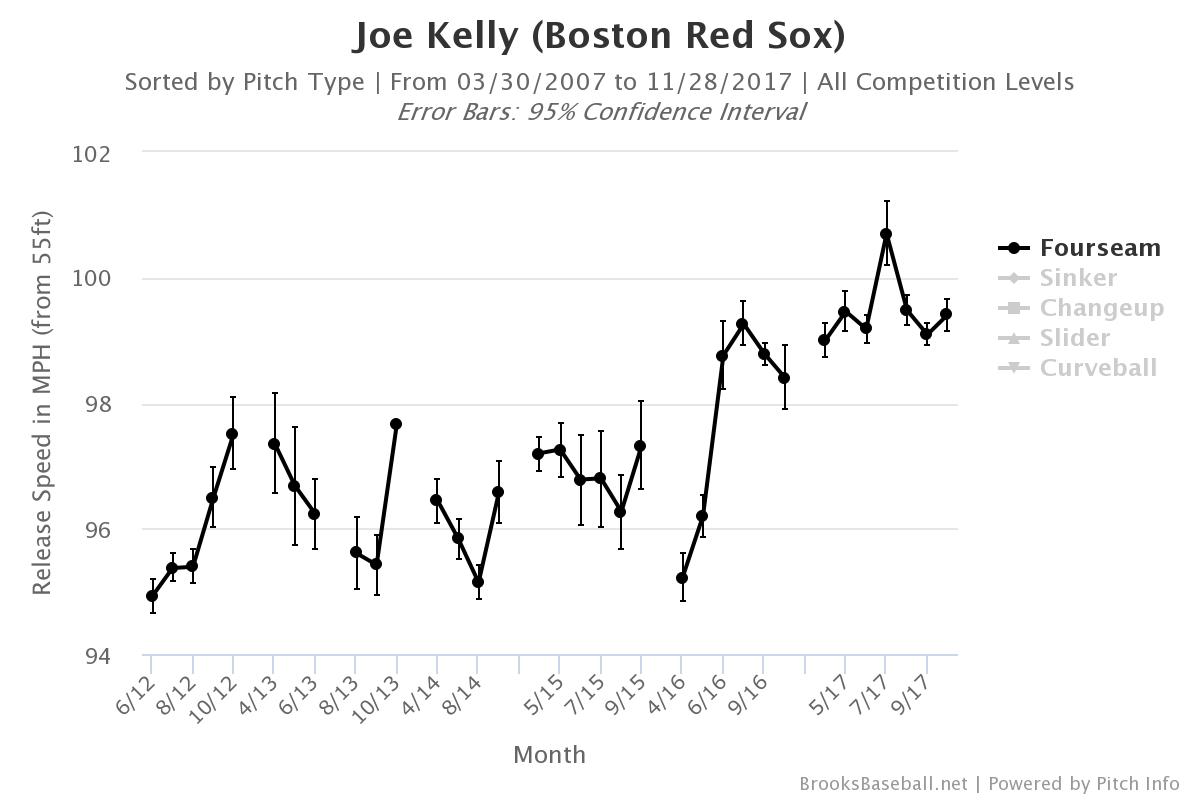 Up until recently, it always seemed like improved numbers were going to follow Kelly's improved velocity.  Throwing forcefully while being mostly ineffective has always been Joe Kelly's game, so watching him rear back and throw some fire doesn't exactly bring the same excitement as it does with other guys in the triple-digits club.
There's a good pitcher somewhere in Kelly, maybe even a great one – he just hasn't figured out how he fits into a major league pitching staff yet. He's not a starter, and he's definitely not a closer. He was best as a reliever in medium-leverage situations, which is about as unhelpful a statistic as you can find on the internet. He was somewhat tough on righties this year, tallying a 2.82 FIP with a strikeout rate at 20 percent and a walk rate below five percent. Kelly's ceiling might be a hard-throwing righty specialist, which leads into…
WHAT WENT WRONG
Strikeouts! Or lack of them, more specifically. Kelly continues to baffle people by throwing 103 miles per hour and not being able to strike a single person out. He threw 58 innings this year and finished with a just-barely-average strikeout rate (21.9). That number was always destined to go down from last year, however, as his uptick in strikeouts in 2016 was always more of a red herring than anything. He also continued to walk batters at a staggeringly high rate (11.3 walk rate, 4.19 BB/9). Frankly, the Red Sox already have a hard-throwing righty who struggles with control, and that's Matt Barnes. Kelly's going to have a hard time finding innings for himself when he projects as a back-end power arm that can't strike people out. Carson Smith, Tyler Thornburg, and Barnes are all currently better choices for the 7th and 8th innings.
WHAT TO EXPECT
What you'll see a lot of:
100 mph pitches, walks
jokes about him on Twitter
occasional cameos in the Win, Dance, Repeat routine
What you won't see a lot of:
strikeouts
clean innings
appearances in high-leverage situations
Like I mentioned at the top, Kelly is what he is. At 30 years old with 600 innings under his belt, it's hard to imagine that Kelly turns into much of anything different. Since he became a reliever, Red Sox fans have been waiting for him to settle into his role and become that reliable backend arm, and it just hasn't happened. In fact, given that Kelly ran a .252 BABIP this year (by far the lowest of his career), it's not inconceivable that Kelly's numbers would regress next year. He's a free agent at the end of next season, so Kelly's clearly inclined to put together a career year. If he doesn't though, it's not hard to see the Red Sox moving on in 2019.
Photo by David Kohl – USA TODAY Sports