With the benefit of hindsight, past doubts regarding Xander Bogaerts seem hard to believe, but the youngster entered the season as one of the Red Sox's biggest question marks.
After a surprisingly woeful rookie campaign, many wondered whether Bogaerts could stick at shortstop in Boston. His fielding prowess had long come under scrutiny, and the club's decision to shift him over to third base to make room for Stephen Drew in the middle of the 2014 season didn't help matters much.
Yet beyond these issues, Bogaerts looked nothing like the budding offensive star who had so enthused scouts and prospect writers down in the minors. He batted just .240/.297/.362 over 594 plate appearances, with his precocious hitting ability vanishing under a horde of ugly swings and poor at-bats.
Those struggles feel like a distant memory now. Bogaerts has hit all season long for Boston and enters Thursday with a .319/.349/.409 line. At the age of 22, his 2.3 WARP ranks eighth among MLB shortstops.
These improvements have come with a change in approach that has seen Bogaerts drive the ball to all fields with regularity: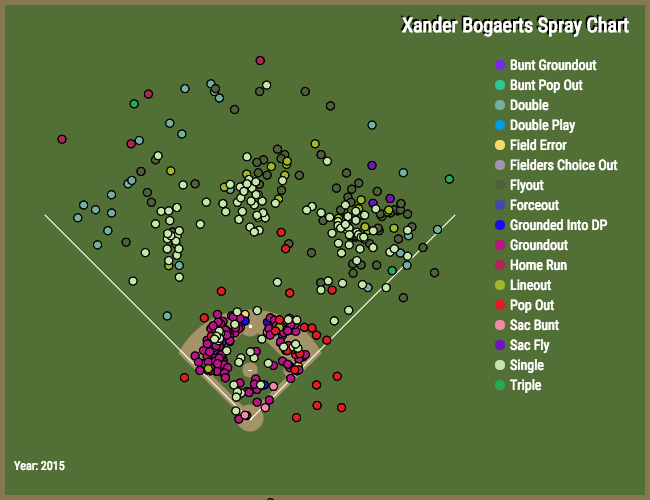 In addition, Bogaerts is hitting fewer balls in the air, an adjustment that has seen his batting average and contact ability rise at the expense of his power. According to FanGraphs, Bogaerts fly-ball percentage has dipped from 41.3% a year ago to 26.9% this season. His strikeout rate over that time span has dropped from 23.2% to 14.8%.
This new approach has certainly aided Bogaerts' results, but the mechanical tweaks he's made to his swing have received far less attention.
Indeed, the subtle adjustments that Bogaerts has made to his stance have allowed him to achieve more consistency at the plate this season. Most of these changes can be viewed in Bogaerts' pre-pitch routine as he awaits the offering from the opposing pitcher.
As you can see in this video from last September, Bogaerts had a closed stance that was square to the pitcher, and he hardly moved his hands at all before the pitch was delivered.
This season, Bogaerts has noticeably opened up his stance, appears to have slightly less bend in his knees, and begins moving his hands up and down (possibly as a timing mechanism) just as the pitcher starts his windup. His stride is also a little bigger and more deliberate.
To determine just how much these tweaks have aided Bogaerts' success, I reached out to Baseball Prospectus' hitting guru Ryan Parker to get his thoughts.
Parker noticed many of these same adjustments, telling me via email that "Bogaerts didn't really make one big change to his overall swing, but instead he's made a handful of smaller changes."
What Parker focused on especially was Bogaerts' pre-pitch hand movement:
"The more meaningful change (in my view) is the Mookie-esque bat waggle he's added while he gets settled into his stance. In the past he would get into his stance and wait. This season he's keeping his stance loose and relaxed. That fluidity has carried over into his actual swing. "
From a fan standpoint, what's stood out about Bogaerts is just how much more comfortable he looks at the plate and how much the game appears to have slowed down for him.
Parker feels that the different components of Bogaerts' swing just work better together this season:
"Watch how his hands and lower body flow this year compared to last. In 2014 he would start his stride, get to the top of his leg lift, then his hands begin to work behind his body. This year it's much simpler. When the feet move, the hands move. Same movements each year, but the timing pattern is far better in 2015."
While Bogaerts' overall results have improved, many have wondered whether his power decline is a signal that he'll never turn into the middle-of-the-order threat that most observers expected him to become.
For his part, Parker isn't worried about Bogaerts' power, though he did admit that portions of the shortstop's swing in 2014 were better engineered for driving the ball:
"I actually like how he uses his hips in 2014 more than 2015. Last year, he would start with a bend at his waist (imagine the hips as a hinge) and would keep this hinge as he fired. In 2015, he moves better but isn't taking advantage of any sort of hip hinge. It's not a swing-ruining move obviously, but he is leaving some power on the table. Look how upright he stays throughout the swing this season. If he can combine the flow of '15 with the hinge of '14 … look out."
And this is what we need to remember about Bogaerts. He's 22 years old and still making adjustments while thriving at one of the most demanding positions in the game. There are plenty of reasons — from his minor league track record to his body size to his precocious ability — to believe that he'll develop more power in the coming years. One can expect he'll make more tweaks to help unlock all that potential.
Bogaerts has already shown a tremendous ability to make necessary changes and improve his game in a short period of time. He's cut his strikeout rate by nearly 10 percent this season. Just a year ago, after many questioned if he'd ever be good enough defensively to stick at shortstop, he looks like an above-average fielder.
His bat, too, has improved by leaps and bounds. Judging by how much more comfortable he looks at the plate in 2015, doubting Bogaerts' ability feels like the last thing anyone should do.
Photo by Winslow Towson/USA Today Sports Images