You might have forgotten after the Red Sox spent over $200 million on David Price, but the team also signed Chris Young to a two-year, $13 million contract this week. Although the veteran outfielder doesn't fill a gaping hole on the roster like Price does, he figures to be an important contributor for Boston in 2016.
Despite some initial consternation over Young's expected role with the club, he looks like a solid bet to capably fill the role of fourth outfielder, as our Ben Carsley wrote Tuesday. Young's signing helps solidify the club's outfield for next season and gives them further depth on the bench, where his skills fit in quite well with Boston's returning role players.
Young joins Brock Holt, Travis Shaw, and Ryan Hanigan as the likely members of the Red Sox bench on Opening Day, and it's a group that should provide the squad with adequate depth next year.
Since he signed, a lot has been made of Young's pull power, and for good reason. All 14 of his home runs in 2015 went to left field, and as his spray chart from the season demonstrates, Young looks like he'll feel right at home when the team plays in Fenway Park: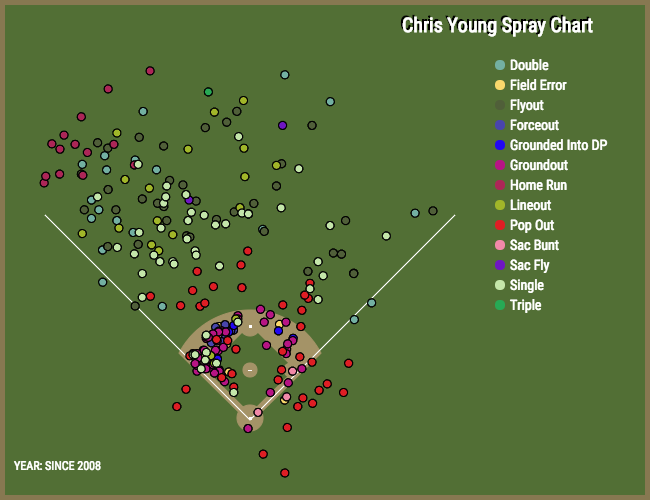 The fact Young has hit left-handed pitching so well of late makes him a good candidate to platoon with Jackie Bradley Jr. in the lineup when the Red Sox face southpaws. Throughout his career, Young has batted .263/.362/.474 versus lefties, and as others have noted, he provides some much-needed insurance in case either Bradley or Rusney Castillo struggles for an extended period of time.
That Young also brings a solid defensive track record is an added benefit. While his days in center field are likely over, he should be more than capable of filling in at either corner outfield spot. No one will confuse him with Hanley Ramirez out in left field.
This type of versatility gives him something in common with Holt, though no one this side of Ben Zobrist can match Holt's ability to play multiple positions. The 27-year-old will once again be forced into a bit-part role with Boston, but judging by his performances the past two years, Holt will find a way to prove his value yet again whenever a spot opens up for him.
He was named an AL All-Star in 2015, after all, and though he didn't maintain that level all summer long, Holt still goes through stretches when he's getting on base multiple times a game on a regular basis. Every team in the league would love to have Brock Holt on their bench.
Shaw is another player whose talents are easily overlooked on this Red Sox roster. Whether he can sustain that .270/.327/.487 line he posted down the stretch is uncertain, but his power potential is hard to question. His performance in 2015 at least gives Dave Dombrowski the luxury of exploring a trade of Hanley Ramirez with some degree of seriousness.
Shaw actually hit lefties better than righties for Boston last season, but he seems like a good candidate to earn some starts against righties or in pinch-hit situations. Given Shaw also showed he can at least hold his own at third base, he could fill in at the hot corner if Pablo Sandoval plays so poorly again.
With the whole offseason ahead, the Red Sox already appear to be in good shape, especially from a position-player perspective.
Lastly, Ryan Hanigan embodies just about everything you'd want in a back-up catcher. He has decent on-base ability despite not really being much of a threat with the bat. He throws out baserunners at an above-average clip, and his framing stats also rank better than most. As is often the case with veteran backstops, he's also said to handle a pitching staff well and provide some valuable leadership in the clubhouse. Hanigan's game is well-rounded enough that Boston can feel comfortable giving him a larger role than many second-string catchers receive.
The Red Sox also have some solid options behind these bench players in case the roster is particularly beset by injuries. Christian Vazquez, who the team was prepared to give the starting job to last season, is set to return from Tommy John surgery and will likely continue his development in Triple-A. Deven Marrero earned some playing time this past September, and perhaps more importantly for his value, demonstrated that he can play second and third base along with being a terrific defensive shortstop. And if Boston does decide to part with Hanley, it'll likely be because first-base prospect Sam Travis is knocking on the door down in the minors after an impressive season at Double-A.
With the whole offseason ahead, the Red Sox already appear to be in good shape, especially from a position-player perspective. The versatility of someone like Holt is a huge benefit, and he looks like a particularly valuable player for Boston given the injury questions that surround Dustin Pedroia.
All this quality depth has enabled Dombrowski to shop at the high-end of the market and acquire impact players like Price and Craig Kimbrel without worrying too much about the smaller details. Young's signing, as a result, is easy to gloss over, but his addition stabilizes the outfield picture and bench situation.
Price will, of course, be essential to any success the Red Sox have in 2016, but the bench figures to be a quiet strength for Boston as well.
Photo by Nick Turchiaro/USA Today Sports Images