Welcome to BP Boston's Roster Recap series! Over the next four months, we'll be breaking down every player on Boston's 40-man roster and many of their top prospects in order to provide a comprehensive overview of the Red Sox roster's strengths and weaknesses, as well as what we can expect moving forward. There's no better time than the offseason to review the best (there was some best!) and worst (there was a lot of worst!) of the past year in red and navy. You can see previous editions of Roster Recap here.
With former Yankees fill-in Vidal Nuño in the fold and a more solid starter in Wade Miley included in the deal, the Mariners appear to have been perfectly happy to include Roenis Elias in the trade that landed Carson Smith in Boston. Where Elias fits in the Red Sox's short-term plans is not so sure — President Dave Dombrowski indicated he could compete with Joe Kelly for a fifth starter's role — but he certainly doesn't have a rotation slot locked up the way Miley probably would have if he had remained with the team.
Things started out well for Elias when he joined the Seattle rotation at 25 years old. In 29 starts, Elias recorded fewer hits allowed then innings along with pedestrian walk and strikeout rates. As a result, simple ERA estimators like FIP made it look like Elias had nearly earned a respectable 3.85 ERA. In a more abbreviated 2015 season, however, neither Elias' ERA nor his FIP were as complimentary of his pitching.
Not much changed with Elias's peripherals in 2015, when he threw 115.1 innings in 20 starts and two relief appearances; a slight drop in strikeout rate was mitigated by an even slighter drop in walk rate, and he yielded hits almost exactly as often. His home run rate appeared to do most of the 2015 damage. Had he been an AL team last year, a 0.9 HR/9 would have given Elias a rate as good as the top-ranked Astros, but the swing to 1.2 HR/9 would have tied him with the last place Tigers.
Bad luck in 2015? Not necessarily. Elias had a 4.37 Deserved Run Average in 2015. What's more, it looks like Elias may have been tremendously lucky in 2014 — his 4.98 DRA that season was 1.14 points higher than the ERA he ended up with. He may actually have improved in 2015, but as far as DRA is concerned, "improved" didn't exactly mean "good."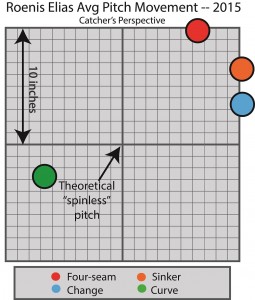 With some ups and downs along the way, Elias's pitch mix in 2015 was almost exactly the same as it was the season before. Elias threw his curveball about as often as pitchers not named Rich Hill throw curveballs, 22.31% of the time. He also featured his changeup about as much as a pitcher ever does, maybe stretching the limit at 35.47% of the time. The occasional sinker (9.83%) helped him stay away from his fourseam (42.38%) about as much he could.
Elias is not the soft-tosser that kind of pitch mix might suggest, though. Brooks Baseball had his average fourseam release speed at 92.37 mph, a bit above average for a lefty. As noted by our Bryan Grosnick in BP's Transaction Analysis of the trade, Elias's curveball is sometimes very good. In Hill, we saw another lefty play up his curveball by throwing high fastballs that stayed in the same plane for a longer time.
Hill, however, throws his curveball for strikes — Elias throws more curveballs off of the plate, and in on right-handed hitters. To keep his fastball working with the curve, it looks like he's not a "high fastball" or "low fastball" guy — he's more of a "middle fastball" guy.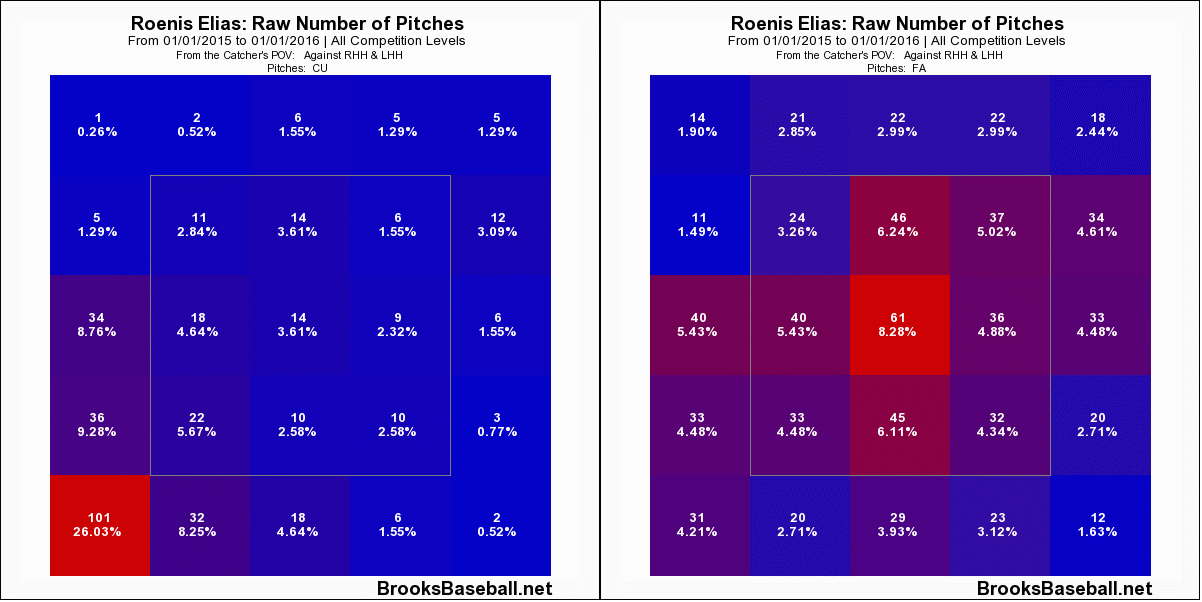 Unfortunately for Elias, in 2015 that also made him a ".556 slugging percentage against fastball" guy. Maybe there's room for improvement with Elias, but for now, it's hard to dream of upside. His fit in Boston may not really be in the rotation anyway. Grosnick put it like this in BP's Transaction Analysis:
He could possibly be a fine fifth starter on a second-division team … maybe even the Red Sox if everything breaks wrong. But on a team looking to upgrade their rotation, Elias is a swingman, a depth piece, and the guy you count on to stick around and fiddle if the city is already on fire.
Note that Grosnick did not say "long reliever." In a relief role, Elias could potentially throw his curve a bit more, but probably not much more — and he really can't throw more changeups. If he were better in a relief role, it would probably be because of a tick up in velocity, not the benefit of seeing hitters just once. If anything, that might make him a better short relief candidate than a long relief one.
Maybe there's room for improvement with Elias, but for now, it's hard to dream of upside. His fit in Boston may not really be in the rotation anyway.
The reference to "swingman" is specific, but probably more accurate. It's been a long time since we saw Ramiro Mendoza morph in and out of that role, but the key is to be available to start when needed. The days of the swingman may be numbered in the game, with more and more spot starts made by minor league starters. If Elias bounces in and out of the rotation, "out" may mean "Pawtucket rotation."
The Red Sox also have no more options on Steven Wright, who probably fits best as a true long reliever — maybe even as a "mop up guy." As Grosnick put it, Elias may only be a rotation option "if everything breaks wrong." Elias gets hit, but he does get outs — and in less-than-ideal circumstances, maybe that's all we can ask for.
Photo by Troy Taormina/USA Today Sports Images