When it comes to longevity on the Red Sox, the one person you think of is David Ortiz. For 14 years, Big Papi has been punishing pitchers, and has made aging curves look silly as he's stayed productive into his early 40s. That, combined with countless accolades and accomplishments, is what earns him respect. Players don't roar into their fourth decade of life by dominating their opponents so soundly. It's completely unheard of – and yet he's done it.
It's so hard to be consistently good as you reach the ripe old age of 40, especially in baseball, where even recurring back injuries can run you right into the ground before you reach 35 (sorry, Youk). Position players can have it rough when it comes to staying in the league as they get older, but relief pitchers often can't even get to their 30s. The mercurial nature of relievers makes them very unlikely to be productive in the late 30s, much less past 40 years old, and that's disregarding the potential of something like a derailing shoulder injury or a mid-30s UCL tear.
And yet, just like Ortiz, the Red Sox have someone who persists.
Koji Uehara is a 41-year-old reliever who is still dicing up big league hitters. Sure, he's not the closer anymore, but I can think of ten teams who'd make him the first guy out of the 'pen in the 9th inning. What makes him so good at a relatively old age? He doesn't have the velocity to blow fastballs past anyone. As you might know, Uehara does three things very well: give high fives, control his pitches and throw some really, really nasty splitters. The latter isn't a surprise, but the fact that he's done it so well for such a long time is, especially now that he's getting up there in years.
His splitter is his bread and butter pitch, and since he came to Boston, you could say his splitter has gotten even better. Just look at how much it has moved vertically since the beginning of his stint with the Red Sox.
It's dropped more and more. While that's good, it's even better since it shows that Koji's adapting to losing velocity. A 92 mph fastball from Uehara is a godsend these days. He used to work up and in to right-handed hitters when he had low-90s velo, but since that's slowly degraded, Uehara's had to change his approach. In 2014, he started a more southernly trend with how he pitches everyone. That's really shown since the beginning of the 2015 season.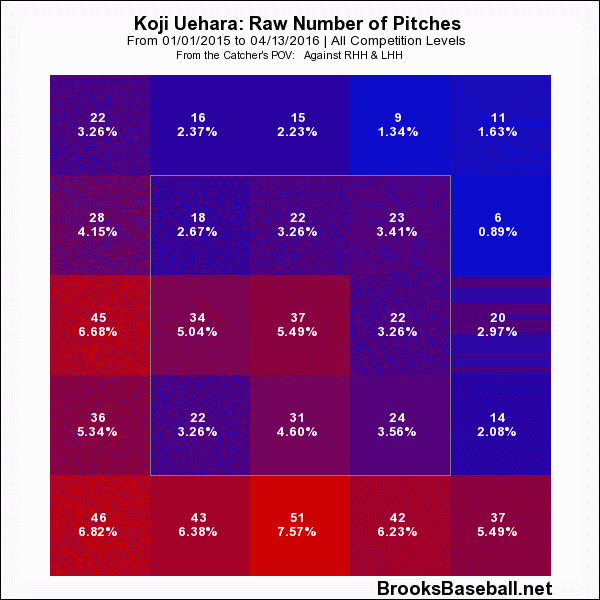 Here's hoping most of his opponents are bad golfers.
Koji still works inside to righties, but he's not anywhere close to back in 2013, where he could work at the top left corner of that strike zone and jam batters. Uehara keeps everything below the belt, and with his four-seam fastball and splitter having similar release points, it becomes very difficult to for batters to pick up speed changes when the ball is about to break just above their shins.
So, with his velo slowly declining and his splitter inducing weak contact, that means he's getting fewer whiffs, correct? That's the adjustment, right? Well…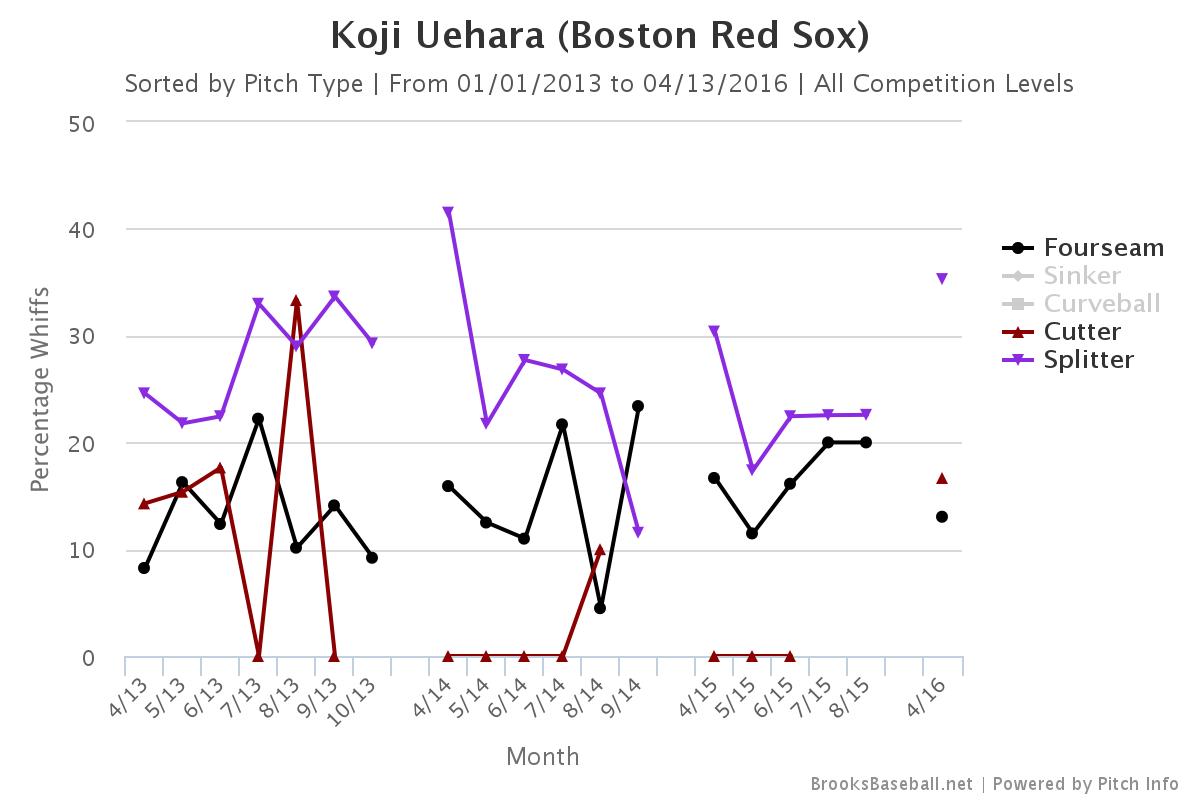 …not really, because he's still getting those swings and misses. Hitters made less contact on Koji's splitter in 2015 than in any year prior, and if they did, the overwhelming majority of the contact was a grounder or a weak infield fly ball. Oh, and that's a pretty big "if". Just ask Luis Valbuena.
Granted, Valbuena's not exactly a contact maven, but that pitch is crazy good.
Are there any direct comps? There are a few older relievers still out there, but none really compare to Koji. Since 2013, he leads all relievers 35 years old and older in ERA and FIP. The now-retired LaTroy Hawkins comes to mind when thinking about old relievers, but he never struck out guys at the rate Koji has while around the same age. The closest reliever to Koji over that span is Jason Grilli, but he still has that low-90s velo, albiet with fewer whiffs. So while the stats are the same, the methods are very different. Uehara is one of a kind. He doesn't overpower with velo, but with command and stuff. Take that, Joe Kelly.
The point here is that Koji isn't just pitching at 41-years-old – it's that he's pitching very well despite diminishing velocity at 41-years-old. We love to think of Koji as the 2013 version, because that version was so ridiculously amazing that it amassed a whopping 2.6 WARP in just 74 innings. There were starters that didn't reach that mark in 150 IP. But the truth is that Koji isn't that pitcher anymore. He's gotten older, but he's gotten craftier.
Some guys really don't take to being on the downslope of their careers too well, much less adjust to losing what they once had. Koji Uehara, however, still gets it done at a high level while still dishing out the high fives. Sure, he'll give up a little more hard contact here and there, but he won't be the door-slamming wizard ever again. That's okay. He's doing the best with what he's got, and what he's got is spectacular.
Photo by David Butler II/USA Today Sports Images