I've been thinking a lot about this tweet lately:
Fernando Abad has an ERA of 2.07 in the 8th inning or later. That's 31 appearances. Lefties are hitting .190 overall. (He's not bad.)

— Chris Mason (@ByChrisMason) September 19, 2017
While we were all on Twitter making the same Abad pun, he actually stopped being bad. He certainly hasn't been overused – he's pitched 18 innings over the last two months – but still, the numbers aren't bad. Some of them are downright impressive.
It's been over a month since Abad walked a batter. His 31.5 percent K/BB% has been fourth-best on the team (albeit with a possibly significant caveat that we'll get to in a second) over that time. His K/9 (7.7) is as high as it's ever been all year, and he's lowered his BB/9 back to league average after struggling with walks in July and August.
Since the beginning of August, he has a 2.67 FIP, 1.16 WHIP and a .262 AVG against. Interestingly enough, he's done his best work against righties this season. In fact, he's never been better against righties than he is this year, posting a FIP under four for only the second time in his career and the first time since his 2013 season in Washington. His improvement against right-handed hitters has made all the difference, as this season's stats against left-handed hitters are right around his career norms.
What's the reason for his newfound competency against righties? Some of the answer can probably be found by looking at his pitch selection over the second half of the year: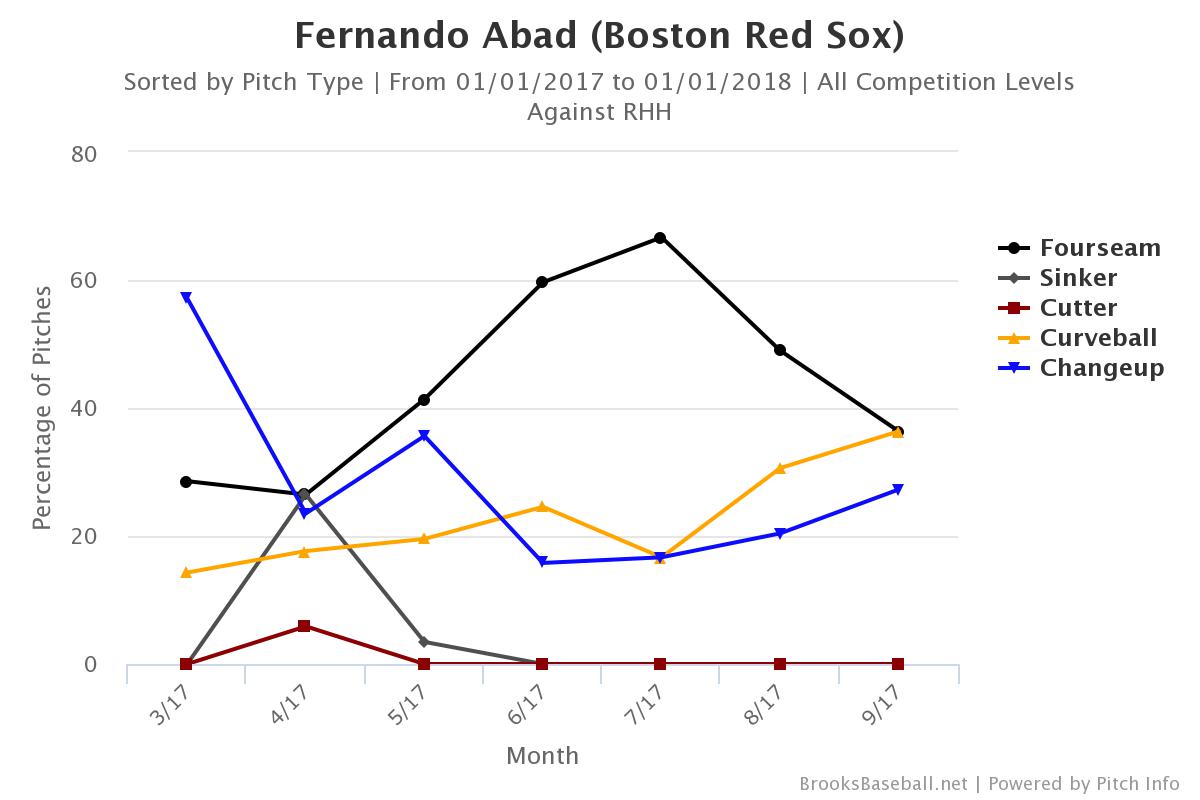 Ever since mid-July, when Abad was pitching about as poorly as any point this season, he's done a drastically better job mixing his pitches. Just how much that plays into his improved command is a tricky thing to prove, but it's clear that something's working.
The problem, of course, is that Abad hasn't seen much game action in the first place. Despite being fourth overall in innings pitched this year (42.1), only 14.2 of those innings have come in the second half of the season. Also worth noting: of Abad's 42.1 innings, 33 of them have come in low leverage innings. Abad's been the mop-up, garbage-time guy all year.
Abad still isn't meant for high-leverage situations. When it comes to a post season spot, however, it seems like Abad's second half has been enough to warrant a conversation.
Evan Drellich of CSNNE wrote recently that the Red Sox should take a look at him when rounding out their postseason roster. There's certainly something to be made about, as Drellich puts it, riding the hot hand. It's an idea that all of a sudden doesn't sound so crazy, which in itself sounds so crazy.
Abad got a taste of a high-leverage situation during the Sox's first game in Baltimore. The lefty came in with a one-run lead and quickly gave it back, allowing Pedro Alvarez to hit only his second home run of the year off a lefty pitcher. It was a moment that seemed to be a reminder that, despite playing better of late, Abad still isn't meant for high-leverage situations. When it comes to a post season spot, however, it seems like Abad's second half has been enough to warrant a conversation.
Should Abad even make the postseason roster, it's not like he's going to see any action after the 5th/6th inning. The 7th inning is hopefully probably going to Carson Smith Matt Barnes, with a pitching-much-better-recently Addison Reed taking the 8th and obviously Kimbrel comes after that. It's not like Abad was ever going to be considered for any of those.
Abad's playoff ceiling is probably a mid-innings gap-guy who keeps people off base. At worst, his floor is Price's insurance policy/extra body for the one inevitable 15-inning game that will definitely be on a work night and start at 8:37 PM.
Either way, there's value in those roles. Come playoffs, there's value in any relief pitcher who's on top of their game. Abad's the hot hand, and there's no real harm in the Sox seeing how far they can ride it. Fernando Abad: the potentially valuable bullpen piece. I've got a fresh box of Tums ready for the occasion.
Photo by Gregory Fisher – USA TODAY Sports