Last year, Joe Kelly did something that was so very emblematic of Joe Kelly's career to that point, and at the same time, was so impressive that it got a ton of attention for the 15 seconds of fame it received.
102.2 miles per hour. That's squarely in Aroldis Chapman territory. And as eye-popping as that is, there are a few key things you should notice. Firstly, had Aaron Judge not fouled it off, it would've been a ball. There's no debating that. It wasn't going to be in the zone for any umpire, even C.B. Bucknor's. But before you tell me it was supposed to be there, let me bring up my second point: it's way off target. Christian Vazquez sets up on the inside corner, and Kelly launches his firecracker up around Judge's collarbone. Frankly, I'm surprised Vazquez had his glove up there in time, given the velocity and where he originally wanted it to go. Lastly, observe Judge actually fouling that off. If you're throwing 102 that high and it's still getting fouled off or hit into play, you've screwed up. They're either counting on it or it's predictable — maybe both! It's not as bad as throwing 103 in the zone and watching your lead disappear, but still, it's pretty bad.
That's Joe Kelly in a nutshell. His velocity is there, the Stuff is Great, but the results you'd expect never materialized, due to either bad control or, like last year, a frustrating inability to strike guys out. Nearly a year ago to this day, Chris Teeter wrote about Kelly's lack of strikeouts in these same webpages, and noted that Kelly was just one strike away from really becoming a reliable contributor in the bullpen. The ineffectiveness with two strikes really did show last year, as Kelly routinely could not turn those advantageous counts into outs. He was fine on 0-2, with a .171 opposing OBP on batters through that count. But anything more than that, and you'd be hard-pressed to find good numbers. Through 1-2 counts, over 30 percent of batters reached base. When it went to 2-2, that number jumped to 35. In full counts, Kelly allowed 25 of 51 total batters faced to reach base. He had 21 walks and seven strikeouts. That's downright repulsive.
So far in 2018, Kelly's been much better. Ever since the Opening Day implosion, Kelly's faced 49 batters, allowed six hits with one(!!) walk, and struck out 15 of them while allowing zero runs, earned or otherwise. That's good for a 30.6 percent strikeout rate, a two percent walk rate, and a 1.45 FIP over that span. And he's doing all that while still throwing as hard as he ever was. It's seemingly the same old Joe Kelly, but what's really going on here?
Pitch selection is key, so let's start there. Go back to that video of the 102 mph bullet Kelly threw. The ending clip of that is a good slider that Judge simply has no chance on. The slider wasn't Kelly's go-to secondary pitch for the vast majority of 2017 — he liked using a curveball that didn't really do much of anything. It was fairly middling in terms of results. The slider, however, raked in the whiffs.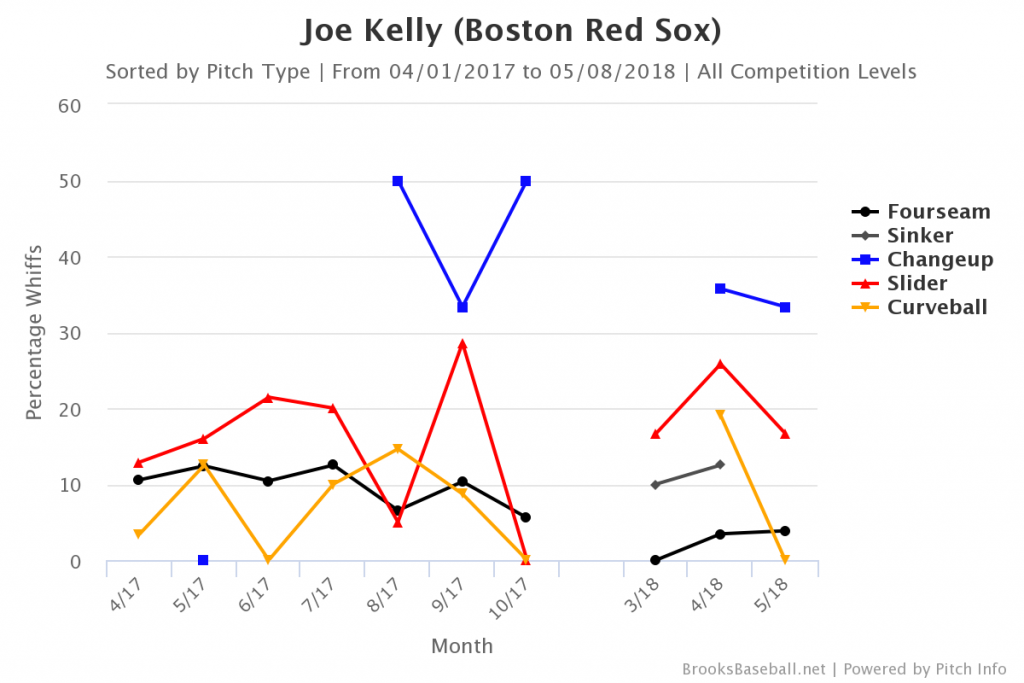 Other than August, his curveball was really bad at getting swinging strikes. Last June, he threw it 35 times and got zero whiffs, then last October he threw it 10 times with zero whiffs, and so far this month, he's thrown it four times and gotten (surprise!) zero whiffs. At this point, you're clamoring for him to use something, anything else. And so, Joe Kelly adjusted.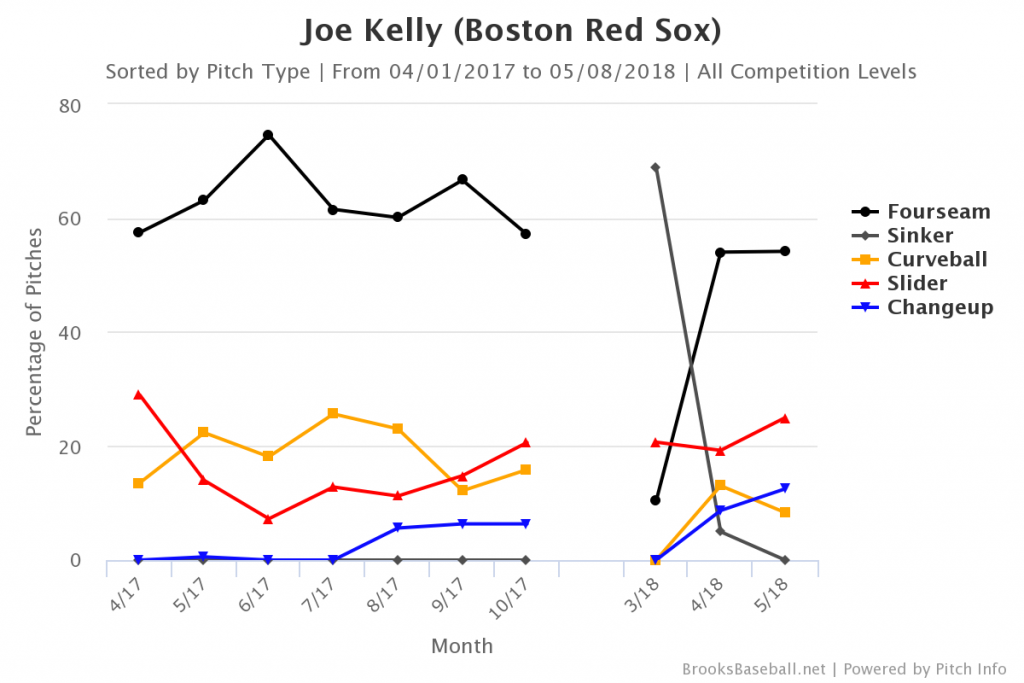 His slider became his best friend. Couple that with changeup that getting a swing and a miss 33 percent of the time and he's actually got a pair of useful, potentially wipeout pitches. The changeup is an especially good development, since it seems like common sense to pair a fastball that sits 98 with a changeup — a pitch designed to look like a fastball until the last 15 feet — that averages an 11 mph difference between it and his fastball. With that kind of velocity, you could get whiffs on those two pitches alone. Add a slider in there that isn't too shabby either, and that's a potentially great pitch repertoire. At the very least, it's shown to be quite effective so far in 2018, as his 11.8 percent whiff rate is the highest of his career, while his 72 percent contact rate is the lowest of his career.
It might just be a case of Kelly being more emotive, but he seems to be pitching smarter as well, since trying to beat batters on stuff alone isn't always a good idea. Back during the Anaheim series, the Red Sox had a plan to exploit Shohei Ohtani at the plate, and Kelly followed suit, blasting a 98 mph fastball down and in for a swinging strikeout. Kelly tapped his head to acknowledge a smart plan of attack — maybe a plan by Vazquez, and then executed by Kelly. That same gesture made an appearance once more in Texas, during a nerve-wracking Joey Gallo plate appearance. He blew past Gallo with a — you guessed it! — 98 mph heater high, and did the same thing afterwards. Stuff alone won't make you a good pitcher, but stuff in the right spot? That'll get you places.
This isn't going to be all optimism, obviously. Kelly has only thrown 14.1 innings so far this year, so we're stuck dealing with a small sample size until, well, August. Then we've got to deal with a .212 BABIP, a 33 percent line drive rate, and a 42 percent hard-hit rate — a rise of eight percentage points from last year. The groundballs disappearing and him throwing first-pitch strikes less than 50 percent of the time are both something we need to keep eyes on. Everything here is more than a little foreboding.
But right now, he's striking out and walking batters at career-best rates, and finally seems to be rounding into a really good and potentially reliable late-inning arm during a point in time where the Red Sox desperately need one. It's about time Joe Kelly started, for lack of a better term, punching people out.
Header photo by Kelley L Cox — USA TODAY Sports