If you were to design a baseball player, it might not be Mookie Betts. You might pick someone bigger and stronger, but even if you did, the end result would probably be the same. You'd probably end up with a fast outfielder with good speed on the bases, a good eye, a lashing line-drive swing that shot baseballs all over the diamond, and a winning smile. Throw in a great baseball name and you got your guy.
Last night, your guy, Mookie Betts (good name, by the way), went 2-for-4 with two homers and five RBIs. I mention the RBIs because that number just happens to correspond exactly with the number of runs scored by the Boston Red Sox. After last night, Betts is tied for eighth in homers (with Kris Bryant and Josh Donaldson!) and 13th in OPS. He's one of the front runners for AL MVP. So nice work.
It's funny that I bring up MVP too, because there's been a lot of talk around the internet of Orioles closer Zach Britton as an MVP candidate. I won't make this article about that* but the foundational argument for Britton or any reliever rests on some version of Win Probability Added (WPA). Relievers just don't throw enough innings, so the innings they do throw have to have a disproportionate impact on the game and the season for them to get into the MVP conversation. There hasn't been talk of WPA for batters yet (because this whole thing is silly) but if there was, Betts might be the first candidate whose numbers you'd look up.
*But, okay, allow me just this: go back in time to the beginning of this season. Everyone knows how things turn out up to this point. Do you think the Orioles would trade Britton for Betts?
Take last night. Betts came up in the first inning against Yovani Gallarado with David Ortiz on first after a walk. He took a high slider that didn't slide for ball one before grounding into a fielder's choice on an 89 mph meatball on the upper inside portion of the plate. Gallardo was lucky his first pitch didn't end up over the wall, but it was bad enough to be too far out of the strike zone for Betts to offer at it. Every time I see Gallardo pitch I'm amazed he's still in the majors, but he is, so maybe I'm missing something. Both pitches to Betts were, as these things go, awful. Even after those pitches, Betts was out and Gallardo had a scoreless first.
Betts came up again in the third inning, again with runners on and two outs. This time the bases were full and Gallardo was on the proverbial ropes. You may have noticed how bad the Red Sox have been this season with the bases loaded, but if not, the Red Sox have been really bad this season with the bases loaded. This at-bat felt like every Red Sox loss this season packed into one. The opponent, the standings, the game situation, the batter/pitcher matchup, everything looked like it should go the Red Sox way, and yet none of it did. For example, the first pitch of the at-bat. It was a 91 mph fastball out over the middle of the plate, exactly the kind of pitch any hitter is looking to crush in that situation. Betts took it. In my living room I yelled "Ahh!" knowing the opportunity that had just passed by.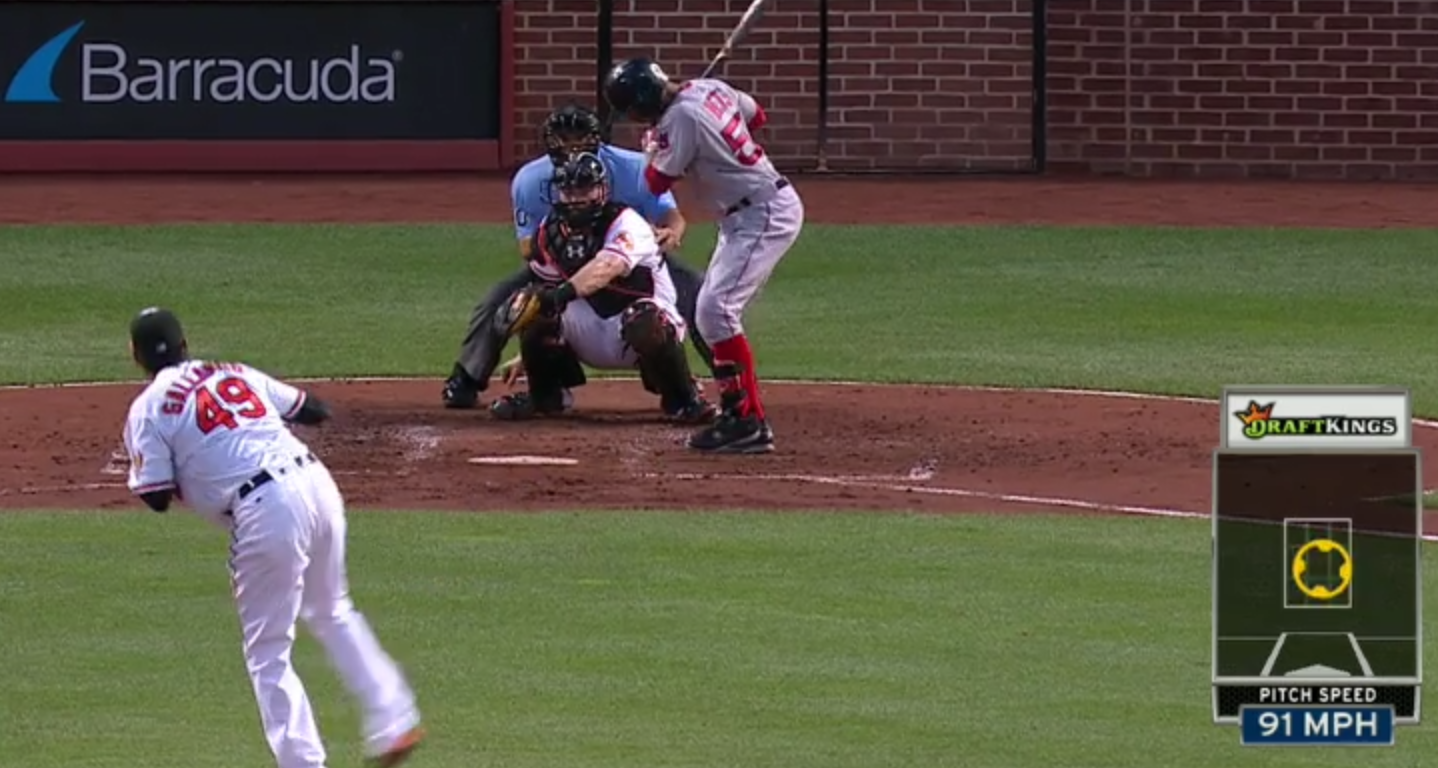 Here's a transcript of Dave O'Brien and Dennis Eckersley's call.
O'Brien: … and that's a strike.
Eckersley: WOW
O'Brien: Right down the middle.
Eckersley: WOAH
Gallardo had missed his spot badly and yet was up 0-1 in the count. The next pitch was inside and Betts smashed it down the third base line just missing a two run double by inches. Two bad pitches to a good hitter and Gallardo was ahead 0-2. Baseball!
Mookie took a high fastball for ball one then flew out to the base of the left field warning track on the first good pitch of the at-bat by Gallardo, a 93 mph fastball on the outside corner of the strike zone.
That at-bat, like some well-noted aspects of the Red Sox season, presented every opportunity for success, but turned out a failure. At that point, Betts had stranded five runners, the Orioles had survived three innings of Yovani Gallardo on the mound unscathed and were that much closer to being able to put the game in the hands of their bullpen, one of the best in the game. The Orioles have a very big hole in their team, but if they can survive the first five or so innings, they are one of the best teams in baseball. Through failed chances, the Red Sox and specifically Mookie Betts were walking right into Baltimore's trap. To that point Betts had cost his team. His WPA in the first two PAs was -0.103, a pretty substantial negative number for just the third inning.
Betts came up again in roughly the same situation in the fifth inning: two men on, two outs. Andrew Benintendi began the inning with a double and the Red Sox were again in danger of squandering another opportunity. Given the part of the order up and the inning, it's not too outlandish to say it could have been their last.
Recall how Betts' last time up had begun, with, as Eckersley would call it, a cookie that Mookie took for strike one. He got roughly the same pitch this time. I mean, it wasn't the same pitch, this one was a slider, but it was the same level of badness. It was middle-middle (again, to borrow from Eck) but this time Betts didn't take it. He leveled it over the left field wall to give Boston a 3-0 lead.
If you were to design a perfect baseball player, it might not look exactly like Mookie Betts, but one thing you'd be sure to include now is his intelligence, the ability to learn and adjust. Betts did that and changed the game, the standings, and the Red Sox season about as much as any single game can in mid-August. He might not be the MVP, but if we're going to talk about WPA, well, how 'bout them apples?
Photo by Tommy Gilligan/USA Today Sports Images